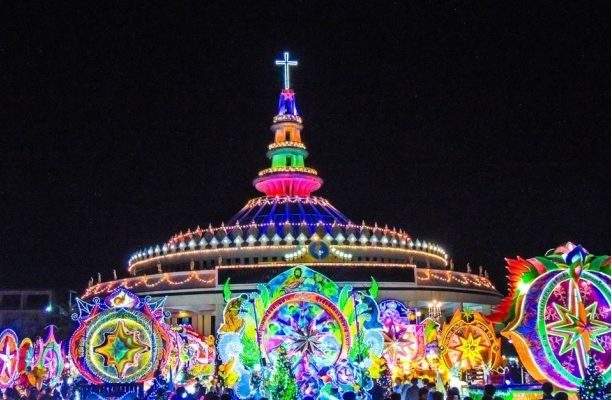 December 23-25, 2020
CHRISTMAS STAR PARADISE
Thailand
CONTACT DETAILS

Name : Christmas Star Paradise –
Address : SaKhon Nakhon
Telephone : –
https://www.tourismthailand.org/operator/event/event-s2
Send Inquiry
DETAIL
Sakon Nakhon
Category : Art and Culture
Date 23 – 25 Dec 2019
Christmas Star Parade  takes place during 23-25 December of every year at the Ban Tha Rae community and Sanam Ming Mueang, Amphoe Mueang Sakon Nakhon.

The Christmas Star Parade reflects the faithful belief in Jesus Christ of the Roman Catholic Christians. On Christmas night when Jesus was born, the sky was magically brightened up with the glory of stars. Therefore, "stars" have become a symbol of the birth of Jesus. In 1982, Tha Rae villagers created paper stars to represent stars in the sky and held them in a procession around the village to end at the St. Michael's Cathedral in the heart of the community. It has since become an annual event and the original hand-held small stars with a bamboo structure have been replaced with an illuminated procession of large stars accompanied by Santa kids and angels, now a famous and unique event of Sakon Nakhon

At twilight of 23 December every year, the Christmas Star Parade will proceed around the Tha Rae community before parking near the Martino Hall. The Christians in Tha Rae community also decorate their houses with light and Christmas trees as well as stars are hung on doors and windows. At twilight of the Christmas Eve, there will be a parade of small original hand-held stars by Tha Rae's Christians around the village, which will end at the St. Michael's Cathedral. And the evening of the Christmas Day will see the Christmas Star Parade and contest of a number of large star floats by Christian communities in Sakon Nakhon and nearby provinces proceeding around Mueang Sakon Nakhon Municipality. For more information, call the Archdiocese of Tharae-Nongsaeng, Tel. 0 4271 1272, and TAT Nakhon Phanom Office, Tel. 0 4251 3490-1.