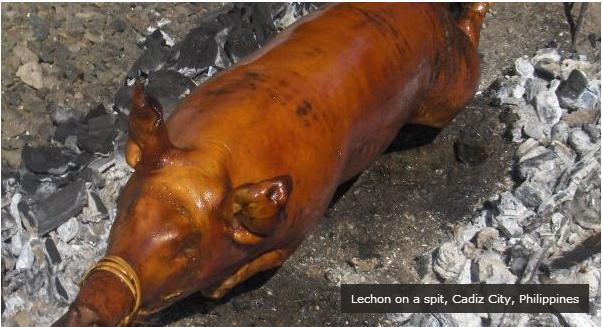 "Baloot! Baloot!" the egg man shouts. His basket of wares are a tempting snack for the beer drinkers in Manila bars, and for visitors to the Philippines a few beers is often required before they'll brave this particular egg. Nestled inside is a nearly formed duck fetus, complete with head, beak, baby feet, and, yes, even feathers. And you eat every bit of it. First crack the shell drink the 'balut soup' and then devour the body, seasoned with salt and vinegar.
There are several 'dare you' foods on these islands – grilled pig's intestines, jellified chickens' blood served on skewers, and barbecued pig's ears can all be a challenge – but there are plentiful dishes for less intrepid guests in what is one of Southeast Asia's most individual cuisines.
If you're lucky on your travels around the country you'll stumble into a village during festival time and see a lavish spread of party food laid out in the streets. Whole roasting pigs, called lechon, revolve on spits, forming the centerpiece for tables under the trees laden with banana leaves. In a cross-cultural cooking style typical of the country, the aromatic pig might have a traditional Asian sour stuffing of tamarind leaves, yet its crackling skin be basted with sweet American ginger ale, a decidedly 20th century addition to the local culinary arts.
The recent US influence is not the only significant import. Chinese cooks, arriving over centuries with merchants from the major regional trading power, have also added to the mix, and so too the kitchens of the former colonial power Spain, which ruled here for almost 400 years until 1898.
The Spanish connection is so important that Filipino dishes are often Spanish even in name. Adobo (usually braised pork or chicken marinated in soy sauce, vinegar, garlic and peppercorns), torta (omelette) and mechado (a meat stew with soy sauce and tomato) all have a European ring. And there's even a Filipino paella, called arroz de Valenciana, another fiesta favorite, in which the yellow rice may be packed with the Spanish sausage chorizo.
Filipino dishes are generally less aggressively spiced than many of their Southeast Asian neighbors, with chillis playing a minor role compared to Thailand or Laos, for instance.
Similarities with Asian neighbors are found in staples like rice and noodles, cooking methods like stir-frying, and ingredients such as taro, bean sprouts and papaya. Fish sauce and shrimp paste are used as seasoning, and sour, sweet and spicy dipping sauces accompany many dishes, particularly seafood, which this archipelago of more than 7,000 islands has in great abundance. For a taste of variety, try a swordfish charcoal grilled on the beach, a sour tilapia soup in downtown Manila, or, another MTV fusion, shrimps steamed in 7-UP.
Streetside dining is usually in small cafés, with the food laid out in trays, so you just point at what you want. In fact, these places are called turo turo, which literally means 'point point'. In most cases, ordering food in the Philippines is a piece of cake.
Howard Richardson, the ex-editor of Bangkok Metro magazine, has written about Asian destinations for the BBC, GQ, and the New York Times online.