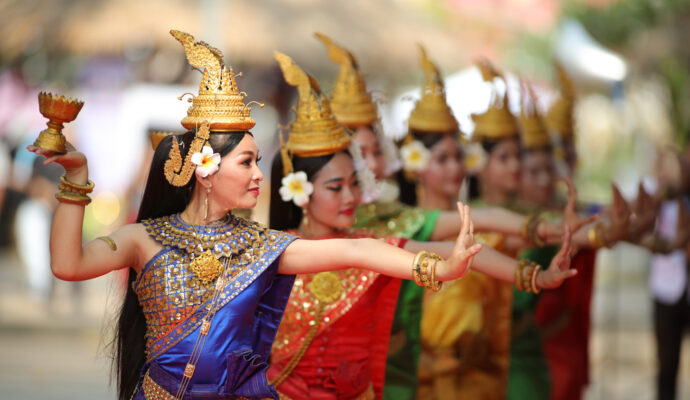 April 14-16 , 2023
Angkor Sankranta
Siem Reap, Cambodia
Cambodia will celebrate the ANGKOR SANKRANTA 2023 from 14-16 April 2023 in Siem Reap province after three years of suspension due to COVID-19.
Angkor Sankranta, an annual festivity held in Siem Reap during Khmer New Year, aims to "show off solidarity of the Cambodian family as a whole and to contribute to maintaining Cambodian tradition, culture, and custom."
Organized by the Union of Youth Federations of Cambodia, Angkor Sankranta has drawn more than a million local and foreign visitors to experience many of Cambodia's customs amidst the beautiful ancient Angkor temples.
On Angkor Sankranta, you can watch traditional folk dances and games, cattle races, Khmer orchestra, and other performances that correspond to the theme for the year. The food is a major Angkor Sankranta draw: past celebrations welcomed two, four-ton traditional Cambodian cakes, Num Treap Bay, a stick rice dessert with toasted sesame seeds, and Num Ple Ay, glutinous rice balls filled with palm sugar.