Tourism is driven as much by a country's image as by its legendary natural or man-made attractions. Terraced rice fields, deserts, caves and primal tropical rainforests vie as much for the attention of tourists as metropolises, time-honoured temples, historic city centres and skyscrapers of fame. Many of these obtained iconic status by labelling them as "World Heritage Site(s)" (WHS), of which many a traveller is aware of upon visiting South East Asia's tourism destinations.
For some countries one particular World Heritage Site is the most important reason of visiting the country (e.g. "Angkor" in Cambodia and "Luang Prabang" in Laos), for others it is the combination of sites that has the greatest appeal.
Majestic Angkor Wat, Cambodia's most prized tourism asset; Source: www.interessantes.com
In that respect, tourists visiting Malaysia may wish to combine the World Heritage Site "George Town and Melaka", tagged as the "Historic Cities of the Straits of Malacca" with the "Archaeological site of the Lenggong Valley".
Similarly, for Indonesia it is likely that the top of mind awareness of the Buddhist Borobudur has raised the influx of visitors to the equally important, though lesser known neighbouring Hindu temple "Prambanan", the one reinforcing the other. In turn that might boost visits to a third Central Javanese World Heritage site, the "Sangiran Early Man".
In Viet Nam various 'neighbouring' WHS form part of the 'standard' tourist itinerary, such as the centuries old trading port city of "Hoi An", the Cham vestiges at "My Son' and the ancient imperial city of "Hue", all within a brief driving distance of the country's central city of Da Nang.
View from the top of the Borobudur, Prambanans's twin World Heritage Site, Indonesia
Source: Author's collection – December 2014
These examples reflect the notion that a country's legacy may contain a value for mankind, transcending national interest, thereby becoming an important driver of tourism. South East Asia, in particular Indonesia, Viet Nam, the Philippines and Thailand made big strides to achieve WHS status for vital domestic heritage. Together those four countries retain 27 out of 36 South East Asia sites inscribed on UNESCO's WHS list (containing 1,007 sites in total, of which Indonesia and Viet Nam each have 8).
Especially Viet Nam used WHS[1] as a deliberate tool for tourism development. Testimony to which the year 2012, chosen as National Tourism Year of the North Central – Hue. The six constituent provinces of this region, housing three World Heritage sites, selected the "Heritage Tourism" theme for the year and developed joint tourism products for the region. Thanks to this program, the number of tourists to the region increased by over 12% compared to 2011.
In 2014 UNESCO organised an exhibition in Ha Noi, called "Discovery Wonders of World Heritage", in front of Viet Nam's WHS "Thang Long Imperial Citadel", showcasing images of impressive heritage sites from all over the world (a/o the Egyptian Pyramids, the Taj Mahal in India and the historic centre of Rome) together with the eight Viet Nam's World Heritage Sites, linking both to one another.
Next to eight natural and cultural world heritage sites, Viet Nam is home to nine intangible cultural heritage forms, four documentary heritage items and eight world biosphere reserves; an impressive 29 sites in total
Having inscribed its 8th WHS, the "Trang An complex", Viet Nam holds National Tourism Year2015 – Thanh Hoa with the theme "Connecting World Heritage in Viet Nam" via a virtual World Heritage Road. This is greatly facilitated since the heritage sites are clustered in two regions (north-east and central) that are part of most international tourists' holiday itineraries. The WH Road unites the 8 sites described hereafter (see map for approximate location) that are believed to play an increasingly important role in Viet Nam's tourism development.
HA LONG BAY (Quang Ninh Province)
Viet Nam's most famous site by large, not in the least by its recent proclamation as one of the New 7 World Wonders in 2012. The name means Descending Dragon Bay and it consists of thousands of limestone karsts and islands covered with jungle vegetation. Many of these islands feature caves, grottos, lakes, a variety of wildlife and secluded beaches. Two of the larger islands are home to permanent residents and tourism services. It's on the top of the list of almost every tourist to the country and has been described by so many travel guide books and websites that further introduction would be redundant.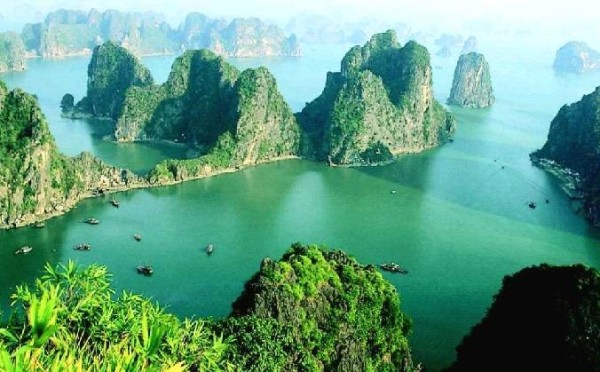 Source: www.vietnam-beauty-review.blogspot.com
THE IMPERIAL CITADEL OF THANG LONG – HA NOI (Ha Noi)
The Central Sector of the Imperial Citadel of Thang Long in downtown Hanoi, that gained WHS status in 2010, was built in the 11th century by the royal Ly Dynasty. It was the centre of regional political power for almost 10 centuries, at the crossroads between influences coming from China in the north and the ancient Kingdom of Champa in the south. In combination with the Temple of Literature and President Ho Chi Minh Relic Site's work and resting place, it easily fills a day of cultural sightseeing.
TRANG AN LANDSCAPE COMPLEX (Ninh Binh Province)
Less than 100km from Ha Noi, Trang An is a mixed (cultural and natural) WHS showing traces of human occupation over a period of more than thirty thousand years, at least since the late Ice Age. Hoa Lu, an ancient capital of Viet Nam, was strategically established here in the 10th and 11th centuries AD, during the Dinh, Early Le and Ly dynasties. Hence, it boasts the Hoa Lu Ancient Citadel area, next to Limestone Mountains, grottos, temples, paddy-fields, pagodas, small communities and even a palace. Due to the prevailing karst it attained the local moniker "Ha Long Bay on land".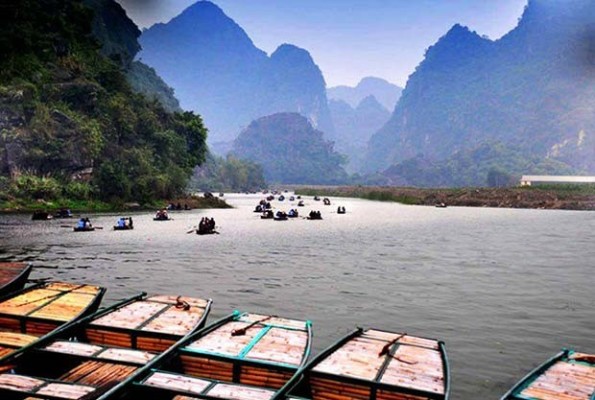 THE CITADEL OF THE HO DYNASTY (Thanh Hoa Province)
The Ho Dynasty citadel was built in the 14th century, in accordance with Feng Shui principles. It's testimony to the maturing of what is called neo-Confucianism and its spread thereof to other parts of foremost East Asia. In line with these standards the citadel was located in a setting of picturesque attractiveness on an axis joining two mountain ranges in a plain between two rivers. It is an excellent case of a South East Asian royal city from that period.
PHONG NHA-KE BANG NATIONAL PARK (Quang Binh Province)
Containing the largest tracts of karst in Asia, the formation of the Park goes back several hundreds of million years. It has numerous caves and underground rivers, and wildlife with a high level of diversity and exclusivity. Man-made tools, such as axe heads and similar artefacts from the Neolithic period have been unearthed. The Phong Nha Cave contains the vestiges of the Cham people and ancient Viet people. The Park also houses the World's Largest Cave, Son Doong. To limit environmental degradation, up till now it has been visited by a handful of adventurous tourists (on quota basis!) only, who pay a premium price to enter and explore. The cave has been declared 'one of the top 10 most breathtakingly beautiful places to visit on the planet' (www.globalgrasshopper.com)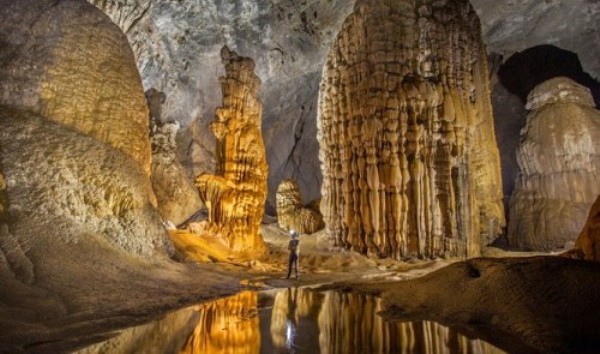 Source: http://vietnambreakingnews.com
COMPLEX OF HUE MONUMENTS (Thua Thien Hue Province)
Under the Nguyen Dynasty (1802 – 1945) Hue was the political, cultural and religious centre of a unified Viet Nam, as well as its capital. The Perfume River curls through its previous distinguishable cities: Capital Enclosure, Imperial Citadel, Forbidden Citadel, providing the distinctive traditional first city a backdrop of genuine splendour. Heavily bombing during the 1968 Tet offensive of the American war caused huge damage to temples, the walled fortress, and the palace and citadel, the latter being modelled after the Forbidden City in Beijing. Only a handful of buildings survived and a vast area of the Forbidden Citadel has been covered by rice fields nowadays. Nonetheless, the remaining structures offer sound insight into impressive cultural imperial architecture.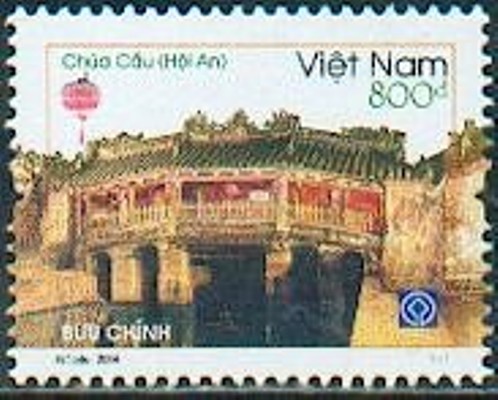 Two World Heritage Sites featured on Vietnamese stamps; Hoi An's Japanese bridge (left); My Son (right) Source: http://thesalmons.org
HOI AN ANCIENT TOWN (Quang Nam Province)
The Ancient Town of Hoi An was an important South East Asian trading port for over 300 years, from the 16th to the 19th century. Its buildings and street plan reflect long lasting foreign and domestic influences that produced an inimitable heritage site, with exceptionally well-preserved communal houses, temples and houses.
MY SON SANCTUARY (Quang Nam Province)
My Son was the Centre of the Champa Kingdom, a unique culture that developed between the 4th and 13th centuries on the coast of central Viet Nam, its origins tracing back to Indian Hinduism. The site contains various remains of remarkable turret temples in an area covering the previous religious and political capital of the Kingdom. It shows several resemblances with Angkor in neighbouring Cambodia and as such is an ideal introduction for those who haven't visited that temple complex, yet. For those who did, it still is worth the while, not in the least as it is more intimate and offers quieter surrounds, attracting only a fraction of the millions that frequent Angkor, annually.
Vietnam's World Heritage Sites, a wealth of cultural and natural magnificence,
conveniently combinable on a two-week holiday trip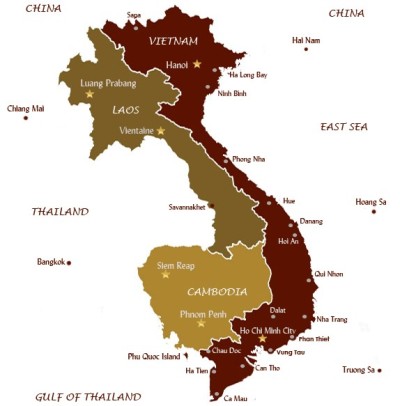 some 70km west of Da Nang and Hoi An)
Source: http://tours-vietnam.com