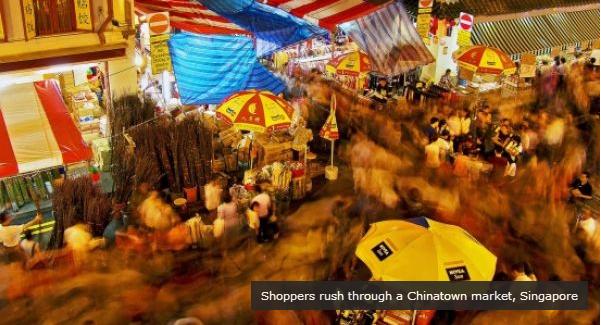 Bargain shopping in South East Asia: where to start? If you're anything like me, you're in the first Duty Free store available. If you pace yourself, you can actually keep a steady flow of expenditures through all the Duty Free stores, in every transit airport of your trip. That is until you realize, just as your final flight is boarding, that you CAN'T POSSIBBLY GO HOME without another bottle of whiskey/six-pack of miniature perfumes / jumbo Toblerone bar/elephant-shaped pillow and you only have enough local currency to buy one. The joy of South East Asia is that no matter which country you're in, the bargains you find at the airport are just a prelude, an amuse bouche, of what's to come.
Bangkok is famous for many things, but perhaps most for its amazing shopping. It's as if the entire country has been designed for binge spenders like me.Just walking to the 7-11 for a bottle of water can result in a shopping spree of epic proportions involving several boxes of Pocky, some instant noodles, a packet of sausages (heated), a mini sewing kit, taro bun and some Doraemon merchandise – all essentials.
For fashion shopping on the cheap, you're only limited by your own stamina. Bangkok's Platinum Mall, located in Pratunam, sells clothes by the kilo at wholesale prices, Siam Square features vintage clothes and cheap shoes, and the two biggest markets in the city – Suan Lum Night Bazaar and Jatujak Weekend market are staggering in their scope. Electronics and software (both legitimate and not so much) are cheap and plentiful at Fortune Town on Ratchadaphisek Road, the forever popular MBK and Panthip Plaza (conveniently positioned next to Platinum Mall).
In Malaysia, Penang's Batu Feringhi has a great night market set up along the main road. During the day it's deserted, but come dusk the vendors materialize and the bargaining begins. Most of what's on offer here is a knock-off – watches, sunglasses, DVDs, t-shirts – all of varying quality, prices and fakeness – but there are also great local handicrafts and souvenirs for sale.
In Kuala Lumpur, Chinatown's Jelan Petaling stages a nightly market that stretches the length of the street. Fake designer goods and cheap mass-produced clothes are popular here – plus you can stop and rest with a few dumplings and a beer if the crowds start making you twitchy.
Offering a lovely combination of history and shopping (shopping can be educational!) is Hanoi's Old Quarter. While markets are often perceived as unsightly messes of rabid, sweaty tourists manhandling the same tacky ephemera available at any ASEAN marketplace, the Old Quarter is a place of beauty – and shopping.Each of its '36 Streets' (there are actually more) feature a different set of merchandise: wooden things, silver things, silk things, hats – all presented in the charming, rickety, weather-aged wrapping of colonial Vietnam.
Vientiane in Laos has similar savings, if slightly less charm. The Morning Market – Talat Sao – incidentally open all day, sells everything from baguettes to washing machines. Ubiquitous and poorly pirated DVDs cost – and are worth – around USD0.30 and significant floor space of the mall is devoted to silks sold at wholesale prices.Must-buys here include t-shirts bearing the Beer Laos logo, a Buddha trinket for good luck, some pickled pork sausage wrapped in a banana leaf and several crummy DVDs that won't play in any of your electronic devices.
Just a caveat about knock-off items: South East Asia is a great place to pick up replicas– if you don't care at all about quality or breaking the law. Pirated DVDs and fake designer goods are everywhere but everything about them screams FAKE, especially the logo that reads 'Guchi'. Better to spend that money at a local designer's stall, pop it in a homeless person's cup or even snap up those duty-free dried durian chips you passed up on the inbound journey.
Bek van Vliet is a freelance travel writer and blogger living in Bangkok, with her 2 cats.