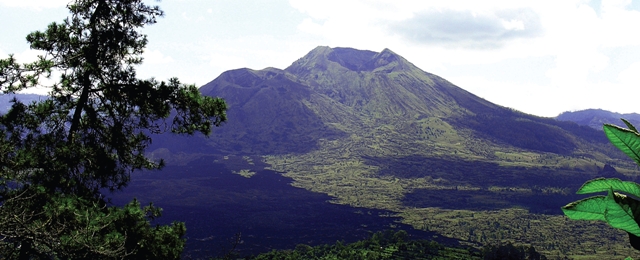 Image courtesy of the Indonesia Ministry of Tourism and Creative Economy
From the magnificent volcanic lake of Mount Batur, everything's downhill… literally.
The town of Kintamani in Bali, overlooking the Batur Crater and its picturesque lake, serves as a scenic starting point for epic downhill cycling tours to the cultural Bali centre of Ubud, or the rustic East Bali town of Candidasa.
The tour passes by rice fields, art workshops, villages, and temples – and if you stop for refreshments at any point along the way, you'll get to experience Balinese courtesy and culture in equal, generous measure.
You'll start at Kintamani, one of the highest towns in Bali at an average elevation of 1,500 metres above sea level. The town overlooks the crescent-shaped Lake Batur, the waterlogged crater of a sleeping volcano that last erupted in 1917.
Thanks to the downhill direction, travelers on this route need not exert themselves too much to see all the sights along the way – coffee plantations selling artisanal samples of their crop; bamboo forests fringing simple Balinese villages; towns specializing in fabric or metalworks; and more. The routes have been selected to avoid most traffic in Bali; travelers will feel safe from the likelihood of accidents along the way.
Travel from Kintamani to Ubud takes about two to three hours, depending on the stops along the way. To Candidasa, the trip takes up to five hours to complete.
Elsewhere on the Web: Read Indonesia Travel's official page on Kintamani, Bali and Mount Batur.