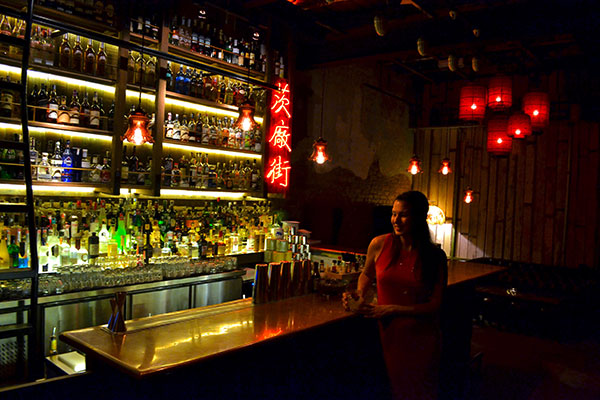 Who says the fun has to end after sunset? After dark in Southeast Asia, the festivities have only just begun: from cabarets to night markets to lantern-filled streets, you'll have just as much fun around these parts in Southeast Asia's nighttime streets as you would in the day. Just ask the following bleary-eyed bloggers:

Hidden bars in Kuala Lumpur, Malaysia
Hello Raya's Soraya Nicholls (Instagram|Facebook|Pinterest) found something in Kuala Lumpur that was not at all what it seemed to be. "It looked like a small toy shop; no music could be heard, no smell of booze or a rowdy crowd," Soraya recalls. "Who would expect that a cool bar would exist behind the wall?
"It was just so unexpected… and that was the whole fun of the experience."
Soraya knew she was on to something when she saw a well-dressed waiter emerge from a blank wall. "'A-HAH!' I thought to myself – there's a secret speakeasy bar that lies behind these walls. And so, I walked to the staff manning the toy shop and asked if we could get in."
Speakeasies, the hidden bars that emerged from the crackdown on alcohol during the U.S.' Prohibition period, have become the new thing for drinkers in Malaysia. "They are not always so easy to find and can take some creativity to find them," Soraya explains. The hidden bar she "found", PS150, "has turned out to be one of my favorite hidden bars in Kuala Lumpur."
These hidden bars are never advertised, and get followers mainly by word of mouth. "What a fun way to explore Kuala Lumpur at night, through the many speakeasy bars located around the city," Soraya explains. "If you watch carefully, you might just find them."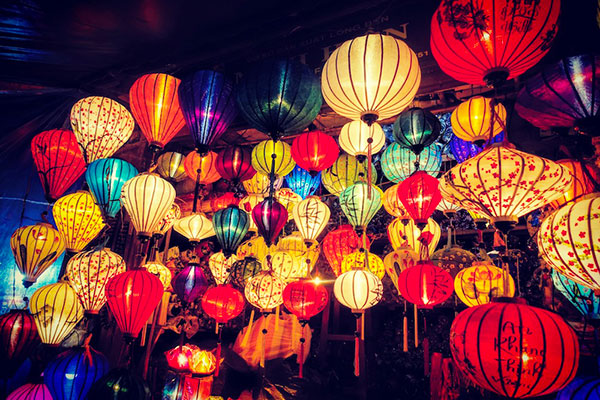 Paper lanterns in Hoi An, Vietnam
The Thu Bon River that bisects Hoi An in Vietnam also divides it into two different nighttime experiences, explains Craig Russell of No Real Plan (Facebook|Twitter|Instagram).
"On one side of the river, you have the quieter side that is full of restaurants and the famous lanterns," Craig says. "Here you can relax and unwind, stroll around the streets that are beautifully lit, browse many shops and visit the famous night market.
"On the other side of the river, there are some restaurants but also many livelier bars, many with drink offers and dance floors," Craig explains. "They usually have staff working outside on the streets, trying to entice you in."
Whichever side of Hoi An you start with, a few days ought to be enough to see the best of this retro little town. "Hire a bicycle, eat many different dishes and maybe experience both sides of the Hoi An nightlife if you so wish, as both are so memorable!" Craig says. "See when the Hoi An Lantern Festival is on also, as this celebrates the full moon each month. You can light little lanterns and send them off onto the river to let them float by.
"Going around Hoi An at night is simply breathtaking," Craig concludes. "It's like a magical place as you walk around and see the UNESCO World Heritage town alight."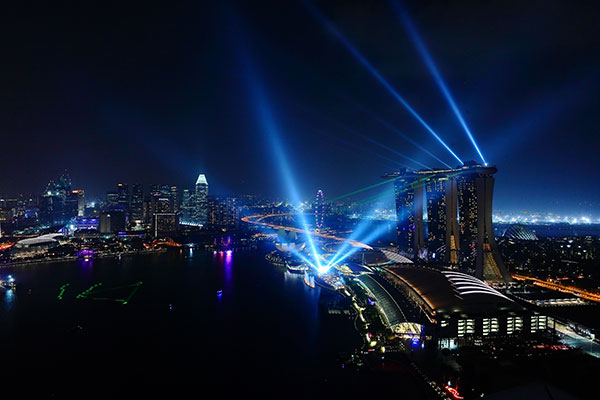 Laser Light Shows in Marina Bay, Singapore
Singapore travel blogger Owen Ter of My Turn to Travel (Instagram|Facebook) tells us there's more to the Marina Bay skyline than the Marina Bay Sands and the Singapore Flyer: "Every night, the promenade lights up with a dazzling laser and LED light show, complete with orchestral music, fountain jets and colourful visual arts," he tells us.
The show is called Spectra – "the outdoor light and water show that [tells] the story of Singapore's transformation into a multicultural cosmopolitan city that she is today," Owen says. "As a Singaporean, I've seen the show multiple times but each time, I still get mesmerised by the visually stunning effect and feel a sense of pride for my country."
While you're in Marina Bay, Owen recommends heading over to the Gardens by the Bay next door to see another nocturnal lightshow. "Watch the Supertrees erupt into life with the Garden Rhapsody," Owen explains. "Enter a fantasy world as you watch the Supertrees light up with dazzling colours and accompanied by soulful music.
"The Garden Rhapsody has different themes throughout the year, from The World of Starwars to Christmas Wonderland. Best of all, both shows are free to the public and runs every night."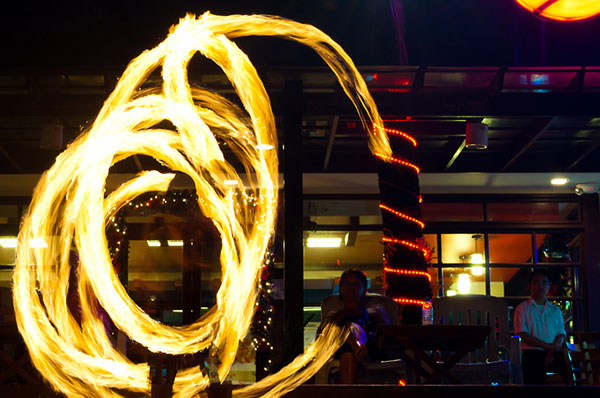 Twirling fire dancers in Boracay, Philippines
197 Travel Stamps' Michael Meraner (Facebook|Twitter|Instagram) tells us that Boracay's scenery changes completely at the end of the day.
"It usually starts with an incredible sunset," Michael says. "After the beautiful red and orange colors of the setting sun have disappeared and night falls, the Boracay fire dancers emerge."
As Michael tells it, the dangerous beauty of swirling fire is all a part of the show. "A central element of the show is usually the rhythmic rotating of metal chains with a burning end," Michael says. "You will be amazed by the skills and the variety of tricks that the dancers master while swirling the fire balls around their bodies, while avoiding to get burned by the hot ends of the chains."
Between twirling these fiery chains and other dangerous acts like fire-jumping and fire-breathing, the performers welcome audience participation. "One or several tourists are asked to step onto the stage while several performers start swinging the fire chains around their body," Michael explains. "While the situation may be a bit uncomfortable with the burning chains closely passing the head and body, it sure makes a great memory and amazing photos."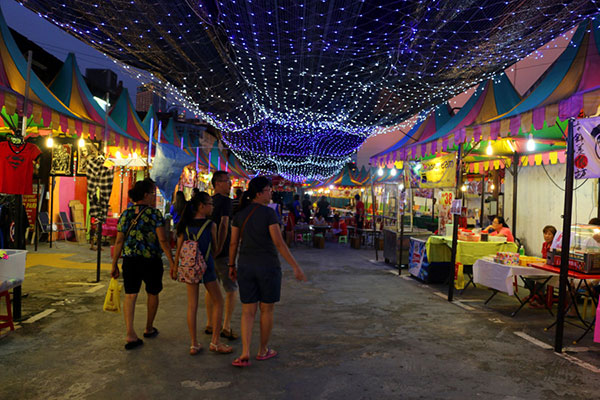 Night markets and more in Melaka, Malaysia
If you like Melaka in the daytime, says Stingy Nomads' Alya Akhmetghareeva (Facebook|Twitter|Instagram), you'll love it even more after dark.
"Located 150km from Kuala Lumpur, Melaka is a perfect getaway from the bustling capital city… The town is small and beautiful, great to explore on foot during the day; walking along the embankment, visiting local museums, enjoying coffee in a local café," Alya says. "At nighttime, the town looks amazing; the river embankment with lights and music, many restaurants and bars opened till late."
Alya suggests riding a boat down the Melaka River to see the town after dark: "old houses and bridges in orange street light look charming," she says. But it's at the night market at Jonker Street where Melaka's nighttime scene really comes alive. "It's opened on Fridays and Saturdays from 6pm till late night," she tells us. "Here, you can try all sort of local delicacies; fresh fish and sea food, sweets, fruit juices, pastries etc.
"The market has a festive vibe; colourful lights, locals and tourists wandering around, music, karaoke and many stalls selling food and curiosities," Alya explains. "[And you'll see] traditional local trishaws decorated with lights making their way through busy night streets of Melaka."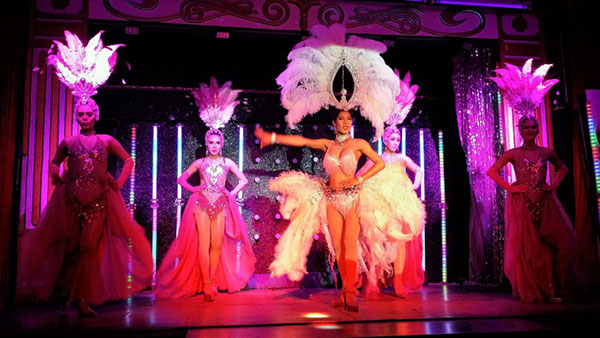 Flashy cabaret shows in Chiang Mai, Thailand
Frequent Traveller's Alan & Rosalind Cuthbertson (Facebook|Twitter|Instagram) frequently visit Chiang Mai in northern Thailand – and favor an odd but massively entertaining show held every night at the Anusarn Night Market.
"A firm favourite would have to be the Chiang Mai Cabaret Show," Alan and Rosalind say. "When you walk in, there is a feeling of anticipation as the lights shine on the velvet curtain, the lights dim, the music starts, and the show begins."
"Ladyboys" are the cabaret's main draw – "This talented troupe of artists takes you on a journey of song, dance and comedy, that leaves you breathless," the couple tell us. "It is a show full of glamour, energy and just a touch of the risqué.
"The Ladyboys are gorgeous, their beauty and grace will make you forget that they are they are in fact men," say Alan & Rosalind. "A wonderful night out!"
The cabaret is worth a visit, if only to explore the night market surrounding it. "The Anusarn Night Market is a shopper's paradise that is full of restaurants and bars," they tell us. "A great place to browse for bargains and have a bite to eat before the show begins – and if you are lucky you will catch a glimpse of these stunning Ladyboys as they walk around the market before the show."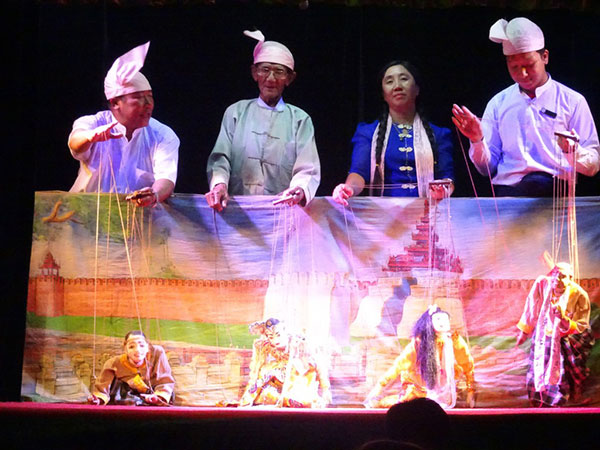 Traditional puppetry in Mandalay, Myanmar
Hannah Logan of Eat Sleep Breathe Travel (Facebook|Twitter|Instagram) caught one of Myanmar's endangered arts after dark: the puppet theater. "Traditional puppetry is believed to date back as far as the 11th century, and its popularity lasted centuries," Hannah explains. Today, this ancient form of entertainment is a dying art."
One remaining true puppet master remains, Hannah says, and few young successors to the art. The exception plays out in a small puppet theater in Mandalay.
"The Mandalay Marionette Theatre puts on a nightly show at 8:30pm for those who want a glimpse of this aspect of the Burmese culture," she explains. "The show is performed by four skilled puppeteers who use traditional Burmese puppets to tell the myths and legends of the country and religion."
The one-hour show is accompanied by live, traditional music, Hannah says. Visitors should book in advance: "The theatre is quite small – your hotel will be able to arrange tickets for you."