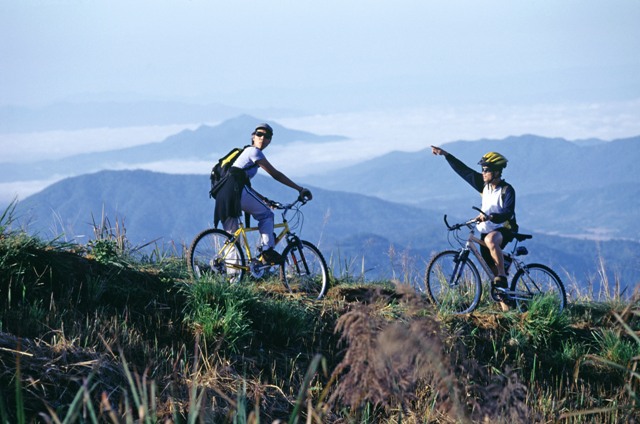 Image courtesy of Tourism Thailand, used with permission
For bicycling enthusiasts, the northern city of Chiang Mai has it all: surrounding mountains shot through with winding bike trails; favourable climate through most of the year, and best of all, a vibrant cycling culture.
All the pieces have fallen into place over the past few years, as Chiang Mai has come under increasing attention from foreign bikers. A high-quality velodrome in the 700 Year Sports Complex off Canal Road caters to the city's track cycling enthusiasts. Beyond Chiang Mai city limits, a selection of loopy mountain trails presents a formidable challenge to mountain bikers, who relish the difficulty of ascending the trails leading up to Doi Inthanon and Doi Suthep.
The thriving local biking community welcomes all comers, hosting regular races and time trials that draw hundreds of enthusiastic locals and expats, including national teams from all across Southeast Asia. The Masters Tour of Chiang Mai is the most popular event of the year, a four-day race drawing the cream of the bicycling world.
Come to Chiang Mai with your own bike in tow, or none at all – the local bike shops will gladly fit you out with a bike and equipment that suits your budget, and before you know it you'll be pedalling up to Doi Suthep alongside your new biking buddies.
Elsewhere on the web: read all about Thailand's most bike-friendly city in their page about Chiang Mai.