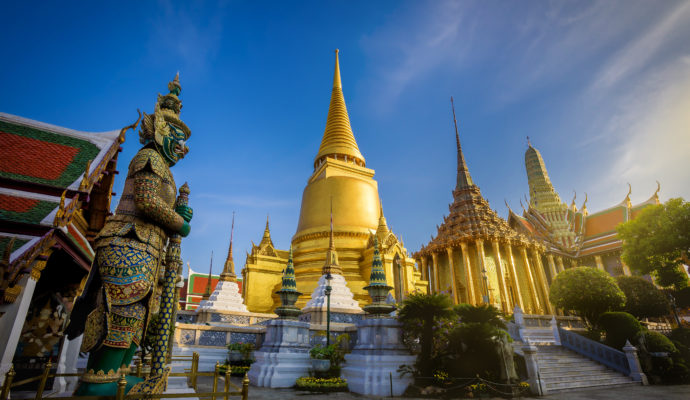 The Grand Palace
Bangkok, Thailand
The Thai King may presently live at the Dusit Palace complex, but Bangkok's Grand Palace remains their family's official and spiritual home. The King's official coronation takes place at the Palace's Phra Maha Monthien; the country's holiest relic can be seen in its namesake Temple of the Emerald Buddha at the heart of the palace complex.
The Grand Palace remains a busy beehive of activity, overwhelming the visitor with an abundance of detail spanning a whole complex covering some 200,000 square meters.
Beyond the Emerald Buddha's sanctuary, you'll find over a hundred other buildings crowding the grounds, including a couple of structures notable for their European influences, like the Borombhiman Hall and the Chakri Mahaprasat—the latter's Thai spires crown an Italian Renaissance-style hall.
The Grand Palace is most easily reached by the Chao Phraya Express boat from Sathorn Pier. A dress code is enforced at the gate; visitors' attire must cover their shoulders and legs.