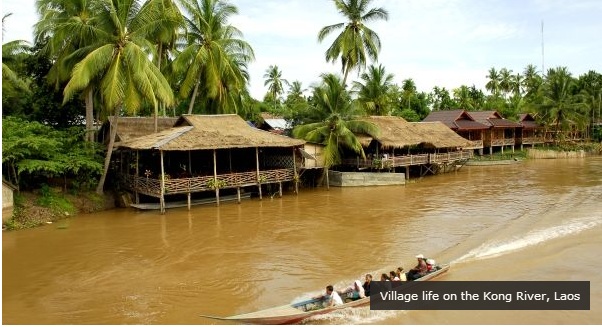 SoutheastAsia.org asked its writers what they would do with 2 weeks to spend in Southeast Asia.
Call me sentimental, but I'd probably spend most of my two weeks growing weepy and wistful, retracing faded steps, especially through Laos, my home for two years in the 90s, just as it was emerging from the sloth of the cold war era. In a fit of masochism, I'd hit the skinny mattresses of backpacker guesthouses after years mollycoddling in multi-starred hotels – to see if I can still handle hot and stinky travel.
First off, it's a short flight from Bangkok to Nan province – one of Thailand's great neglected destinations. The ghost town capital of Nan has one department store, one deserted saloon with giant lips as its logo and one main road. Most of the buildings are made of wood, and you might suspect some of the people are as well. It's a quiet town and excellent training for Laos.
From here I'd rent a motorbike and head for the hills, which offer some of the best biking SE Asia. The smooth roads are mostly atop the ridges, so you can look down into fruit-laden valleys on both sides while mashing through the bends. Stay overnight at a hill tribe village, reluctantly turning down offers of moonshine – early start tomorrow.
Up while the sparrows are yawning to the Thai-Laos border at Huay Xai and board the morning boat to Luang Prabang in Laos. Since this is a fantasy trip, instead of returning the bike to the shop in Nan, I'd set fire to it and throw it off a cliff.
The boat ride to Luang Prabang takes two days of slow puttering with one night in a sleepy hamlet called Pakbeng. This is a great opportunity to spend some quality time with red-toothed old ladies, spitting betel nut juice between the floorboards. That's what it used to be like, but I fear that now the colourful locals might be outnumbered by the fragrant Westerners.
Once in Luang Prabang, a delightfully quiet peninsula with charming colonial houses and temples, I'd stroll around the entire town and after that, decide how to spend the next hour. Food is the answer – and Lao Beer. The bistros and cafes are excellent here.
The next two days would involve a bit of spelunking, more bistros and beer, then an early morning start on another rented motorcycle for nine grueling hours of riding towards Vientiane along decent roads with incredible views that I wouldn't look at for fear of losing concentration and meeting the same fate as the Nan motorcycle.
No stopping at Vang Vieng this time, for as large as it looms in my fondest memories when it had one empty guesthouse, it is now packed full of drunk gap-year kids floating on inner tubes and having fun. This is great when you're 19, but unfortunatley I'm not anymore.
Then a day or two wandering around unpretentious Vientiane, eating steaks and spicy meat salads and drinking Pernod at the riverside bars perched by the Mekong while trying to recall what used to be where and who the blazes lived there 15 years ago.
After that, it's a public bus for a long overdue reverse journey towards Pakse, Laos' southernmost "city".After 16 hours over dusty, bumpy, unpaved roads, I had arrived in Vientiane looking like a punch-drunk Oompah-loompah with Einstein's hairstyle. Now the VIP bus is about ten hours the opposite way over roads laid by China and Sweden.
A swift overnight stay in Pakse and then hire a small private boat to head south to Sii Pan Don "Four Thousand Islands", a spectacular yet unphotographable place that you have to be in the middle of to truly appreciate.I'd be passed from boat to boat en route – navigating the eddies requires very localised knowledge.
Overnight on one of the islands, then across the world's sleepiest border to Cambodia, and hire a car to shuttle me to Phnom Penh. The plan would be to stay overnight in PP then head to Angkor Wat and savour those truly amazing temples, but that probably wouldn't happen. The Phnom Penh "wild west" evenings would swallow me as usual, my two weeks would suddenly be over and I'd have to board a flight back to Bangkok and the comfort of my Sealy mattress and hot shower.
Bangkok-based Cameron Cooper has spent two decades travelling Asia, seeking oddities, adventure, and the meaning of life, while contributing to The Melbourne Age, Discovery Channel Magazine, and worked as an editor at Thailand's Nation newspaper.