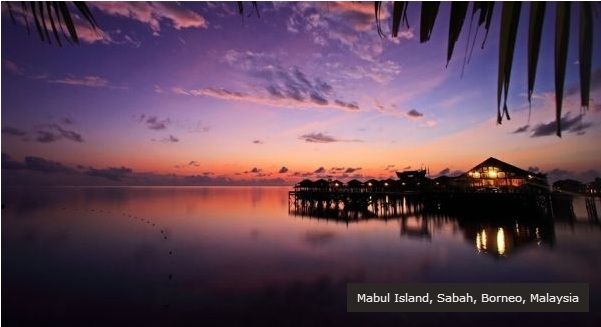 SoutheastAsia.org asked its writers what they would do with 2 weeks to spend in Southeast Asia.
Two weeks is very little time to explore such a large and diverse region, so I would limit myself to three countries: Thailand, Malaysia and the Philippines. I'd want to mix in a little urban exploration, some wildlife and at least a couple of days scuba diving – I learned to dive on the Filipino island of Boracay in 2008, and was well and truly bitten by the bug.
I'd start my trip in Bangkok, partly because I've spent less time there than I'd like and partly because it's relatively cheap and easy to reach from the UK. Throwing myself into this dense metropolis I'd take a trip down the river on the Chao Phraya Express ferry, join the crowds visiting the Wat Phra Kaew and Wat Pho temples, and get lost in the markets of Chinatown. Later I'd relax with a traditional Thai massage.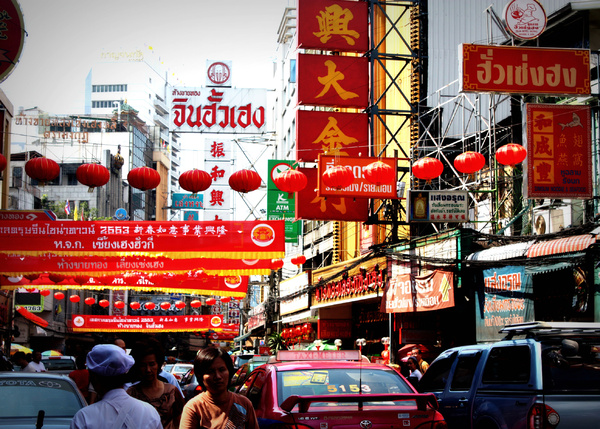 Bangkok's Chinatown
After a couple of days exploring Bangkok I'd catch an afternoon train to cross the border into Malaysia. In part this would be because I'd already be feeling a bit guilty about all the flying later in my itinerary, but also I just love falling asleep to the rocking of a train. Traveling by train, particularly alone, is also often a good way to make some new friends.
Although the train goes right through to the Malaysian capital Kuala Lumpur, I'd get off at Butterworth in the early afternoon almost a full day after leaving Bangkok. Butterworth is the gateway to Penang island, where the main settlement Georgetown has some excellent colonial-era buildings and Chinese clan association halls such as the Khoo Kongsi. I'd treat myself to a night staying in the 19th century Cheong Fatt Tze mansion, which has appeared in several films and has been well restored with lots of period detail.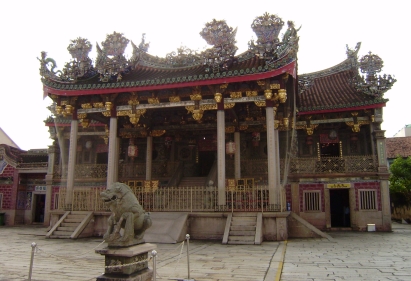 Khoo Kongsi in Penang
As much as anything though, I'd be in Penang to do some serious grazing. While Thai food has a higher profile in the UK, for my money the mix of Malay, Indian and Chinese dishes in Malaysian cuisine is even better. Penang is widely regarded as having the best street food in the country, so I'd pick some places from my copy of the Star newspaper's Guide to Malaysian Street Food. This indispensible book is widely available in Malaysia and covers where locals genuinely like to eat, and more importantly the specialities of each establishment.

If I had more time I'd head down to Kuala Lumpur and Singapore, but for this trip I'd take an domestic flight to Kota Kinabalu in Malaysian Borneo and hop on another plane to Tawau. The aim would be to reach the island of Sipadan, one of Southeast Asia's premier diving spots. You can't sleep on the island itself, so I'd stay at one of the resorts on nearby Mabul, which itself has good macro life (small creatures such as nudibranchs). Sipadan dives typically include an abundance of turtles and reef sharks, and I'd like to recapture the thrill of my last dive there – holding onto a rock while overhead a wall of hundreds of barracuda remained stationary in the current.
After three days on the island I'd make my way back to Kota Kinabalu via Sandakan and try to catch feeding time at the nearby Sepilok Orangutan Sanctuary. I would take a two-night trip to one of the lodges on the Kinabatangan River, where the package includes several wildlife-spotting boat trips. Last time I went we saw an orangutan in the wild as well as lots of proboscis monkeys and long-tailed macaques. Most memorably, a pygmy elephant wandered into the camp and refused to leave.
                          Borneo's endangered Proboscis Monkey
At this point the end of my fortnight would be in sight and I'd want to stop in on the Philippines before returning to the UK. I'd fly to Clark, north of the capital Manila on the island of Luzon. From there I'd head up to see the famous rice terraces of the Cordilleras – I'd just about have time for a day hiking around Banaue or one of the smaller villages in the region.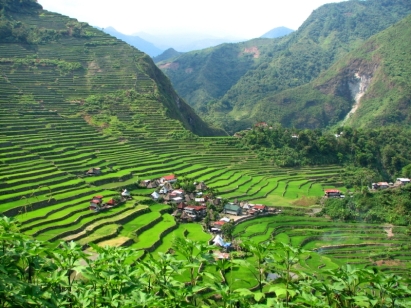 The Rice Terraces of Banaue
If I didn't have to leave then I'd spend more time in North Luzon and visit Vigan for its architecture inspired by both China and Spain; it's one of the few towns in the Philippines where pre-Second World War history is truly evident. Instead, it would be back to Manila where I might have time for a meal with friends –one of them has promised to take me for deep fried bulalo (beef shank broth) – before flying home.
John Oates is a freelance writer/photographer and has travelled through much ofAsia. He recently spent a year based inthe Philippines while visiting several other ASEAN countries.Contact John at http://www.johnoates.co.uk.