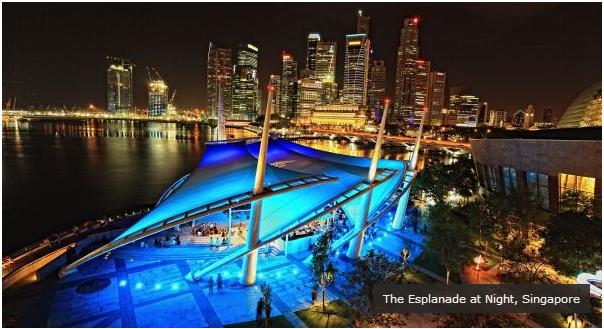 At a dizzying 165m in height (as tall as a 42-storey building) and 150m in diameter, the Singapore Flyer is the world's biggest observation wheel. Each capsule holds 28 people and measures 28m inside, making one roughly the size of a bus. One rotation lasts 30 minutes. Its design was inspired by the Eiffel Tower and the London Eye, and it was officially launched in April 2008. By August of the same year, more than a million tickets had already been sold.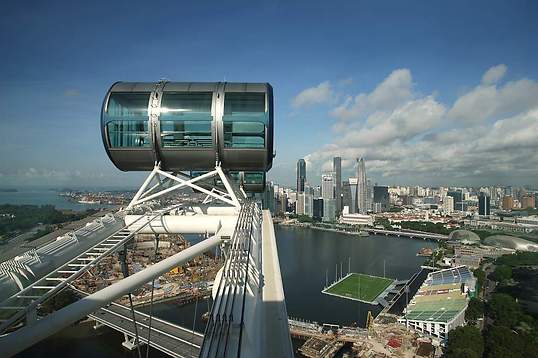 Those who think stylish innovation and the strictness of Singapore must be mutually exclusive should take another look at the quickly evolving island nation where indigenous talent flourishes these days and at any hour visitors can have a shocking amount of fun.
Even the business hotels are no longer boring towers filled with standard amenities. Grand Hyatt Singapore (10 Scotts Road; tel. +65 6738 1234; www. singapore.grand.hyatt.com) just opened the Damai Spa, a Thai stone and falling water-filled haven designed by Japan's Super Potato. Walk down the calming blue lit corridor to 11 minimalist treatment rooms including one sky-lit couples' suite with a sexy bathtub carved from one giant rock. The cool gym with switched on attendants happy to share their training tricks, features the latest Kinesis equipment plus 49 television channels on all the cardio machines. Afterwards, treat yourself to at least one meal at Straits Kitchen, a thoughtful buffet that brings the best of Singapore street food into air-conditioned comfort. Taste local flavors like popiah, an elongated summer roll filled with braised turnip, prawns, boiled eggs and peanut, and ayam santan curry, the Malay chicken curry with fresh coconut milk, an entire array of Indian dishes, plus authentic American burgers and Australian sirloin. Rooms here have recently been given a clean sweep, now redesigned in stylish blond wood and warm hues with a long work desk, aerodynamic chair, plenty of sockets for traveler's gadgetry plus a roomy marble bath with separate sunken bath and nifty two-way closet.

Notable room renovations have also turned the newly coined Mandarin Oriental (5 Raffles Avenue, Marina Square; tel. +65 6338 0066; http://www.mandarinoriental.com) into one of Singapore's most worthy five-star contenders. Each of the calming, neutral-hued 527 guestrooms and suites features a pillow-top bed, a roomy closet, a sizable work station, wireless access and an ergonomic desk chair. Even when Formula 1 is not in town, the view from the Marina Bay-facing suites makes a memorable impression, taking in Singapore's vibrant business district, the Merlion, Singapore's whimsical "lion mates with mermaid" mascot, and out past its ever busy harbor to the South China Sea. Notice the brand's signature fan shape in the soaring atrium designed by John Portman, en route to the small but serene spa, to the sprawling resort-like swimming pool, or to the multiple dining destinations featuring authentic dim sum, sublime sushi, to hearty Italian from a just-arrived and much celebrated chef who's generating much deserved buzz. If funds allow, rooms with Club Lounge privileges allow guests to access this top floor spread with private meeting space, computers with printers, panoramic views, and complimentary cocktail hours with delectable snacks.
Travelers with tighter budgets can spread out inside the expansive standard accommodations at The Fairmont Singapore (80 Bras Basah Road; tel. +65 6339 7777; http://www.fairmont.com), the North American brand's first Asia outpost. The location above the sprawling mall, Raffles City, and across from the historic Raffles hotel (with cooperative signing privileges between properties) provides for both business travelers and pleasure seekers while locals swear by the in-house spa and the hotel's roomy pool that offers relief from the city-state's swelter.
Shopping consumes the day for most Singaporeans who all at once seem to stroll Orchard Road, Singapore's central drag lined with luxury and discount outlet filled malls. While this lengthy stretch of indulgence can overwhelm, concentrate on a few insider secrets to make the most of your stroll, starting with the Exquisite by Salon 916 (Orchard Parade Hotel #01-11, 1 Tanglin Road; open daily 9 a.m. to 8 p.m.; treatments start at US$18) for a hair wash that feels more like massage. Next, nip across the road to Flaming Queen (#B1-12 Palais Renaissance; tel. +65 6235 3918; http://www.flaming-queen.com; open Monday through Saturday 11 a.m. to 7 p.m. and Sunday 11 a.m. to 6 p.m.) where original scented candles like Tige de Bamboo and Zen let exotic scents like sandalwood and jasmine flower linger after the Singapore journey ends. Detour down Scotts Road to Far East Plaza (14 Scotts Road) where bargains abound like the jaw-dropping bikinis at Sheer Romance (#01-96; tel. +65 6235 8852; open daily 11 a.m. to 9 p.m.) then go to Wisma Atria (435 Orchard Road) where a notable local name, Southaven (#01-12/13; tel. +65 6734 6608; open Monday through Saturday 10 a.m. to 9 p.m. and Sunday 12 p.m. to 7 p.m.), purveys well-cut and attractively- priced cotton frocks. Settle in for a latte like the locals do inside ProjectShopBloodBrothers (#03/41-44 Paragon, 290 Orchard Road; tel. +65 6735 6765; open daily 10 a.m. to 9:30 p.m.) while gleefully reviewing all recent purchases before heading off to one of Singapore's more intimate shopping neighborhoods.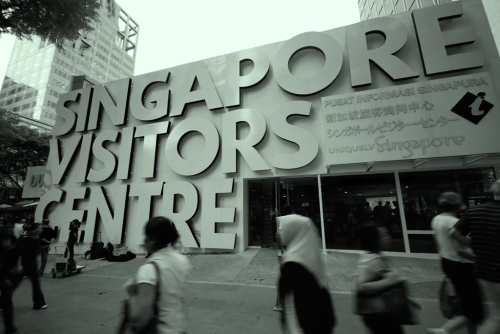 **When Singapore became an independent republic in 1965, its GDP was only US$1.9 billion. Fast forward to 2007 and it boasts of a GDP of US$159 billion, which continuously grows.**
Arab Street is an emerging attraction among those exciting spots. Arab merchants first settled here during the 1820's and sidewalks still bustle with shoppers haggling over sparkly fabrics and spices in some of the original shops. Modern chic has moved in along Haji Lane, a narrow stretch running parallel to Arab Street, centered around an intimate incubator for local talent that doubles as an old fashioned ice cream parlor called Pluck (#31-33 Haji Lane; tel. +65 6396 4048; open Tuesday to Thursday 11 a.m. to 8 p.m.; Friday and Saturday 11 a.m. to 10 p.m.). Shop for artful gifts made locally like evening bags designed to resemble boom boxes and vintage cameras, retro home furnishings, and cotton tees designed by a Singaporean but outsourced to create jobs for villagers in rural Philippines. The delectable homemade ice creams and sorbets range from sublime chocolate to indigenous flavors like soursop, red bean gula malaka and the quickly addictive earl grey and fig. Linger here before heading on to vintage-filled closet size spaces like Dulcetfig (#41 Haji Lane; tel. +65 6396 5648; open Monday through Saturday 12 p.m. to 8 p.m.) and nascent local brands like Soon Lee (#56 Haji Lane; tel +65 6297 0198; open daily 12 p.m. to 8 p.m.) with its enchanting murals and cheerful tunes. Don't forget to look up at the shiny dome of Sultan Mosque, Singapore's largest and most majestic.
Another day, make your way to Chinatown where small grocery stores still stock dried seahorses, birds' nests and sharks fin while signs in Chinese advertise traditional lantern makers. Alongside, hip retail like Front Row (5 Ann Siang Road; tel. +65 6224 5502; www. frontrowsingapore.com; open Monday through Saturday 12 p.m. to 8 p.m.) feature up and coming Asian designers while tiny storefronts like Flair (33 Erskine Road, #01-02; tel. +65 6538 7505; open daily 10 a.m. to 8 p.m.) and Egg3 (33 Erskine Road #01-10; tel. +65 6536 6977; open daily 10 a.m. to 8 p.m.) offer lifestyle gadgets and indulgent knickknacks. Refuel at the stylishly simple dim sum eatery Dim Joy (80 Neil Road; tel. +65 6220 6986; http://www.dimjoy. com; open Monday through Friday 11 a.m. to 3 p.m. and 6 p.m. to 10 p.m. and Saturday and Sunday 10 a.m. to 3 p.m. and 5 p.m. to 10 p.m.) that boasts chefs from China's Guangdong Province who work behind a glass wall that allows diners to watch them wrap juicy ingredients in gourmet thin dumpling dough. As night begins to fall, pour your own wines from the nifty enomatic machine that features little known and well priced bottle finds from around the world at Tiffin Club (16 Jiak Chuan Road, Chinatown; tel. +65 6323 3189; http://www.thetiffinclub.com; open Monday and Tuesday 8 a.m. to 5 p.m., Wednesday through Friday 8 a.m. to 11 p.m. and Saturday 4 p.m. to 11 p.m.). Nestled between incense filled Buddhist temples and Singapore's seedier hotels, this new insider's address starts the day serving homemade oatmeal with brown sugar and vanilla, French toast and a selection of omelets, all accompanied by Graffeo, by far the best coffee in town. Linger in the overstuffed club chairs or on the loft level couches until lunch and even dinner, when the menu expands to gazpacho shots, mouthwatering burgers with homemade ketchup and lambsicles, an amusing moniker for Dijon-crusted grass-fed lamb with polenta and spring onions.
Equally new and notable for all day dining is Casa Verde (Singapore Botanic Gardens Visitors Centre, Cluny Road; tel. +65 6467 7326; http://www.lesamis.com.sg; open daily 7:30 a.m. to 11 p.m.) which is set inside the Botanic Gardens, Singapore's sprawling and central green lung. Comforting breakfasts like corned beef hash are followed by an all-day menu of homemade Italian sandwiches, pastas, and wood fired pizzas, the specialty of Chef Lucio, who moved here directly from Venice, Italy. The quirky wine list features eco-friendly bottles notable for screw caps instead of corks and good value labels that are doing brisk business in these lean times.
Singaporean gourmands and bold face name chefs like Anthony Bourdain make a point to drop by at one longstanding restaurant that they prefer to keep under the radar. Understandably so because Mag's Wine Kitchen (86 Circular Road; tel. +65 6438 3836; http://www.magswinekitchen. com; open Monday through Friday 12 p.m. to 2 p.m. and 6 pm. to 10 p.m.; Saturday 6 p.m. to 10 p.m.) is a culinary gemoverseen by former banker Mag Tang, recently knighted for her work importing from France's Champagne region. Her compact kitchen turns out coffee bean and tea leaves infused smoke duck breast salad, foie gras terrine macerated with port and Armagnac and lamb poached in olive oil for an hour then seared so as to melt in the mouth. Even solo travelers will feel comfortable here, taking a seat at the communal central table, optimally angled to receive this kitchen's intoxicating aromas.
Travelers who won't be satisfied until they have tasted the very latest, should book ahead for a bed at Supperclub (Odeon Towers, Level Two, 331 North Bridge Road; tel. +65 6334 4080; http://www.supperclub.com; open daily 7 p.m. to 3 a.m.). The first Asian offshoot of the Amsterdam original, this duplex lined in all white beds that do double duty as dining banquettes is generating much buzz in straight-laced Singapore for its intentionally racy hostess Mistevious, a cross-dressing blonde who "mans" the door between impromptu performances on the dance floor, occasionally with whips. Either tuck into the five "surprise" course dinners served with great panache such as sauces squeezed out of syringes and gourmet fare inside Styrofoam just for fun or arrive after 11 p.m. to take up a spot around the low lit Rouge Bar. Don't miss the unisex powder rooms and La Chambre Privée, with Singapore's biggest bed.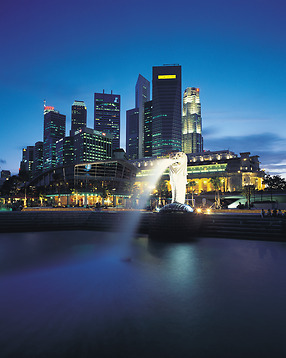 **The Lion City sure has things to roar about! It has the world's fourth largest foreign exchange center, it is the "World's Easiest Place to do Business" in 2009 according to the World Bank, and the third least corrupt nation and third most motivated workforce in the world according to the IMD (International Institute for Management Development) World Competitiveness Report 2008.)**
Insight
There is no standard Singaporean. The tiny island nation has been a true melting pot since ancient times when it played a strategic role in the spice route between Asia and the Middle East. Though the island is only 247 square miles, Singapore is home to Chinatown, Little India, and Arab Street, each reflecting that culture's unique architectural, gastronomic, and religious heritage. Singaporeans move seamlessly among these traditional neighborhoods but also gravitate to the latest fusion cuisines in areas like Dempsey Hill, an old British army barracks. In fact, it would be correct to describe the unifying characteristic of this diverse nation as their passion for food. Hawker centers, Singapore's ubiquitous open air food courts, bustle with customers throughout the day and night, there is rarely a street scene without at least one food vendor and private dining rooms are always packed with revelers who always dream of marking an important life occasion with something delectable involved.
Useful website: http://www.littleindia.com.sg/ PAL flies between Manila and Singapore four times a day. Swingaround tour packages are available. For more information, call PAL reservations office (+632 855 8888 and +632 855 7777) or log on to http://www.philippineairlines.com.
Though Singapore's been loosening up, it's still steadfast in making sure that the people observe the rules: no littering, no selling, possession or purchase of chewing gum unless accompanied with a prescription, no smoking in public (except for designated areas in night spots), no spitting, no jaywalking, and no possession of pornographic materials.Should you be caught in the act, be ready to shell out S$300 (US$196) up to S$5,000 (US$3,238).
This article was provided by Philippine Airlines' Mabuhay Magazine.Mabuhay Magazine is published by Eastgate Publishing Corporation (email:info@eastgatepublishing.com;website: http://www.eastgatepublishing.com).