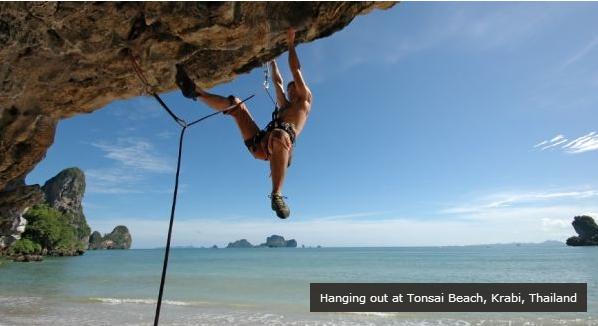 Considering a trip to Southeast Asia? The entire region provides a great destination for all types of mountain climbing. However, for a rich and abundant choice of warm climate sports climbs, and some of the best bouldering in the world, many local and international climbers head directly to Thailand.
To get your body stretched out for the many climbs on offer in Thailand, or just as a starting point to network with other climbers and gather information, check out the indoor walls at the Racquet Club in Soi Klang, the Big C Supercentre at Ladphrao or at Ramkamheng Stadium when you first reach Bangkok city.
Heading outside of Bangkok you can be at some excellent climbing/bouldering locations within several hours. Just north of Bangkok at Jeen Lair Mountain, there are roughly 40 bolted routes in Lopburi Province, but this is only the tip of the iceberg.
Thailand has over 700 documented climbing routes and countless bouldering spots to choose from. The most popular areas being: the Korat province northeast of Bangkok and the northern region of Chang Mai. Both destinations provide perfect settings and a welcome change of pace from the lazy beach days, or the hustle and bustle of Bangkok shopping, which tend to entice most visitors to Thailand.
In Nakhon Ratchasima or Korat – the 'Gateway to Isaan' (Gateway to the North-East)), Muak Lek is a relatively new and standout climb, approximately 32 metres with a ring anchor (fixed gear) in the cliff-face. It starts on a route called 'The Age of Access' and follows the crack into the 'Easy Cracker' route. From here, it meanders left into 'Danse Avec les Trous' before finally coming to a top towards the right of the crag. Rated as one of the easier 7b climbs in the area, it will challenge even the most seasoned climbers.
The incredible limestone cliffs around Tonsai Beach in Krabi, provide some of the world's most spectacular sports climbs. Here, cliff faces stemming from coral reefs, seem to grow from the tropical ocean below, ensuring a wet safety net is always at hand.
Tonsai Beach on the Railay Peninsula combines breathtaking views with varying degrees of climbing difficulty – levels range between 5 and 8c – making this a climbing Mecca. With an abundance of climbing schools, it's possible to get private or group tuition from any number of instructors and really lift your game. The friendly blend of visitors and locals also help make this climbing community one that you'll want to return to time and time again. Big news for this region is that maintenance progressing on many of the routes and re-bolting is being undertaken by local climbers in the area. Check here for more info.
If Tonsai gets a bit much for you, uncrowded climbs in remote scenic locations can be accessed by boat from Tonsai Beach. Bookings to Loaliang can be made in nearby Ao Nang. Travelling to Laoliang takes about two hours by boat in favourable conditions. Once there, luxurious tents can be rented for singles and couples. These tents have power and access to simple and clean bathrooms. Located on the beach, you can forget the arduous routes of the day while falling asleep to the sounds of the ocean at night.
Loaliang Island itself is small and is home to some of Thailand's classic white sand beaches. The water is clean and houses a long reef which makes it difficult to go for a swim at low tide (unless you walk out a fair way). For those who do not want to swim or walk Kayaks are available for hire. This also provides a great way to view the cliffs.
When climbing anywhere in Thailand please remember that all bolts and anchors have typically been installed by fellow climbers. This means there is no guarantee of durability or strength of the equipment. In order to climb safe, physically check the strength of all gear before trusting it with your own, or your partners own body-weight.
In 1993 Ean Johnston left London for greener pastures and found himself hooked on board sports, spending a decade pursuing waves and good snow. A freelance journalist, he now resides in wave rich New South Wales with his wife and two daughters.