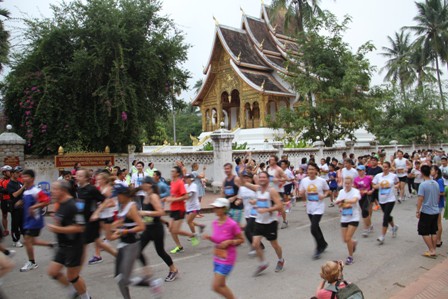 Image courtesy of the Luang Prabang Half Marathon, used with permission
The Luang Prabang Half Marathon melds three things into one unlikely combination: charity work, sporting competition and sightseeing down one of Laos' most culturally significant settlements.
Nicknamed "La Procession" (after Luang Prabang's daily morning ritual procession of monks receiving alms from devotees), the charity race accepts no more than 500 competitors, all of whom run down a pre-determined race route that goes past the Mekong and Nam Khan rivers, along with some of Luang Prabang's most notable landmarks.
The limited race slots are intended to preserve the dignity of Luang Prabang, a former royal city and still one of the jewels of Laos' culture. The laid-back, small-community feel of Luang Prabang will be all the more apparent when racers encounter locals cheering them on, and vendors selling local specialties throughout and after the race.
"La Procession"'s fundraising aspect is perhaps where it truly breaks the rules: racers get no prize money at all. The entrance fee and all other proceeds will go to a charity active in Luang Prabang, and race competitors will be provided with their own fundraising webpage to increase the returns even more.
For 2014, the race kicks off on the morning of October 12, immediately following the end of Buddhist Lent. Entrance costs $200; apart from the half-marathon length, 7km and 14km race categories will also be available for runners. This year's beneficiary is Friends International, a charity that focuses on marginalized children and youth from all across Southeast Asia.
Elsewhere on the Web: Visit the official site: www.luangprabanghalfmarathon.com.