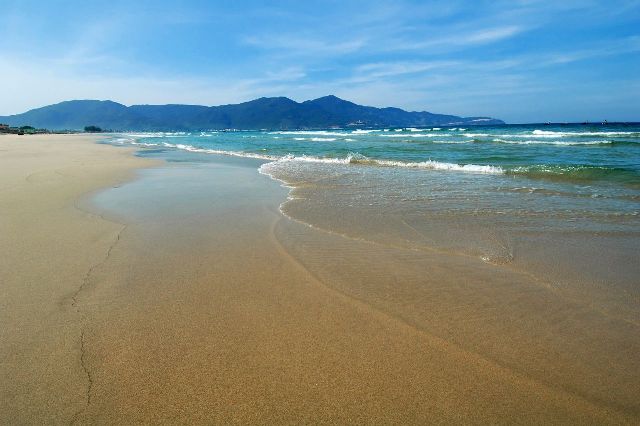 Image © Bernard Tey / Creative Commons
Set at an ideal, easy-to-reach distance from the city of Da Nang, the thirty-kilometre arc of My Khe Beach retains a dogged surfing following that enjoyed a renaissance when Vietnam opened up to tourists.
Surfing lovers can wait till the northeast monsoon rolls around between November and March; the waves re-form after hitting a trough, then hit a shore break – this results in about 1- to 2-foot waves that longboard users will appreciate.
The typhoon season between June and October produces large but short-period wind swells – fun if you're able to catch them. Whatever time of year you arrive, you'll only need board-shorts to take on the waves, as the temperature only reaches a low of about 25°C during the cooler dry season.
The increased uptake of high-class resorts along the coast have cramped the laid-back atmosphere of My Khe Beach a little bit, but you'll still find cheap places to stay, eat, and rent boards from if you wander down the coastline. Even non-surfers will appreciate My Khe's gently sloping white sand beach, clear waters and sunset view.
Elsewhere on the web: For the closest city to My Khe Beach, read Vietnam Tourism's page on Da Nang.