Thousands of islands and millions of miles of coastline make Southeast Asia a prime destination for ocean lovers. The only problem lies in deciding where to go.
Here, the region heaps you with a multitude of choices. White sand beaches? Surfing spots? Prime diving locations? Shallow-water snorkeling? Water sports?
We've made it easier for you to choose, by crafting the itinerary you see here. We've selected the stops based on creating a complete seagoing experience – from Thailand's beaches to the Philippines' top surfing island, you'll find something here to pique your aquatic interests.
Thailand's Five-Star Beaches
Fly into Thailand's capital Bangkok, then commute to the nation's western coastline facing the Andaman Sea. A great many white-sand beaches and unspoiled islands lie in wait along this stretch. Start by following the crowds to Phuket, an old trading port that upgraded into one of Thailand's premier beach resort towns.
Phuket's natural beauty and active backpacker vibe notwithstanding, its luxury travel options count as some of the region's plushest, including private yacht expeditions around the surrounding Andaman Sea.
Some of these cruises combine sightseeing and wellness, such as the Detox Retreat Cruise from Senses Phuket that stops at different islands, including Phang Nga Bay and its spectacular limestone karsts, and the movie-famous Phi Phi islands.
If you're looking for unspoiled nature (and a less crowded backpacker experience), the Koh Chang archipelago near the border with Cambodia obliges with some of the best, most pristine beaches within reach of verdant jungle. This ASEAN Golden Celebration special itinerary covers Koh Chang together with cross-border adventures in Cambodia.
Myanmar's Last Diving Frontier
Many dyed-in-the-wool divers extend their Phuket expeditions to cover adjoining Myanmar's Mergui Archipelago. Only recently opened to the diving public, Mergui's corals are much better preserved, with a wider selection of animal life lurking amidst its flashily-colored depths.
Sharks sit on top of the food chain in the Mergui Archipelago – as the area's stars, divers visit during peak diving season (between February and May) to watch the white-tip and grey-reef sharks dart between the coral gardens.
You'll have plenty to see and do among Mergui's 800-plus islands, scattered over 36,000 square kilometres. It's no wonder divers set aside up to two weeks to see all there is, from the massive seamounts to the massively abundant marine wildlife – nudibranch, individual clownfish and giant schools of trevallies jostle the divers who plunge to Mergui's depths.
Mergui is easily accessible via live-aboard boat from Phuket in Thailand; you'll be required to stop at the Myanmar port of Kaw Thaung to have your immigration papers processed, before plunging out to see the world's last diving frontier.
This ASEAN Golden Celebration deal from Coral Expeditions includes the Mergui Archipelago in its list of itineraries through the region.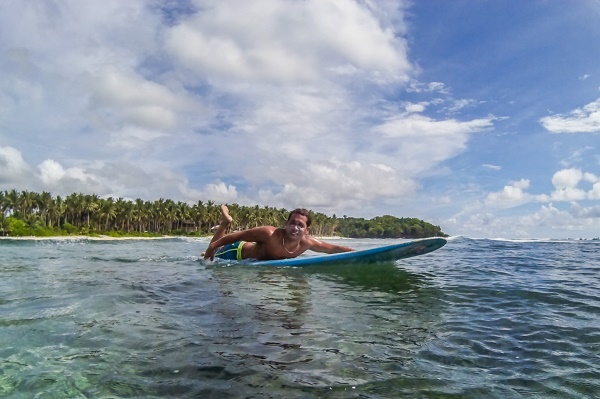 Philippines' Surfing Island
Direct access to the currents of the Pacific make the Philippines' Siargao Island one of the region's hottest up-and-coming surfing destinations. The ferocious, experts-only Cloud 9 surf spot offers a formidable challenge even to experienced riders, but less intimidating surfing spots can be found just a walk or a habal-habal (motorbike taxi) away.
Surfing certainly isn't the island's only attraction – hire a habal-habal to take you away from General Luna Town's surf spots to Siargao's non-surfing highlights. These include the Magpupungko Pools, a placid brine pool ideal for swimming; Sugba Lagoon, a green-fringed body of water favored by stand-up paddling enthusiasts; and the islets off of Siargao – Naked, Guyam and Daku Islands – whose white-sand beaches make an ideal backdrop for a family picnic.
To explore the Philippines' other beach and sea attractions, take on these ASEAN Golden celebration packages that also cover neighboring Southeast Asian countries – like this 7-day, 6-night hop between the Philippines' Palawan Island to Malaysia and Singapore; and a 5-day, 4-night tour that starts in the Philippines' top beach island Boracay and ends at Malaysia's capital Kuala Lumpur.
Snorkeling off Viet Nam's Biggest Island
Viet Nam is more famous for its culture than its beaches, but the 3,260km-long coastline hugging its eastern flank offers more than a few surprises. Da Nang in central Viet Nam and Ha Long Bay to the north may ring a bell, but the real hidden treasure lies way, way to the south, just off the Mekong Delta.
Phu Quoc is Viet Nam's largest island, surrounded by clear waters favored by snorkelers. 90 species of hard coral, 62 species of seaweed and an untold number of marine animals call Phu Quoc's waters home; travelers can hook up with a local snorkeling/diving operator to see the island's best – usually included in a tour that covers either the northern coastline or the southern islets off Phu Quoc.
The southern tour combines island exploration with cultural encounters, like visiting shops and seeing how the island's famous fish sauce is made. This tour covers some of Viet Nam's most pristine reef waters, those surrounding the An Thoi Islands, not commonly included in tours due to their distance from the main island.
The undersea experience off Phu Quoc reaches a peak between November to March.
To explore the rest of Viet Nam, take on these ASEAN Golden celebration packages that link to other Southeast Asian countries– like this 19 day/18 night grand tour of Southeast Asia that mashes up Singapore, Malaysia and Viet Nam; and this 11-day/10-night program winding through Laos and Viet Nam's top spots.
Discovering Indonesia's Secret Small Islands
Fly to Jakarta, Indonesia's capital and transport hub, before striking off to discover the small, paradisiacal islands hiding in the archipelago's thousands of islands. These isles require a little more effort to visit, but travelers will be rewarded by pristine natural landscapes, gorgeous diving spots and a refreshing lack of crowds.
Put these islands on your must-visit and must-dive list: Cubadak Island, an outcrop off West Sumatra with natural jungle cover and an undisturbed coral reef surrounding the entire island; Weh Island, a tiny volcanic island at the northern tip of Sumatra, with a coral reef known for its massive complement of fish species and a rare megamouth shark; and Cinta Island, a heart-shaped sandbar now surrounded by its namesake boutique resort.
Islands like these tend to reward travelers willing to venture both above and below the water's surface: the jungle on Cubadak Island, for instance, contains a wide variety of rare monkeys, pangolins, and monitor lizards.
To take a look at Indonesia's other island secrets, browse through these ASEAN Golden celebration packages that take travelers through the biologically diverse Coral Triangle and Sumatra's off-the-beaten-path attractions.