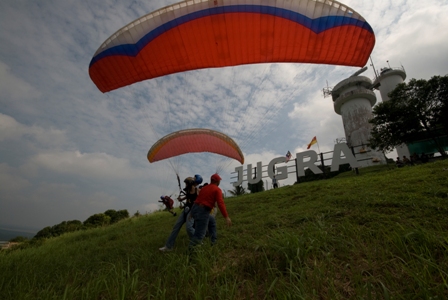 Image courtesy of Tourism Malaysia
It takes only an hour and a half drive from Kuala Lumpur to get here: a scenic hilltop about 350 metres above sea level, where you can strap yourself to a winglike parachute and leap into the void.
This is Flight Park @ Jugra, located on the top of Bukit Jugra in the Malaysian state of Selangor: formerly a strategic lookout point overlooking the Strait of Malacca, the hilltop is now a recreational hotspot for young Malaysians and thrillseekers looking to take to the sky.
The adventure begins when you make your way up the hill and strap yourself into the paraglider apparatus together with the instructor. You'll be briefed on how to control your flight, then after a few safety checks, you and your instructor will take off into the Selangor sky, flying into the wind for maximum lift.
With favorable winds, you might find yourself flying up to 900 metres up in the sky, enjoying unparalleled views of the countryside, the Langat River near the hill, and the Straits of Malacca Beyond. The trip lasts only fifteen to twenty minutes, and before you've had your fill, you'll find yourself floating back to the ground.
The paragliding experience depends on good weather; the management will call off any scheduled paragliding activities if the climate takes a turn for the worse.
Elsewhere on the web: To book a flight, you can call or text +6 014 718 7826, or visit their Facebook page.