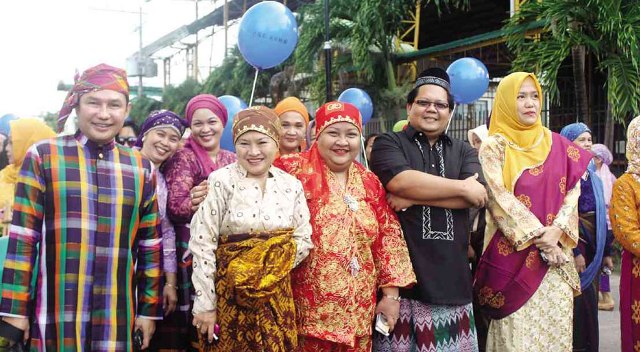 Islamic festival (above)
The origin of the word 'festival' stems from the Medieval Latin word 'festivus', which in our time stands for 'feast', according to the Oxford Dictionary. And feasting they do in South East Asia!
These feasts or festivals appear under various names, ranging from fete and fair to event and summit, to carnival and pageant. Commonly, however, the word has two distinct connotations: firstly, a day or period of celebration, typically for religious reasons; secondly an organized series of events (e.g. concerts, dance, plays, and film), typically one held annually in the same place. Of the latter, the biennial Hué Festival, a premier cultural event on Vietnam's national calendar, is a case in point; as is Malaysia's George Town's Festival commemorating the city's inscription on the UNESCO World Heritage List, with a month-long party of art, music, theatre, dance, opera and film.
Looking at the huge lists of (mega) events equally held in ASEAN countries big and small it's not possible to do justice to them in one, or even a series of articles. Hence, a selection had to be made. In the articles of this month a thematic approach will offer a glimpse of the rich variety of traditional, authentic and cultural festivals on offer. Whether you like to indulge in a highly authentic experience, such as a traditional harvest festival in a remote area of Myanmar or rather prefer to be soaked in Thailand's New Year Festival, Songkran, it's all yours and within the confines of the same tourism destination.
In this introductory article on festivals a smorgasbord of what South East Asia has to offer will be presented, with emphasis on ancient Religious festivals. It will be followed by two articles, respectively dedicated to Honouring Ancestor festivities and the cycle of food production, notably the Harvesting of Asia's food staple, rice. The last article of the month will show how Water plays a role, both in ancient and modern times' festivals.
To round it off thereafter, every month one particular article will highlight the most striking festivals of each ASEAN member state. It's there where you can learn more about the diversity of festivals on offer: from the roaring engines of the Formula 1 Grand Prix of Singapore and Malaysia to the serene observation of Cambodia's signing of the Paris Peace Agreement; from Bali's dazzling Spirit Festival and Brunei's joyful celebration of the Sultan's birthday to the love inspired Cave festival of the Thai and Tay in Vietnam, in addition to the many patron saint's holidays of Philippine' cities.
So sit back, relax and fasten your seat belt to join us for a bird's eye view of South East Asia's fairy tale festival landscape.
Religion plays a dominant role in the daily life of ASEAN people, whether it regards Muslims, Buddhist, Hindus or Christians, to just mention the principal religious convictions of the region; hence, there are plenty of festivals to pick and choose.
Major Islamic festivities take place at the end of the holy month of Ramadan, of special significance in Muslim history as in this month the holy book, the Quran, was revealed; whether in Brunei Darussalam where it's called Hari Raya and celebrated with special food, like 'ketupat' (rice cakes), satay and rendang (spicy marinated beef) or in Indonesia under the more commonly known name of Eid ul Fitr. Similarly, other important Islamic feasts, such as the birthday of the Prophet Muhammad and Eid Ul-Adha that observes the willingness of Ibrahim (Abraham) to scarify his son, are celebrated in Indonesia, Brunei, Malaysia and other countries with contingents of Muslims.
Buddha's birthday (called Visakaboucha in Thailand and Laos, Vesak in Singapore) and Buddhist Lent – marking the beginning of three months in which monks spend most of their time praying and meditating in their own temples, while being restricted from spending nights in other temples – are widely celebrated in Laos, Cambodia, Vietnam, Myanmar, Singapore and Thailand.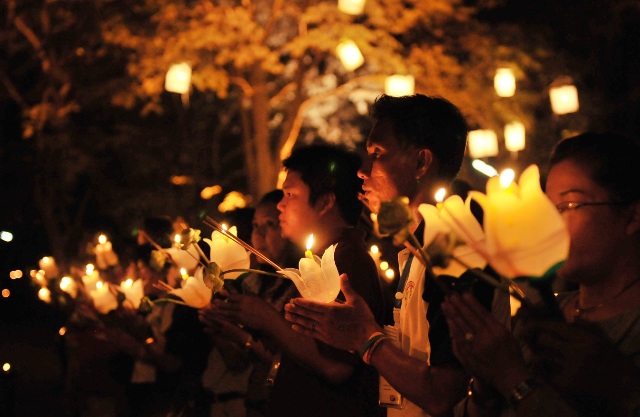 Buddhist festival (above)
Another significant day with strong Therevada Buddhist tradition in Cambodia and Thailand is Meak Bochea or Makha Bucha. Meak Bhucha commemorates the ordainment of Buddha's first 1250 disciples who spontaneously came to see him and to listen to his sermon that day 2,500 years ago. Thai people usually go to the temple from early morning, participate in ceremonies, and at night they walk three times around the temple with candles, incense sticks and lotus flower in hand called Wien-Tien.
Nyepi or the Day of Silence heralds the new Hindu year, most grandiosely honoured on Bali. On the day before Nyepi the inhabitants of the island, dressed in colourful customary clothing bring offering to the beaches to take on ceremonial cleansing of the body as it is believed that the sea is the recipient of all sins and contamination. During the day life grinds to a halt. No activities are allowed, for locals and tourists alike (the latter not being allowed to leave their premises!) in the hope that evil spirits will find the island inhospitable and leave it. The day is also widely celebrated in Singapore by its Indian community.
Christian holidays are broadly observed in the Philippines – where each city or community celebrates its patron saint's day – but also gained ground in countries in which Christianity is less pronounced, such as Vietnam. Especially X-mas day is well known and celebrated throughout the region. On Zamboanga day, named after the sophisticated Philippine city, one marks religious and cultural harmony between Christians and Muslims.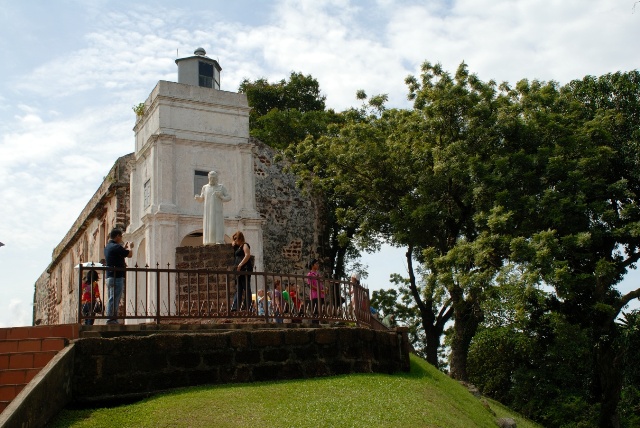 Finally, as a preface to next week's article that centres on honouring ancestor celebrations, Phchum Ben Day or All Souls Day is worthwhile mentioning, one of the most significant events of the Khmer religious calendar, dedicated to the blessing of the souls and spirits of the dead.
Primary Sources: Websites ASEAN National Tourism Organizations; Wikipedia