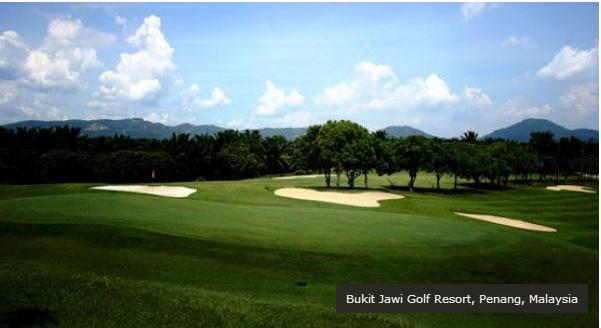 Insiders have known for some years that Southeast Asia is a golfing paradise. But it took the global recession for the region to metamorphose into something else: A deserted golfing paradise. Especially in regions not traditionally known for golf, such as Cambodia, Brunei and the Malaysian state of Perak – the recession has a created an enviable blend of world-class golf courses, relatively cheap prices and zero crowds.
Explore Angkor
We begin our tour in Siem Reap, Cambodia, rightfully known more for the temples of Angkor than for golf, but now suddenly home to three new courses authored by respected designers. With a morning free between temple hopping, I headed 10 minutes outside the centre to the city's crème de la crème: The Nick Faldo-designed Angkor Golf Resort (www.angkor-golf.com).
When I got there, I felt like a British Royal Geographic Society explorer discovering Angkor Wat in the 19th century: There was nobody there. It was just me, 14 sticks, an impeccably manicured course and a sleeve of dimpled, white balls.
And a caddy, of course. Golf in Southeast Asia, no matter where you play it, involves conversations about strategy in broken English with petit, mostly female caddies of widely varying competence. My caddy in this case was at the lower end of the spectrum, in both English-speaking and green-reading skills. But to be fair she was brand-new to the game, as this course only opened in late 2007.
The course's newness was evident in the bareness of the terrain. The planted trees had yet to grow out, lending the course wide-open feel – much like a links course, only with lots of water and virtually no rough. Minus trees, the course's main features are 1) lateral water on every single hole; 2) sand, sand and more sand; and 3) some of the truest, most well-kempt greens I've seen. The beach motif is especially evident on the par-5 13th hole. From the tee box only occasional oases of grass are visible amid dozens of bunkers. Playing it for the first time, you have no idea where to aim (my caddy's advice came in handy here).
Royal Angkor is in healthy competition for golf supremacy in Siem Reap with Sofitel-managed Phokeethra Country Club (http://www.phokeethragolf.com), which hosts the Asian Tour's Cambodia Open every November. In 2009 Siem Reap welcomed another golf course into the mix, financed by a South Korean company. The hope is that a wider range of courses will increase the number of dedicated golf tourists arriving in Siem Reap. For now, golf remains more of a secondary activity for the millions of tourists who visit Angkor Wat.
Meanwhile, the golf bug has also caught on elsewhere in Cambodia. In late 2009, Phnom Penh saw the Grand Phnom Penh International Golf Course (www.grandphnompenh.com) open its first four holes (the rest of the course should be ready by early 2011). Designed by Nicklaus Designs, it is the country's first championship-caliber golf course outside of Siem Reap. Not to be outdone, Nicklaus' old rival, Arnold Palmer, is designing a 36-hole course on Cambodia's southern coast.
Hacking in Perak
Cambodia's fancy new courses are affordable by international standards (roughly US$100 per round), but better deals can be had elsewhere in the region. The Malaysian state of Perak, just a few hours drive north of Kuala Lumpur, is a growing golf Mecca with some of the best-value courses in Southeast Asia.
I recently teed it up at the Damai Laut Golf & Country Club (www.damailaut.com), which flanks the Strait of Malacca in the town of Lumut.
"This is an easy course, really," said my playing partner, Badru Bathuruzzaman, assistant club manager of the Damai Laut Golf & Country Club in Perak, Malaysia. After parring the first hole, I was inclined to agree with him – until I arrived at second tee box. Perched way up on a hill, it overlooked a terrifying sight: a boomerang-shaped par-5, flanked on either side by jungle and lake, either poised to swallow any drive struck less than perfectly.
From there it was literally and figuratively all downhill. Balls plugged in sand traps, clanked off tropical hardwood and plunged into water hazards. My score rapidly attained dizzying heights. After nine holes of carnage, I looked back at Badru.
"Real easy course!"
My own pitfalls aside, the Damai Laut is a gorgeous layout offering up plenty of ocean views and one to-die-for seaside green. The course is one of several in Perak. Excellent private courses in Perak include Clearwater Sanctuary (http://www.cwsgolf.com.my) and the Taiping Golf & Country Club (http://www.taipingresort.com). Just north of Perak, the province of Penang has several stalwart courses, including the 36-hole Bukit Jawi Golf Resort (www.bukitjawi.com.my). Like Damai Laut, all are open to the public and a bargain at less than $40/$60 for a weekday/weekend round.
Regal Brunei
A third up-and-coming golf destination that lies off most peoples' radar is Brunei. The diminutive Sultanate has several spectacularly scenic courses. The coastal Empire Golf Course (www.theempirehotel.com) – another Nicklaus creation – commands stunning views of the South China Sea, and even has night golf on offer. Then there's the Royal Brunei Golf Course, like the Damai Laut in Perak designed by Ronald Fream. Once the exclusive playground of Brunei's Sultan and his invited guests, the course is now open to walk-in guests with an advance reservation. It's set in the Borneo rainforest, offering a nice contrast to the Empire Golf Course's coastal views. And for the duffer-set Brunei also has a few less challenging – and less expensive – courses on offer, all within an hour's drive of each other.
Greg Bloom is a Phnom Penh-based writer and editor who has co-written Lonely Planet guides to the Philippines and Cambodia.