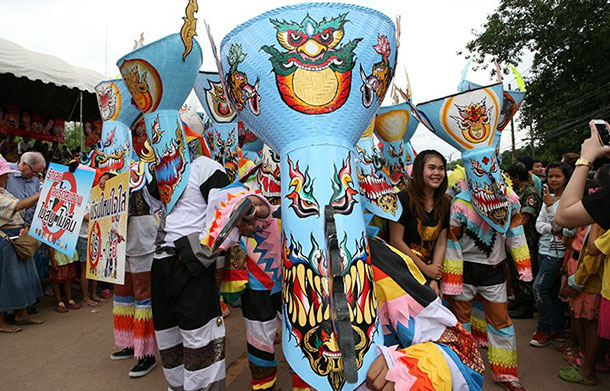 Majestic mountains shrouded in mist, wonderful Mekong River scenery, vibrant flower fields, and other escapes amidst the unspoiled outdoors, Loei offers a languid way of life in a beautiful rural setting that is yet known to many outside Thailand. However, the low-key northeastern province gets its share of visitors (and raucous partying) during its famous Phi Ta Khon Festival.
Part of "Bun Luang," the Buddhist merit-making holiday of worshipping the spirits, Phi Ta Kon is held on the first day of the three-day celebration that takes place in June. And for anyone who doesn't know anything about the festivities, it's an unforgettable start. Locals suit up as scary spirits and put on ghost masks, colourful patchwork garments, bells, and phallus amulets.
They parade down the Loei farming village of Dan Sai, dancing, ringing their bells, and what might surprise newcomers, teasing the crowds by waving and thrusting the wooden phalluses at the spectators. The festival originates from the ancient story of Buddha-to-be Prince Vessandorn's return after being presumed dead; it was said that the celebrations got so loud they woke the dead up who joined the revelry. The costume-garbed participants of Phi Ta Khon surely try to live up to the tale.
The second day sees another parade along with a dance and costume contest and a surprisingly fun rocket show. On the third day, activities take on a more sombre mood as villagers gather in different temples to listen to Buddhist monks reciting the sermons of Prince Vessandorn. Should you head off to Dan Sai, take note that the small town only has a few hotels so you need to book months in advance. Otherwise, you may need to stay in Loei town or nearby Phu Rua.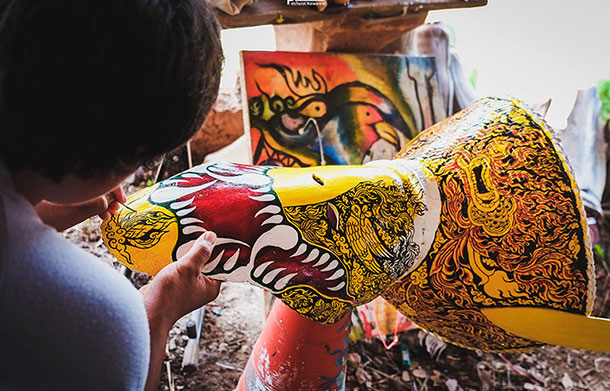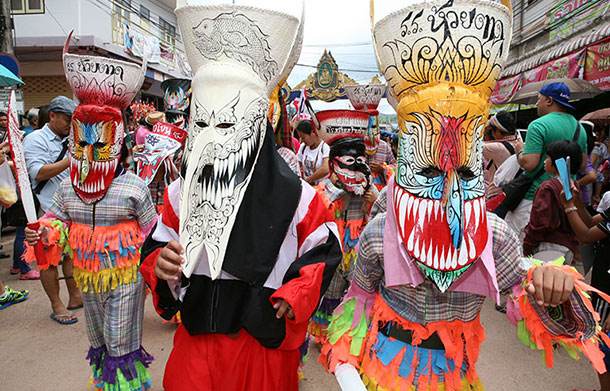 You Might Also Like…
For other, similarly evocative religious festivals, check out Laos' Boun Vat Phou Champasak; Sinulog Festival in the Philippines; and Kate Festival in Vietnam. For other festivals in the month of March, visit Vietnam's Elephant Race Festival and Cambodia's River Festival.