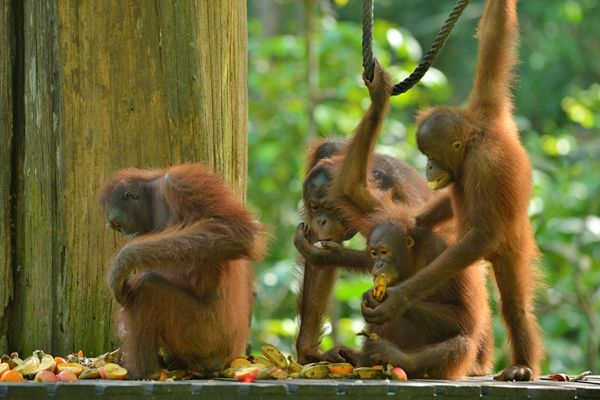 Animal encounters? Zoos are all well and good (Singapore has some of the world's best) but if you want to really see them at their most authentic, you've got to visit them where they live. At least in Southeast Asia, you don't have to drive far to do so.
Conservation efforts by NGOs have led authorities to designate special areas where endangered animals can be protected from external threats. As human habitats encroach on Southeast Asia's forests and seas, animal sanctuaries have increased in importance: visitors to these areas will find the local guardians performing an uneasy balance of exhibiting wildlife for tourists, while turning their profits to sustaining their conservation efforts.
In Sabah, Malaysia, the Sepilok Orangutan Rehabilitation Centre provides tourists with an up-close look at the orangutan, Southeast Asia's only native great ape and a species on the brink. With jungles in Borneo giving way to human slash-and-burn farming methods, prospects for the orangutan are beginning to look grim, but Sepilok hopes to reverse that trend.
Located in the 4,294-hectare Kabili-Sepilok Forest Reserve west of the town of Sandakan, Sepilok rescues orangutans from the illegal hunting and logging trades. Around 80 orangutans of all ages now call Sepilok home, most of them undergoing a gradual rehabilitation process that begins at a very young age: they're taught essential survival skills that edge them slowly into independence.
Convenient viewing platforms throughout Sepilok allow visitors to witness the teaching process; for visitors used to watching orangutan through cages, seeing them frolic in the jungle can be both enthralling and heart-warming!
Visitors to Sepilok may also see other animals in the wild, including sun bears and crocodiles. A detour will take you on a river safari cruise of the Kinabatangan River, where you can see the untamed wild from an aquatic perspective.
Read about Kabili-Sepilok Nature Reserve, Sabah, Malaysia.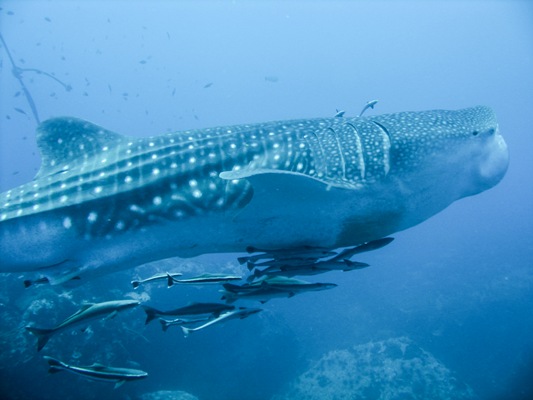 In Donsol, the Philippines, the whale shark population live off seasonal bloomings of krill from November to June, attracting tourists who want a personal meet and greet with these gentle giants of the sea.
Riding a rowboat from the shore, tourists can jump in and snorkel with the whale sharks. Interactions are intentionally limited: guests cannot touch or chase the whale sharks, and visits last less than thirty minutes. Visitors must be satisfied with watching the whale sharks feed from a distance, gently paddling with your swim fins to keep a manageable distance, and swimming away when the whale sharks approach.
Whale sharks are the largest fish in the sea; Donsol specimens average between 4 to 12 meters in length, with a flat head and a distinctive checkerboard pattern on their flanks. Despite their size, whale sharks do not eat humans: they filter krill out of the water for food. The Donsol whale shark activity sustains the local community that otherwise would have made a living slaughtering them: whale shark tourism provides both a livelihood to locals and a life-saving alternative for the wild animals.
Read about the whale shark experience in Sorsogon, the Philippines.
In Chiang Mai, Thailand, there have been many areas reserved for the upkeep and rehabilitation of elephants. These elephant sanctuaries provide decent natural living conditions for elephants. Mahouts, or elephant trainers, were adept at raising elephants from infancy, alternately training them and nurturing them like their own children.
Some pang chang are more famous than the rest. The Thai Elephant Conservation Center (TECC) enjoys the patronage of the Thai King himself, as it cares for six of His Majesty's own white elephants. About fifty other elephants live on the Center's ample grounds, benefiting from the TECC's wide-ranging work in elephant conservation. A herd of elephant calves can be seen cavorting on the grounds, the result of the TECC's successful breeding program!
Another breeding program can be found at the Patara Elephant Farm in Ban Pong subdistrict. From their youth, elephants train under experienced mahouts at Patara: tourists can join in the training experience, as the farm offers a one-day program where each tourist is assigned an elephant to care for the duration of the day: the tourist learns almost as much as the elephant!
Read about elephant encounters in Thailand.