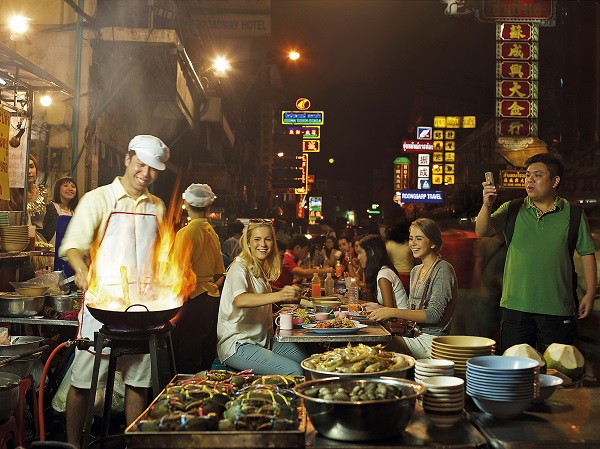 Southeast Asia's cities are usually the first taste that travelers get of the region's countries. The region's major metropolises have the top airports, the biggest selection of hotels, and choice city-based itineraries.
Cities also offer a microcosm of the whole-country experience. Migrants from all corners of each country tend to congregate in the capitals, allowing travelers to explore the country's cultural diversity without traveling beyond the city's boundaries.
That's why, despite the attraction of the region's wonderful beaches and temples, Southeast Asia's cities still remain at the very top of travelers' bucket lists.
Thailand's Cultural and Commercial Heart
Take the capital of Thailand, Bangkok: it sits on the top of the must-visit city list for a reason. "Bangkok wows many with its infinite layers of subtlety and complexity," writes Ric Gazarian, travel podcaster at Counting Countries and travel blogger at GlobalGaz.com. Ric is on a mission to travel every country in the world, but his travels keep him swinging back to Bangkok every time.
"Some visit for a couple of days, and scratch the surface, but a short stay proves to be a disservice," Ric tells us. "Bangkok is a triple threat, regardless if your focus is on culture, food, or fun."
What to do in Bangkok. Ric lists the Old City's temples ("a prerequisite of any visit is exploring the highly revered Temple of the Emerald Buddha," he tells us), the wide-ranging food selections (Ric's shortlist: "luxury roof top dining at Lebua Hotel, delectable street food in Chinatown, [and] scoffing down Pad Thai at Thip Samai"), and the nightlife (Ric recommends "drinking cheap beers on Khao San Road, checking out Iron Ferries in Thong Lor, or the bars and clubs of Soi 11 in Sukhumvit").
Transportation in Bangkok. Ric finds transportation an easy nut to crack for first-time visitors to Bangkok. "Bangkok can be navigable if you stay near the two different Metro systems, the BTS or MRT," Ric explains. "Taxis and Uber are ubiquitous and inexpensive."
Malaysia's Confluence of Rivers – and of Cultures, Too
Travel blogger Allison Wong, on the other hand, points to Kuala Lumpur, Malaysia's "unique blend of racial harmony" as the source of its virtues as a top city experience. "[It's] renowned for its mixed cultural experiences," Alison explains. "The sheer diversities in culture, history and modernity are just captivating."
What to do in Kuala Lumpur. For her personal list of top things to do in Kuala Lumpur, Allison recommends making an itinerary of "Dataran Merdeka, Brickfields, Chinatown/Petaling Street, Petronas Towers and its surrounding KLCC park, Batu Caves, KL Bird Park and Thean Hou Chinese Temple," a balanced mix of old culture and modern diversions.
For shopaholics, Allison recommends a shortlist of the city's top shopping spots: "Central Market, Pavilion Kuala Lumpur, Suria KLCC or Midvalley Megamall." And for foodies, Allison recommends visiting Jalan Alor to get one's fill of "famous Malaysian street food such as satay, chicken rice, curry noodle, bbq chicken wings, oyster omelette, rojak and many more."
Transportation in Kuala Lumpur. Kuala Lumpur's metropolitan area can be quite simple to navigate, says Allison – your options include "the integrated Light Railway Transit (LRT), KL Monorail, Mass Rapid Transit (MRT), taxi and bus." Travelers exploring the city center comprising Brickfields, KLCC, Chinatown and Bukit Bintang can actually get around cheaply, Allison explains.
"The best part is the city operates a free bus route to various main attractions & business centres within the city center," she says. "So if you spot a light purple bus near you in Kuala Lumpur, just hop on the bus and enjoy the ride!"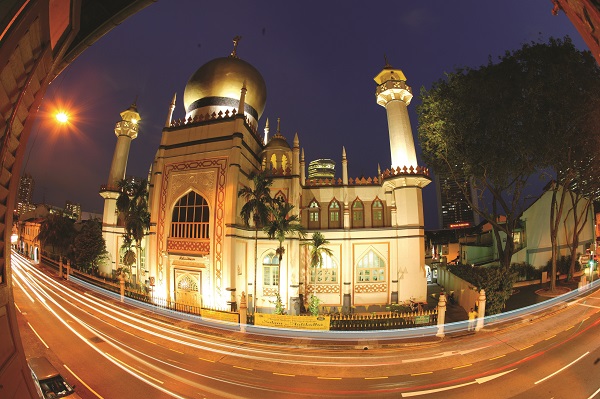 Singapore's Multicultural Districts
Unlike the rest of Southeast Asia's capital, the country of Singapore is the city: a 720-square-kilometre nation not much larger than many world metropolises, but still surprising the traveler with a full slate of activities.
What to see in Singapore. The historical districts in the city center, for example, draw travelers like Julie Beckers to distraction. "Chinatown, the Malaysian and Arab district as well as Little India will excite both the history buff as well as any foodie," explains Julie.
The contrast between Singapore's ultra-modern districts and its historical quarters is part of the city-state's appeal. "I loved the juxtaposition of old and new," Julie says. "It's not unusual to see an old man riding a push bike pulling along a little cart weaving amongst modern day cars and buses on the busy roads."
Singapore gets an undeserved reputation for curtness, something Julie is quick to disavow. "There was a spirit of kindness there that is rarely seen in cities," she tells us. "Everywhere I went, people spent time to have a chat. One day during my stay I walked into a convenience store and was asked by the lovely lady at the counter if I was Australian. I went in for a coffee and walked out with lots of little presents."
Transportation in Singapore. Julie recommends Singapore's public transport system highly, particularly the MRT. "Singapore is easy to get around, and the MRT is clean, safe and won't leave you with a hole in your pocket," she says. (The EZ-Link card, available for a minimum of SGD 10 at train stations, bus stations and convenience stores, allows access to both buses and trains in Singapore.)
For a transport method that concentrates on Singapore's tourist sites, Julie recommends the Hop-On, Hop-Off Bus – "It's a great option to get you between the tourist sites," she says.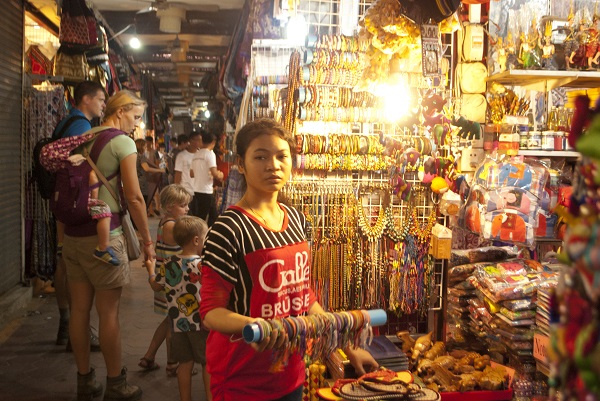 Siem Reap: Shadow of the Khmer Temples
The city of Siem Reap in Cambodia, located just a fifteen-minute tuk-tuk ride from the massive Angkor temple complex – seems perpetually overshadowed by its next-door tourist attraction. But Craig Reay of The Wanderlusters sees it in a different light.
What to do in Siem Reap. "Siem Reap has plenty to offer," he tells us. "There are also the Angkor National Museum, War Museum, Cultural village and excursions and day trips to places such as the floating villages and waterfalls."
Shoppers in particular come out on top in Siem Reap: "We would say that Siem Reap is good value for money for shoppers," Craig confesses. "Apart from Psar Chaa (the Old Market) we have tried the Night Market which is at the end of Pub Street, lots of local clothing, scarves, backpacks and jewellery."
The city has become a foodie hotspot as of late – Craig marvels over the variety, "from Khmer to Italian, American, to Mexican, you will find something for your taste buds." But local foods offer the best value for the least money spent: "We have a soft spot for the street food where you can get generous noodle portions for $2," Craig explains. "We personally enjoyed the local Khmer cuisine the most – Fish Amok and the Khmer BBQ (hotpot) were our two favourites."
Transportation in Siem Reap. The iconic tuk-tuk serves as the backbone of Siem Reap's transportation (at least for visitors) and they work very well. "It is extremely easy to get a ride around Siem Reap," Craig says. "Make sure you negotiate with your driver before you get in; we have been charged anywhere between 2 and 5 dollars for a ride to Pub Street from our hotel."
Tuk-tuks are also standard for an Angkor tour, but you have options here, Craig says: "You can hire a bicycle for the day for around 4 dollars or you can hire a Tuk Tuk driver for the day and do a full circuit which is 22km or so for less than 20 dollars," he tells us. "We recommend this if you want to spent more time at the temples and less time travelling in between."