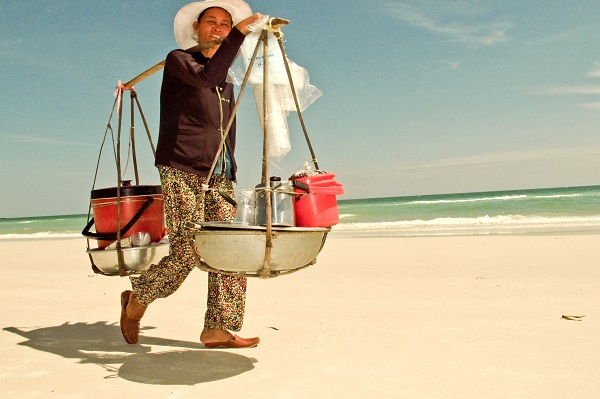 Visitors to Southeast Asia's islands often wish they could stay for good. And who can blame them?
During the cool but sunny months between spring and summer, the region's beaches exert a magnetic magic. You'll imagine yourself lounging by the sea, interrupted only by sipping fruit juices and slathering on sunblock, for days on end.
To be sure, Southeast Asia has no shortage of beaches, beach resorts and fruit drinks with tiny umbrellas. But the most popular beach stops have no shortage of visitors, either – fortunately, you can go beyond the usual itineraries to find islands that the crowds haven't reached yet.
We asked our blogger friends to recommend a few such alternative beach escapes that you can enjoy on your next trip out here.
Phu Quoc Island, Vietnam
A centerpiece of Vietnam's nature-based tourism catalog, Phu Quoc is the nation's biggest island, standing off the Gulf of Thailand within easy access from Ho Chi Minh City.
"The island itself is fairly easy to get to, you can reach it by air or by ferry," explains Speck on the Globe's Abbie Synan, who visited Phu Quoc as part of her recent tour of Vietnam. "We chose to fly since there are several low cost carriers that offer flights through Southeast Asia for reasonable prices." The short, less-than-an-hour trip between Phu Quoc and Ho Chi Minh City makes the former "a great destination for a long weekend getaway from the mainland," Abbie tells us.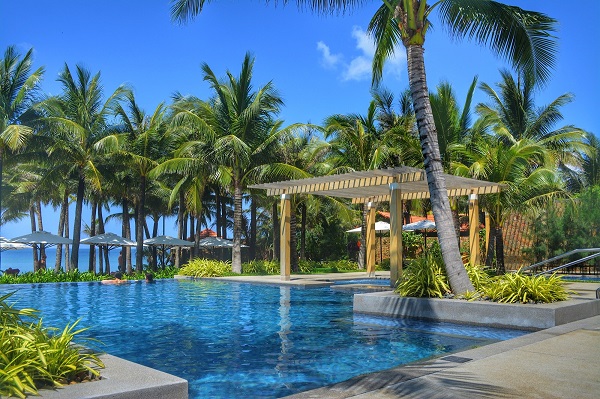 Once you're there, you'll see what exactly makes Phu Quoc a seaside destination to beat; unspoiled beaches like the 20-kilometre-long Bai Truong Beach; the uninhabited An Thoi islands; and the Phu Quoc National Park's 929 species of plant life, a hundred-plus species of coral, and 62 species of seaweed.
Abbie recommends exploring the Park's trails that lead to the waterfalls: "If you are looking for adventure off the beaches, make sure you are visiting during a season when the falls aren't dried up and the trails are open," she advises. (High season in Phu Quoc takes place between November and March.)
Luxury travel is quickly becoming popular in Phu Quoc, as Abbie found to her delight. "We stayed at the Salinda Resort on Phu Quoc Island," she explains. "After touring around the country for a few weeks, it was really nice to have a few days of relaxation and beautiful ocean views." Besides the Salinda and other luxury resorts, "there are also backpacking hostels and more budget friendly accommodation options [on Phu Quoc]," Abbie reminds us. "Many options are reasonably priced but be sure to check the location as not all hotels are located directly on the beach."
Click here for a related itinerary that explores Vietnam's more aquatic side.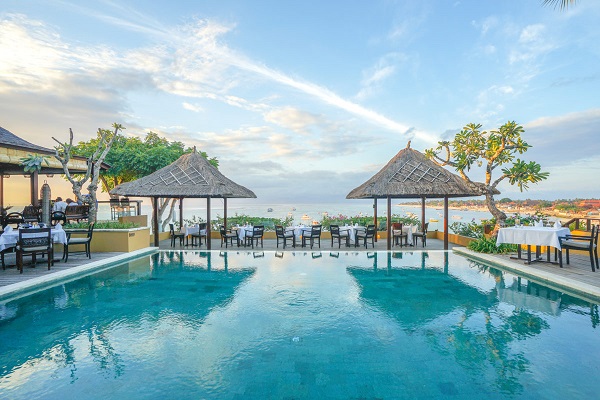 Nusa Islands, Indonesia
Only a few years ago, the Nusa Islands off Bali (Nusa Lembongan, Nusa Penida and Nusa Ceningan) were reserved for fishermen and surfers. Not these days; you'll find not a few luxury and mid-range resorts on this island off Bali, alongside its more customary guesthouses and shacks.
Ivy Ko explains the islands' appeal: "Escape the crowds of Bali to the more laidback, unspoiled natural beauty of the Nusa Islands," she tells us. Visitors to the Nusa Islands, Ivy tells us, "are in close proximity to world-class dive sites like the mangrove in Lembongan, as well as Crystal Bay and Manta Point in Nusa Penida."
The gorgeous scenery lends itself well to social media, too, especially the islands' "incredibly IG-worthy spots of Angel's Billabong, Broken Beach, and Kelingking Beach," as Ivy puts it.
Despite its easy access from Bali, the vibe around the Nusa Islands are about as un-Bali as you can get: no touts, no malls, and no sprawling resorts, just vivid blue-water and white-sand beaches, some world-class surf breaks, and a sunset to die for.
On her last visit, Ivy booked a stay at the Batu Karang Lembongan Resort on Nusa Lembongan – beyond its luxury villas and three different swimming pools, Ivy loved the view best of all: "Guests can enjoy stunning views of crystal turquoise waters with Mount Agung in the distance, no matter where they are on the property," she tells us. (Click here for a related ASEAN adventure that covers Nusa Lembongan in detail.)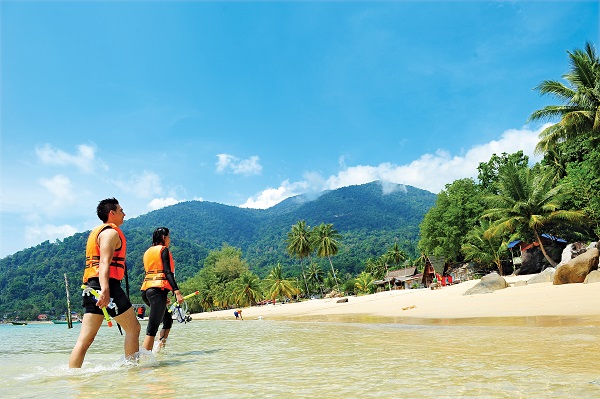 Tioman Island, Malaysia
Malaysia's peninsular East Coast doesn't get as much love as Sabah's diving spots and the seaside towns on the West. That leaves east coast islands like Tioman free of the stifling tourist crush, and better preserving the natural beauty of the island's beaches.
"Tioman Island has long been a popular destination for global travelers," explains blogger Lola Mendez. "With ultra lush jungles and warm tropical waters, it's easy to see why."
The 136 sq.km. island of Tioman is densely forested, with civilization only maintaining a foothold along the coastlines. So the local wildlife is barely restrained – monitor lizards scurry across the street on a regular basis, with the jungles only opening wide enough for trekking trails that lead to gorgeous waterfalls.
Lola visited Tioman after touring other islands on Malaysia's East Coast. "We wanted to discover all that Tioman had to offer so we spent over a week on the island and stayed on the western, southern, and eastern coasts," Lola tells us.
Hopping through a series of resorts during her stay – among them the Melina Beach Tioman and the Swiss Cottage – Lola had this to say: "Each offered different scenery and views of the famed dragon horn peaks [Bukit Nekek Semekut on the southern tip of Tioman Island], yet all had an incredible aquatic life to be discovered a short swim away from the shore."
With more time on your hands, you can check out these other island getaways around the region:
The Philippines' Batanes Islands lie to the archipelago's far north, almost within sight of Taiwan. The country's northernmost province has made the most out of its isolation: its steep rolling hills overlooking the sea, its unspoiled cliff landscapes, and gorgeous Catholic churches feel blissfully out of sync with the rest of the world, like being in a bubble of peace and sunny calm.
Laos' Si Phan Don archipelago lies squarely in the middle of the Mekong River – a surprising find for a landlocked country. The villages dotted among the islands cater to backpackers looking for a calm retreat well-stocked with beer and gorgeous views; stay at Don Khong for its temples and trekking trails, or hop on to Don Khone for its cheap guesthouses and access to Khone Phapheng waterfalls.
* * * * *
Catch up with Abbie Synan's travels on her blog Speck on the Globe, or follow her on Twitter and Facebook.
You'll find Ivy Ko blogging about her travels at Kollecting Koordinates. Follow her on her social media profiles: Instagram, Facebook, and Pinterest
Lola Méndez shares her adventures on her blog Miss Filatelista. You can follow her on Facebook, Instagram, Twitter, and Pinterest.