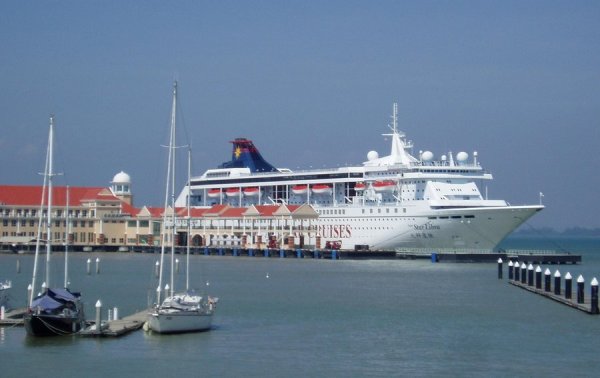 The nations of Southeast Asia have always looked to the sea. Historically part of maritime empires, the islands and coastlines that make up the best part of the region have long cultivated cities and cultures that respected oceangoing trade, and welcomed the visitors that came with it.
A growing number of cruise companies now do brisk business in Southeast Asia's welcoming environment, crafting different itineraries to fit a variety of interests and budgets.
Giant oceangoing cruise ships take leisurely jaunts to scenic spots like Ha Long Bay in Vietnam and Bali in Indonesia; smaller, more intimate river cruisers steam up into riverside destinations like Bagan in Myanmar and Saigon in Vietnam.
Ocean cruises, River cruises
From Singapore, Australia and Hong Kong, oceangoing cruises now regularly visit ports of call all over Southeast Asia. Cruise lengths can vary: Star Cruises, for instance, offers short two-night cruises that commute between Singapore and Melaka in Malaysia, while other luxury lines can take up to two weeks hopping between ports of call in Vietnam, Thailand, Indonesia and Malaysia.
Major U.S. cruise lines also offer stops in Southeast Asia as part of world cruise itineraries that can take as much as six months to complete.
With both Myanmar and Cambodia cresting in popularity among traveling seniors, river cruises within those countries have also gained the spotlight. The two major river systems in Southeast Asia – the Irrawaddy that runs down the length of Myanmar, and the Mekong that connects Vietnam, Cambodia and Laos – now serve river cruise lines that make stops along some of the region's most historic riverside sites.
River itineraries can last between three days to two weeks, departing from Ho Chi Minh City (for Mekong cruises) or from Yangon in Myanmar (for Irrawaddy cruises), with stops at ports of call like Bagan and Mandalay in Myanmar, or including inland excursions to Siem Reap, Cambodia (home of the Angkor temples).
When to go
The best time to go on a cruise in the region coincides with the peak seasons at the stops you plan to make. Peak cruise seasons occur when the weather is neither too rainy nor too hot – for the majority of cruise lines, that occurs by the end of October (the end of the rainy monsoon season) to the end of April (just as the hot summer season begins to crest).
The weather varies the further from the equator you go. Myanmar and Vietnam, for instance, offer thousands of miles of river and seaside coastlines – the rainy season in Ho Chi Minh City can coincide with drastically different weather up in Ha Long Bay, so plan accordingly.
Cruise Providers in Southeast Asia
Planning a river cruise along the Mekong or Irrawaddy? These providers may offer the experience you're looking for:
The following cruise lines follow oceangoing routes across Southeast Asia, either as part of a regional cruise or as part of a longer world cruise: