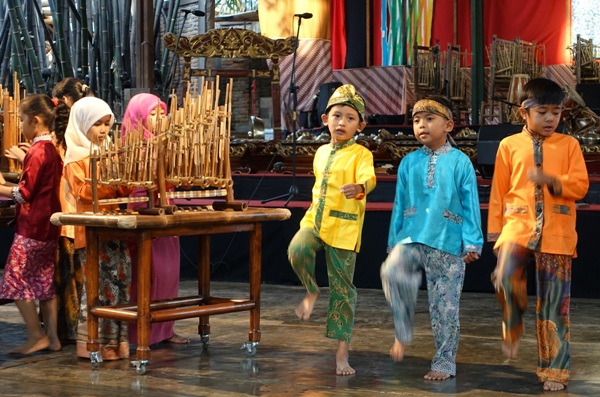 As Hollywood movies and Korean dramas flood televisions, malls and illicit DVD stalls throughout Southeast Asia, it's encouraging to see outlets for local culture thriving on both local and tourist patronage. Far from the pessimists' worst predictions, Southeast Asia's culture remain robustly alive, coexisting with foreign influences – and sometimes coopting them.
In the cultural performances listed here, visitors can learn first-hand about their host country's traditions and history through age-old entertainment forms. And at some of them, you'll not just be part of the audience, you'll be part of the performance too!
Tourists heading to Bandung in Indonesia might go for the volcanic craters; the cooler mountain weather; or the cheap clothes shopping. But this upland city in West Java is a cultural hotspot as well, being the home of Saung Angklung Udjo (SAU), a school and performance venue specializing in the unique Sundanese bamboo musical instrument known as the angklung.
SAU's daily shows occur in a covered amphitheater, with a varied cast of almost a hundred: children, teens, and adults in traditional Indonesian costume, each with an angklung instrument on hand. The show goes beyond Sundanese culture to cover almost all Indonesian cultural traditions, from Javanese to Balinese, with wayang golek (wooden puppet) shows and kids' games accompanying hearty angklung music.
The angklung vary in size and intricacy, from hand-held angklung playing a single note, to complicated angklung sets hanging in rows, ably played by experienced instrumentalists.
The show's interactive portion is a runaway crowd favorite: guests are lent a single angklung each and play their notes as signaled by the emcee. An entire audience, most of which had never laid eye or hand on an angklung before, end up playing tunes in unison!
For more on SAU and traditional angklung performances, read this Tourism Indonesia page.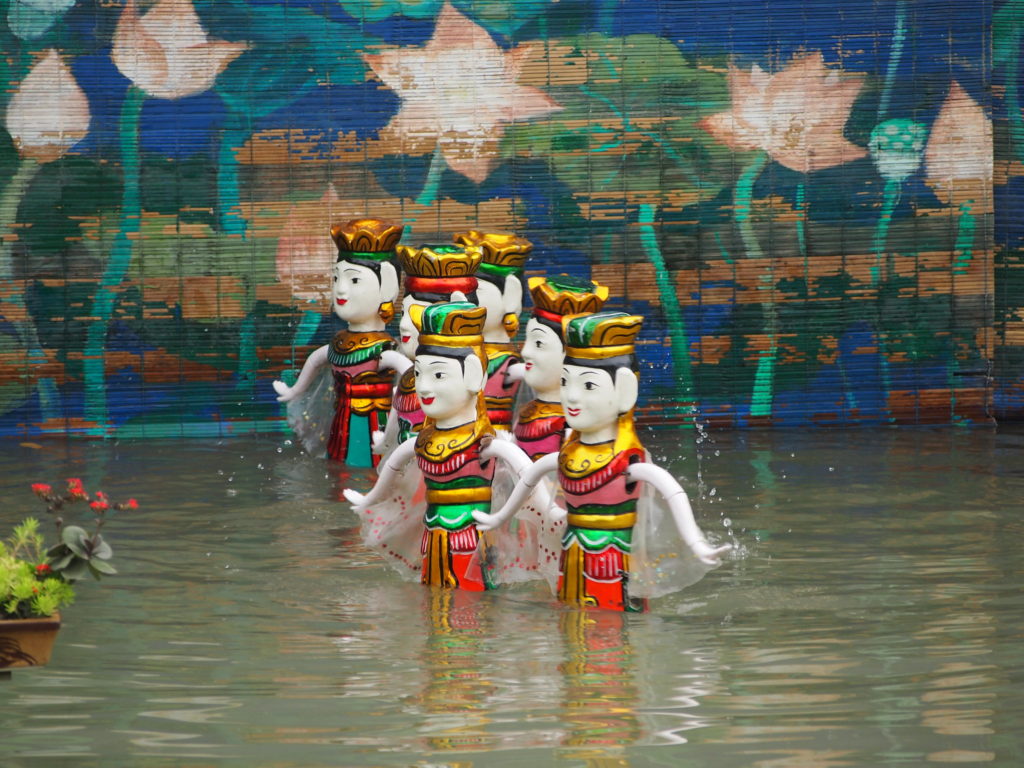 The water puppets of Viet Nam trace their roots to the Red River delta, where as early as a thousand years ago, rice farmers celebrated the end of the harvest by holding puppet shows on local ponds or paddies. The flooded rice fields were perfect for this unique Vietnamese cultural show: working behind screens, puppeteers would manipulate the puppets, the latter's workings hidden by the murky waters of the paddy.
The puppets are now a regular standby of the tourist experience in Viet Nam, having moved from village rice fields to specialty water puppet shows in cities like Ho Chi Minh City, Hue and Hanoi. The fancy puppets used in the performance – intricately painted and lacquered models – are controlled with bamboo dowels and strings submerged beneath the water, held by puppeteers working behind large cycloramas made to look like traditional temples.
The accompanying music – a traditional Vietnamese orchestra and vocalists – move the story along, generally adapted from Vietnamese legend and folklore. Individual instruments might signal particular motifs in the story: drums and cymbals might announce the entry of a villain, while bamboo flutes might play as a king or prince takes the stage. The water helps brighten the music, and provides an interesting play of light off of the puppets dancing on the surface.
For more on Vietnamese water puppet performances, visit the Vietnam Tourism page.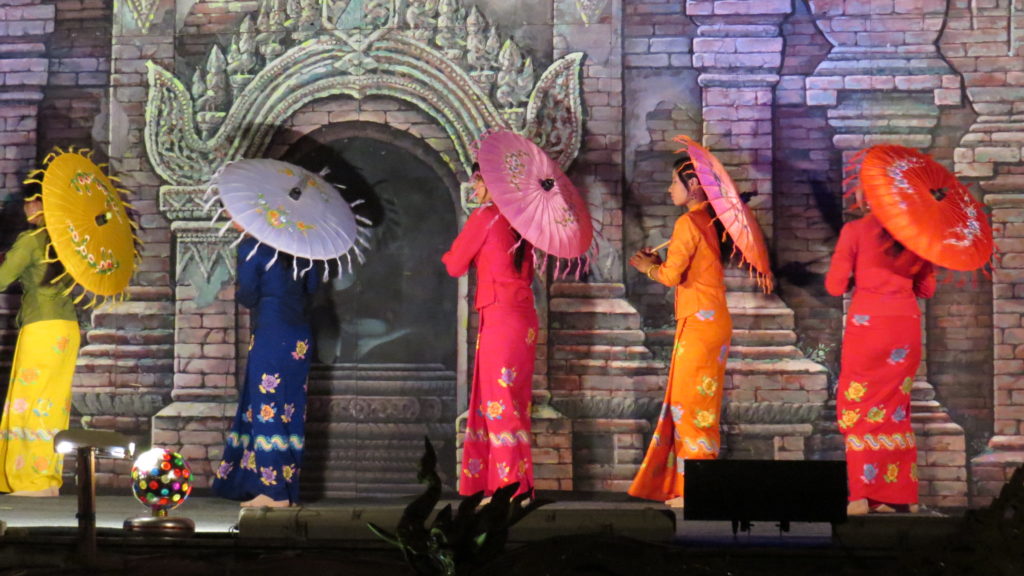 Myanmar draws its age-old dance traditions from all over, beginning with cultural contacts in the Indian subcontinent to Thai and Khmer influences brought by conquered court dancers from Ayutthaya and present-day Cambodia due to conflicts in 14th-18th centuries.
From such diverse sources, a rich song and dance tradition evolved within the kingdoms that now make up the territory of present-day Myanmar. Some dances are religious in origin, such as the Yama Zatdaw, a traditional dance based on the Ramayana legend. Other dances have become part of traditional civic ceremonies: dances to appease the nat, or guardian spirits, are often performed to accompany offerings of gifts, and done before important events are undertaken, to guarantee future success.
To see these dances in their natural settings, you must visit Myanmar during an important festival, like Thingyan (the Burmese New Year), where dances are usually held on public stages for everyone's enjoyment. Otherwise, you can visit tourist-friendly places such as the Karaweik Palace in Yangon, where Myanmar dances are performed every evening for restaurant guests.
For more on traditional Myanmar dance performances, visit the Myanmar Tourism page.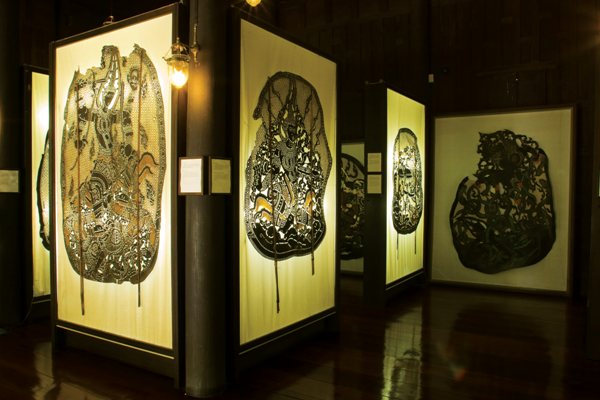 The grand shadow play (Nang Yai) of Thailand was regarded as a form of high-class entertainment in former times, being a combination of several art forms: artistic pattern designs, handicraft art in making meticulous shadow figures, theatrical art, oratory art of composing narration and chorus, and orchestral music to complement all the tactile senses. It represents high aesthetic values and reflects ancient wisdom. The Nang Yai Wat Khanon National Museum is situated in a Thai traditional house and preserves an entire set of 313 shadow figures in their complete condition. Most of the figures represent characters from many episodes in the epic story of the Ramayana; such as, Hanuman presents his ring, Sahassa Kumar, the arson of the city of Lanka, and the battle of Indrachit. Additionally, the Museum provides not only an exhibition displaying the history and the making of cowhide, but there is also a performance from the Nang Yai troupe on Saturdays.
Nang Yai conservation at Wat Khanon is one of the six model communities awarded by the Asia Pacific Cultural Centre for UNESCO for its active role in preserving an intangible cultural heritage.