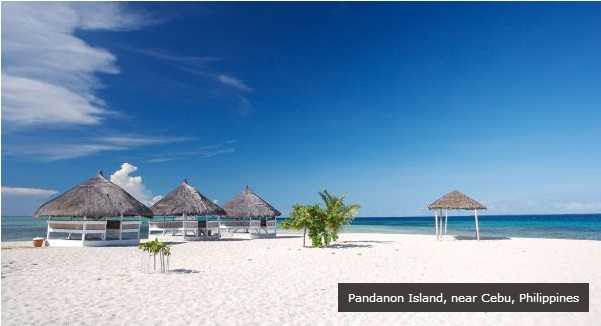 1. Mystical Island/Province of Love
There's something mysterious and magnetic about Dinagat Islands, a province located south of the Leyte Gulf. Adventures are in store for those who do not seek the luxury of hotels. What you have waiting for you are lodging rooms (sometimes built on stilts), homestay accommodations from warm villagers, and fresh, crawling seafood catch from the wet market right on your table.
Dinagat is a four-hour ferry boat trip from Surigao City, but the rock formations you'll see along the way will divert your attention from the long journey. You will find yourself busy with trips to hidden waterfalls, mountain lakes, caves, virgin mangrove and bonsai forests, historical houses, bat sightings, and the most unforgettable romantic sunsets by the ocean. No wonder Dinagat Island claims itself to be the "Mystical Island Province of Love." From Surigao, you can book a ferryboat at the pier, which sails daily to the islands at intervals. http://www.dinagatislands.gov.ph. —Jojie Alcantara
2. A Captain's Sanctuary
Often overlooked as a rest stop used by local fishermen, Cebu's Capitancillo Island is a little piece of paradise where you can get away from the crowd. This tiny outcrop of limestone coral lying in the Camotes Sea is classic Robinson Crusoe, with swaying palm trees and a small beach. Interestingly, it's named after Captain Cillo—an American Navy captain who beached his boat on the island during WWII. But you won't need a navy ship to get here; it's less than an hour by boat from small towns, such as Sogod, north of Cebu City. The island is open to the public, with a docking fee of Php300 (US$6) for all boats.
For the most complete trip to Capitancillo, join one of the day trips from nearby Alegre Beach Resort and Spa (http://www.alegrebeachresort.com). The resort offers daily full-service trips to the island (minimum 2 pax) for US$85 per person, which includes the boat trip and one of the most incredible beach barbecues you can imagine. Even Robinson Crusoe didn't have it this good. –Tommy Schultz
3. Little Boracay
It takes almost two hours of a smooth, scenic ride from Davao City to a municipality called Sta. Maria in Davao del Sur. Here you will find Mariscal Beach Resort, otherwise known as Little Boracay. Mornings bring in high tide, but by noon, the waves pull back to sea and expose a wide expanse of white crystal sands. This private location is owned by the long-time Mayor of Sta. Maria, Rudy Mariscal. The resort is simple and accessible, with enough amenities and privacy for its guests. On the shore, young men offer banca rides (Php20/US$0.42) for a tour along the shoreline. Cottages cost only Php1,000 (US$21) a day.
It's easy to reach Little Boracay by public transport as buses bound for Malita cost between Php80-Php150 (US$2- US$3). From Malita, you can ride a tricycle (Php20/US$0.42 per head) to the resort. Entrance fee is Php20 (US$0.42). —Jojie Alcantara
4. Almost Hawaii
In the 1970's, American aviator Charles Lindbergh flew to the Philippines. Circling Mindanao in his plane, he caught sight of this horseshoe-shaped beach bordered by a dazzling blue sea. Landing immediately, he exclaimed that it was "just like Waikiki in Hawaii!" He has just christened the white beach in Cagwait, Surigao del Sur. Its coastline is kissed by spectacular blue waters of the Pacific with powdery white sands. The varying shades of blue waters tempt you to take a plunge and on a beautiful morning, an awesome sunrise greets you. Affordable resorts have now mushroomed around the coastal areas due to Waikiki's growing popularity. Waikiki Beach is accessible via the town of Tandag, which is three to four hours from Butuan. For transportation assistance, call the Department of Tourism (DOT) regional office at tel. +6385 815 6040 or +6385 341 8413. —Jojie Alcantara
5. Black Beauty
Big rocks, fine black sand, and big waves are the enchantment of Libanon Beach. It's the only beach in Sorsogon that has black sand, which is why it is aptly named Black Beauty. Not very far from shore, there's a part that the natives call "Ngarolan." They say it's a good dive site because of its undisturbed coral reefs. Boats and guides are available to accompany visitors in exploring the area. Libanon has no resorts yet, but in the nearby town of Bacon, two to three kilometers away, there's Tolong Gapo Beach Resort that offers cottages for rent. From Legaspi, Sorsogon can be reached in 45 minutes by van. Fare is Php75 (US$1.50) per head, but if you want to hire a van, the average fee is Php750 (US$15). From Sorsogon, you have to ride a tricycle or jeepney for 10 kilometers to reach Libanon. –Emmanuel Ferrer
6. Camp Out!
Though Canibad Beach used to be a quiet and isolated hideaway in Samal Island, it has long been frequented by foreigners and locals who camp in for the night. The sight of the creamy sands and crystal clear emerald waters is enough to make you want to immediately jump in the beach. Farther along the shore are rock formations perfect for photo shoots. You can also hire bancas to take you along for a relaxing sailing.
You pay Php20 (US$0.42) for the entrance, unless you are planning to stay overnight, then you can rent a cottage (around Php100/US$2 and up) and await a splendid sunrise. Others come with their tents and settle on the shore. From Davao City, one can take a 20-minute ferry boat to Samal Island, and take the rugged outback trip for one hour to Canibad. http://samalcity.gov.ph. —Jojie Alcantara
7. The Land Down Under
In the municipality of Glan, Gumasa Beach is popular for its fine white sands and startlingly blue sea. Small towns are protected by picturesque coves, where you can snorkel, kayak and dive down to shipwrecks that date back to the Spanish times. A quick walk around town affords you a view of colonial houses of Spanish influence. Sarangani is at the southern tip of Mindanao. On paved roads, it is reached in an hour from General Santos City. http://www.sarangani.gov.ph. —Jojie Alcantara
Cebu's Secret Getaway
Beaches rank high on the list of tourist spots in the Philippines. Being an archipelago made up of about 7,107 islands makes for many beautiful shores to visit, including the popular picks, Boracay, Palawan, and Cebu. While these famous beaches live up to their promise, other shorelines are also becoming a hit, including Bohol, La Union, Zambales, and Pagudpud, partly for their potential for adventurous activities. But sometimes, travelers and vacationers look for a different scene—one that is more secluded and peaceful, perfect to build memories with the family.
Pandanon Island, a small island off Bohol and about an hour away from Mactan Island, offers that tranquil sense of privacy in the midst of a sprawling shoreline. Pandanon is the new favorite choice of island hopping tourists from the main island of Cebu. It has a humble population of 1,947 and a one-hectare sandbar where guests can enjoy picnics with their families and sometimes, even a romantic dinner for two. It's almost like having the splendor of your family's very own beach to get away from it all.
Pandanon is a promising island getaway for travelers and families looking for something new in the Queen City of the South. Other islands around it are Caohagan, Gilutungan, Talima, and Olango, where active beach bunnies can try out scuba diving, dive safaris, fish feeding, kayaking, and dolphin watching. Children can enjoy snorkeling in Pandanon's waters where schools of batfish and clown fish, sea lilies, sponges, and corals can be seen all-year round.
A hassle-free day trip to Pandanon can be taken with a new travel service group based in Cebu, Island Banca Cruises, which offers cruises to the islands along the Mactan Channel (including Pandanon) on its different bancas that are a far cry from simple outrigger boats. It boasts of motorized boats complete with iPod docks, bean bags, Wi-Fi connection, sunbathing decks and the comfort of having beverages and towels available during the travel. It offers various packages, which are suited to the desires of travelers, including sailing into the sunset just in time for a romantic dinner at Pandanon. Lunch barbeques, featuring Cebu's famous lechon, or seafood buffets can be arranged by the cruise group. Visitors may also opt to ask fishermen to take them to Pandanon Island with their motorboats and rent the boat for an entire day.
A quiet and humble yet beautiful island all for your family's enjoyment? Yes, it exists. Experience Pandanon's laid-back charm and a taste of the lifestyle of the rich and famous. Cebu's Secret Getaway.-RONNA CAPILI
This article was provided by Philippine Airlines' Mabuhay Magazine.Mabuhay Magazine is published by Eastgate Publishing Corporation (email:info@eastgatepublishing.com;website: http://www.eastgatepublishing.com).