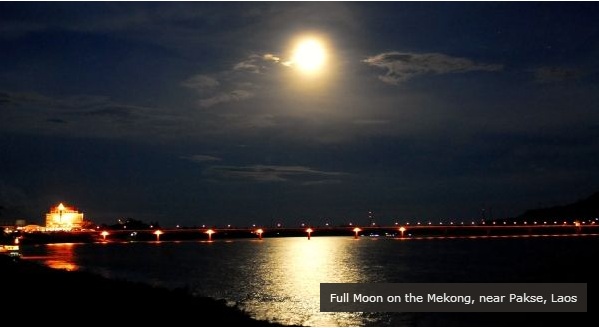 The Mekong River carries Southeast Asia's cultural diversity and history from Laos' forested northern mountains to Thailand and Cambodia's rice fields, and visitors can easily access its many highlights and experience the local's lifestyle along the way.
The Mekong begins its lengthy Lao journey at Luang Namtha Province by carving the border with Myanmar's Shan State through pristine wilderness, and lures trekkers with dozens of community-based ecotourism programs (CBT) operated by the Provincial Tourism Office (PTO), ethnic villagers and local tour companies.
A two-day boat voyage from Luang Namtha down the Nam Tha River reaches the Mekong near Houei Xai: the jumping off point for the forest-canopy "Gibbon Experience" and the Thai border crossing to Chiang Saen.
Just west of Chiang Saen, the 14th century Lanna Kingdom capital, the Mekong leaves Myanmar at the infamous Golden Triangle to begin tracing the Thai-Laos border before breaking east towards the UNESCO World Heritage site Luang Prabang.
Two-day luxury or local cruises depart Houei Xai for the ancient Lane Xang Kingdom capital, anchoring at Pakbeng, before continuing past the Hongsa elephant centre and stopping to observe ethnic village lifestyles.
The Mekong then reaches Luang Prabang's classic highlights: the 16th century Vat Xieng Thong, Mount Phousi's Vat That Chomsi, the National Museum's royal artifact collection, Kwangsi Waterfall and Pak Ou Caves.
The Mekong then turns south through Sayaboury Province, known for its annual elephant festival, to Thailand's Loei Province to continue its border role as it turns northeast to Vientiane.
The Lao capital continues to offer more high-quality accommodation, restaurants and facilities while maintaining its Southeast Asian look and laidback feel, and presents relaxing day trips to That Luang's 16th-century golden-topped stupa; Vat Sisaket, the city's oldest temple housing thousands of Buddha images; and Patuxay Monument's panoramic city views.
Across the Mekong, Nong Khai, a pleasant stopover town, feeds tourists to Vientiane via the Thai-Laos Friendship Bridge. Here, the Mekong, joined by Lao Highway 13, actually heads north, before easing south between Thailand's flat rice-growing Isan region and Laos' towering mountains.
At the Mekong's next major ports and border crossing, Thailand's Nakhon Phanom presents the 12th-century Khmer Phra That Phanom, while Laos' Thakaek sends the curious to Khammouane Province's caves including Konglor, a 7.5-kilometre tunnel traversed by boat.
A bridge and border checkpoint connects the Mekong's next port pair. Rising above Thailand's Mukdahan, Ho Kaeo Tower offers great river views, and brief journeys from town lead to Phu Pha Thoep's prehistoric cave drawings and "Pig Mountain" panoramas.
Across the river, Savannakhet's architecture delivers visitors to French colonial days. The PTO and its Eco-Guide unit offer several do-it-yourself and guided "Historic Savannakhet" CBT circuits that explore National Protected Areas, visit ethnic villages and reach the famed Ho Chi Minh Trail.
The Mekong breaks from Thailand at Ubon Ratchathani and flows to Pakse, the capital of Laos' southernmost Champassak Province, now served by an international airport for passengers heading to the pre-Angkor UNESCO World Heritage Site, Vat Phou.
Luxury vessels and long-tail boats ply this Mekong stretch with its 4,000 Islands housing remnants of a French colonial railway trying to bypass Southeast Asia's largest waterfall by volume, Khone Phapheng.
The UN/Cambodian-funded "Mekong Discovery Trail" – self-guided walking, biking and boating circuits – picks up the river at the Dong Calor border checkpoint and wanders past the Ramsar Wetlands to Stung Treng, where the Sekong River's long mountain journey reaches the Mekong and the 7th century Preah Ko Temple. The Mekong Discovery Trail continues to Kratie, where visitors are guaranteed a glimpse of the rare Irrawaddy dolphins.
The Mekong finally reaches Phnom Penh, the rapidly growing capital with its Royal Palace and National Museum displaying ancient Khmer artifacts and the heartrending Toul Sleng Genocide Museum.
Also at Phnom Penh, Mother Nature intervenes in the Mekong's gaining momentum with the world's only "river with return", the Tonle Sap, which absorbs the monsoon season backflow to prevent flooding while filling the massive Tonle Sap Lake, peppered with floating fishing villages.
Just before the Mekong enters Vietnam, it passes Takeo's 6th century Chenla civilization ruins, including 34 hilltop temples. The river then spreads into its delta and a vastly different culture, history and nature than that seen along the journey from Luang Namtha.
For information on Mekong River attractions and activities, visit: www.tourismlaos.com, http://www.ecotourismlaos.com and www.mekongdiscoverytrail.com.
Vientiane-based Bernie Rosenbloom writes for TTG Asia, PATA Compass, and EcotourismLaos.com; and he co-authored The Responsible Tourism Guide to Cambodia, Laos and Vietnam.