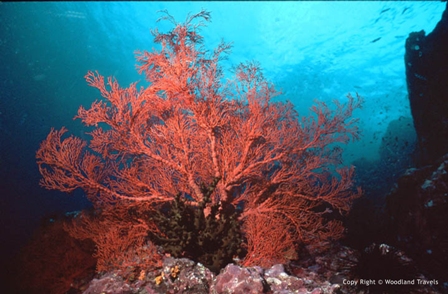 Image courtesy of the Myanmar Ministry of Hotels and Tourism
The waters of the Mergui Archipelago have only been open to international divers since 1997, so much remains unexplored. This is truly the world's final diving frontier – a chain of 800-plus islands in the Andaman Sea that can only be reached by liveaboard boats from the Thai towns of Phuket, Khao Lak and Ranong.
With over 36,000 square kilometres of marine territory to cover, visiting divers have a full schedule, requiring a week to ten days' voyage to explore most of the Archipelago's top sites. The variegated topography yields a different experience from place to place – mysterious caves; rock walls ranging from gentle to steep; boulder-lined sand bottoms; and massive seamounts.
As these waters are relatively untouched by human hands, the marine life remains massively abundant – schools of tuna and trevallies darken the waters, and smaller fish like batfish and clownfish add dashes of color and motion to the sea floor. Tiny nudibranch inhabit the hard and soft coral gardens at the Archipelago's shallower waters. Sharks and manta rays aren't rare sights here; they're an everyday occurrence.
The liveaboards visiting the Mergui Archipelago operate between October to May, the season for optimum diving conditions in the Andaman Sea. From Thailand, the boat will stop at the Myanmar port of Kaw Thaung to get your immigration papers in order; visiting divers must bring their passports and a US$200 visa fee.
Elsewhere on the Web: Read the Myanmar Ministry of Hotels and Tourism's guide to ecotourism in Myanmar.