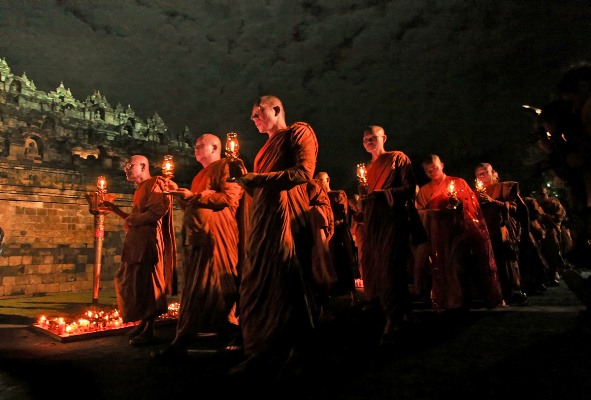 In Buddhism, Vesak commemorates three distinct events in Gautama Buddha's life – his birth, enlightenment, and death. Devotees spend the day rededicating themselves to the dharma and the Eightfold Path, with temple offerings and candlelight processions to and from significant Buddhist temples.
Southeast Asia's many Buddhist devotees throw themselves into Vesak, and tourists are free to watch the festivities unfold in spectacularly different ways across the hemisphere.
You'll find Southeast Asia's most accessible Vesak celebration at Borobudur in Central Java in Indonesia. In the light of the full moon, on the eve of Vesak (Waisak in Indonesia), devotees from all over the world undertake a candlelit procession to the ancient Borobudur stupa. After circling Borobudur three times, participants release thousands of floating lanterns into the sky, "symbolizing enlightenment for the entire universe".
In Singapore, the ethnic Chinese Buddhists of the Mahayana persuasion mark Vesak at the oldest Buddhist temple in Singapore, the Lian Shan Shuang Lin Temple, and at the more recent Buddha Tooth Relic Temple. Burmese and Sri Lankan Theravada Buddhists commemorate the day at Burmese Buddhist Temple and the Sri Lankaramaya Temple.
Southeast Asia's majority Theravada Buddhist countries consider Vesak as one of their most important religious holidays. Myanmar devotees call the holiday Kason, and pour water on bodhi trees to commemorate the Buddha's enlightenment. Laos' Vixakha Bouxa celebrations coincide with Boun Bang Fai, a rocket festival celebrated to ensure a good harvest.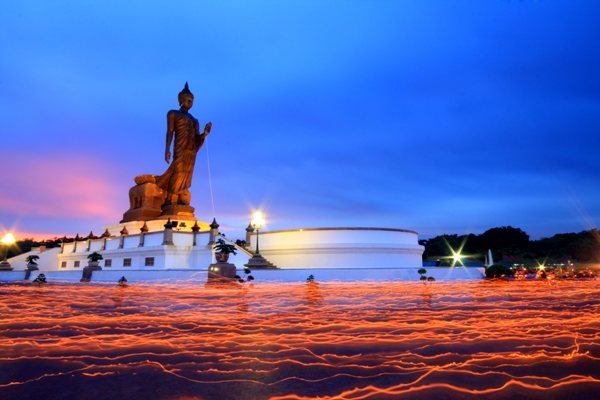 You'll find the most meaningful celebrations of Vesak at the grassroots, where locals visit their neighborhood temples to perform acts of piety. In Thailand, these can be found at any of their innumerable Buddhist temples. Travelers can experience one of the biggest local celebrations of Vesak at Phutthamonthon, a Buddhist Park in Nakhon Pathom province nearby Bangkok.
In Vietnam, you can visit Buddhist pagodas like Dieu De and Tu Dam Pagodas in the former Imperial capital Hue. In Cambodia, the sprawling Angkor Archaeological Park hosts the country's most well-attended Visak Bochea celebrations.
These festivities are often accompanied by public acts of charity, as Buddhists believe that such acts earn more merit on Vesak than on any other day. So in Singapore and Indonesia, Buddhist organizations hold medical missions on Vesak; in Thailand, temples set caged birds free.
When is Vesak celebrated? Vesak coincides with the full moon in the sixth month of the Buddhist calendar, and is thus a moveable feast relative to the Gregorian calendar. Differences in practice throughout the region have resulted in different dates for Vesak. In 2015, Buddhists in Laos, Thailand, Singapore, and Indonesia celebrate Vesak between 1 and 2 June; Buddhists in Cambodia and Myanmar celebrate it between 2 and 3 May.