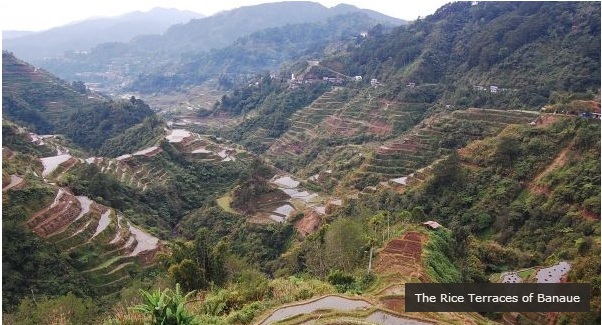 One weekend, a friend and I packed our bags for a trip to the northern mountains. Our plan was simple: from Manila, we would tackle the Cordillera loop, entering via Baguio en route to the Mountain Province and exiting through Banaue town in Ifugao.
Traffic on the main route to Baguio was surprisingly light on a Friday afternoon. As the bus swerved its way along Marcos Highway, thick fog began rolling in, a familiar sight that brought a smile to my lips despite the creeping dampness. Visibility was poor, and the vehicles on the opposite lane emerged from the fog like ghosts from the past.
In a stroke of serendipity, I found the best hotel to indulge my mood for the classic mountain ambience. Villa Cordillera may not be posh, but since it is affiliated with the Baguio Country Club, it retains a genteel feel that appeals to visitors seeking refuge from the madness of Session Road. From my window, I could see in the distance that rolling fog drifted down and covered the greens in a fluffy white shroud.
The following morning, we boarded the bus to Sagada for the first leg of our expedition. As we passed by La Trinidad, it was disheartening to observe that urban blight seems to have marred its reputation as a strawberry country. From the road, you could see laundry flapping in the wind, and a jumble of stores everywhere. But past this scenery and into the open spaces, pine trees make a comeback, with plenty of young trees shooting up from the damp earth. In Buguias, the region's salad bowl, the vegetable patches stretched across a vast expanse, including a pretty row of cabbage just beside the road.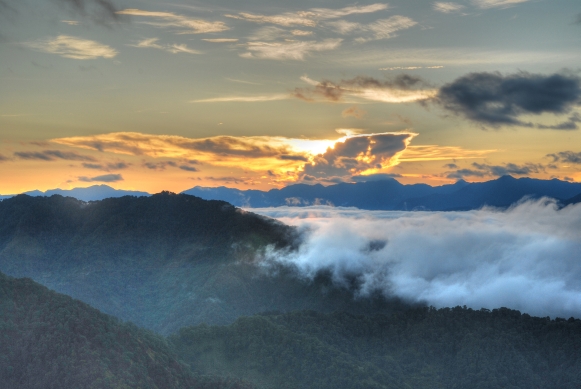 Sagada Sunrise
The six-hour drive passes through Atok—at 7,400 feet, it is the highest point in the Philippine highway system. Thankfully, much of Halsema Road is concrete now. Still, there were heart-thumping moments in rough sections where the bus lurched to one side and crawled slowly amid huge boulders. It's the kind of bus ride where the driver stops for a passenger who wants to buy chicken from a poultry farm along the way.

If you want a decent meal, bring your own food as there's hardly any to be had in the pit stops. Finicky ones will be glad to know that most toilets along the route have become tolerable. There's running water, but don't expect to get toilet paper for your two-peso "donation" to use a public facility.
When we reached Sagada, we were just in time to watch the afternoon fog spreading a blanket over the surrounding mountains. Perched on a hilltop overlooking the town proper, St. Joseph's Guesthouse proved to be the ideal location for gazing dreamily at the hills beyond the town. It's just a few steps away from a small diner called Alapo's, named after the Sagada term for grandparents, where we had most of our meals.
Sagada's bakeries are known for their breads, so it's a good idea to stock up if you're heading for its caves or going on a long trek. Judging from the freshly baked cinnamon bread we had at the bakery next to Alapo's, the reputation seems well deserved. We also heard there's good lemon bread to be had just beyond Yoghurt House, another sign of the long history of European and American influences in the village.
I had not been back to Sagada in 15 years, and had been warned that the place had changed so much from its Shangri-la image in the past. Indeed, it was sad to see the tourist buses crowding the roads in the village center. Souvenir shops selling cheap T-shirts and imitations of traditional Sagada woven bags were everywhere. But travelers who have fond memories of Sagada will be glad to know that the St. Mary's compound remains the center of community life, and it is still a nice place for a walking meditation under the towering pine trees. On this trip, perhaps my best discovery was the Saturday buffet whipped up by Chef Aklay at the Log Cabin. "It's the best meal I've had in the past few months," enthused a British traveler who had listed down the names of the countries he had visited in ball pen ink on his backpack.
After soaking up Sagada's ambience, we took the hour-long ride by jeep to Bontoc, the capital of Mountain Province, which most tourists skip because its location in the valley makes it warm compared to the cool climate in other destinations. Two places worth visiting there are the Bontoc museum, which has a remarkable collection of Cordillera artifacts and architecture, and the trade center at the capitol.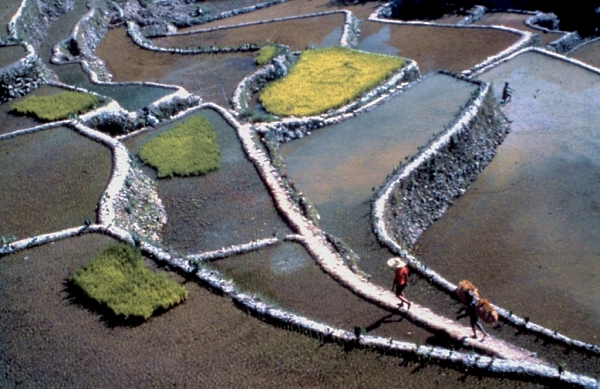 Malicong Rice Terraces of Bontoc
The provincial tourism office provides information on specific interests like handloom weaving, wine tasting, and trekking. Among the intriguing items on their tourist map are the "singing jars" in Bauko town, and the "enchanted eels" near a peak called Mt. Clitoris (no typo error there).
Another ancient jeep transported us from Bontoc to Banaue in two and half hours. A stunning landscape of closed canopy forests and rice terraces made up for the bumpy ride. Be prepared for unexpected stops, in our case, a child who needed to pee on the roadside. If you've got a bad back, be kind to your vertebrae and don't take a tricycle to Hapao, one of the Ifugao rice terraces inscribed as a World Heritage Site. The bone-jarring ride is a one-way ticket to the orthopedic ward, and we would have appreciated a word of caution from the tourist office. The scenery from the view deck, or even if you go down to the terraces, is not worth the one and a half hour trip. The view along the way makes up for it, with mist-covered mountains and curvy terraces, but this is best experienced in a fourwheel drive vehicle.
We stayed at the Sanafe Lodge, one of the many family-run inns in Banaue. Sipping brewed coffee on the terrace, I had wondered in previous visits what it would be like to walk across the rickety hanging bridge below. This time, I finally mustered enough courage to get on the rusty metal bridge with circular holes on the flooring, even with two playful kids rocking it vigorously. In the evening, rain and fog kept us company during the overnight bus trip that would take us to Manila in nine hours. The pitter-patter of the raindrops and misty calm lulled me to sleep, physically tired but spiritually refreshed after the mountain sojourn.
Go
• Manila to Baguio (Victory Liner) – Php450 (US$9.65)
• Baguio to Sagada (Lizardo) – Php220 (US$5); The last trip leaves at 2:30 p.m., but schedules vary so it's better to call ahead: tel. +6374 304 5994 or +6374 309 2096
• Sagada to Bontoc (jeep) – Php35 (US$.75)
• Bontoc to Banawe (jeep) – Php150 (US$3)
• Banawe to Manila (Florida) – Php450 pesos (US$9.65); better toreserve early as it gets full very fast
Stay
• Villa Cordillera 6 Outlook Drive, Baguio City; tel. +6374 442 6036
• Sanafe Lodge & Restaurant Tel. +6374 386 4085;
www.sanafelodge.com
Eat
• Open 24 hours, Pizza Volante makes its own dough and is known for the tastiest pizza in town. A margherita pizza for two is good value at Php188 (US$4). – 82 Session Road; tel. +6374 445 0777 or +6374 619 0466
• If you're in Sagada on a Saturday evening, don't miss the dinner buffet at Log Cabin. For Php290 (US$6), we had soup, salads, deer ham, chicken with herbs, beans, baked potato slices and divine desserts. – Located at the poblacion; tel. +63920 520 0463 (look for Dave)
• Most meals in Banaue come with red rice. The restaurant at the familyrun Uyami's whips up savory native chicken and de-boned bangus dishes. – Banaue Hotel & Youth Hostel tel. +6374 3864087 or +6374 3864088; Uyami's Greenview Lodge tel. +6374 386 4021
This article was provided by Philippine Airlines' Mabuhay Magazine.Mabuhay Magazine is published by Eastgate Publishing Corporation (email:info@eastgatepublishing.com;website: http://www.eastgatepublishing.com).