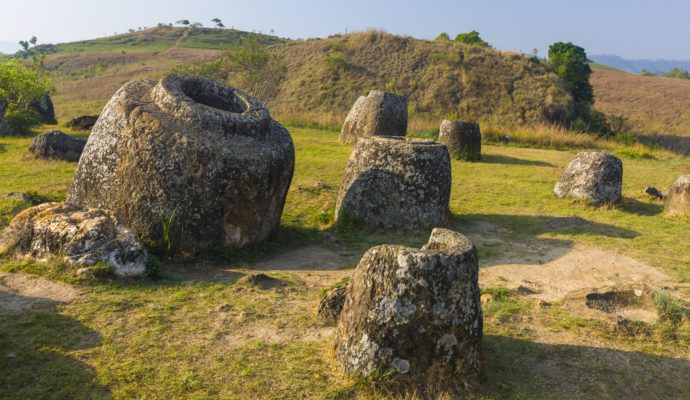 Plain of Jars: The UNESCO World Heritage Site
Xieng Khouang Province, Northern, Lao PDR
To this day, nobody can say for sure what purpose the Plain of Jars's collective namesake serves, these 3,000 massive jars littering the Lao highlands. Legends claim they were made by giants, as the biggest measure some three meters in length and weigh up to 14 tons.
About 3,000 of these jars have been counted around some 40 sites on the Xieng Khouang plain. The average visitor might see only three of the most accessible jar sites, but even that is enough to inspire awe. Scientists think the jars may date back to 500 BCE, but their real purpose is still anybody's guess. Funerary jars? Rainwater collection? Liquor storage?
Plain of Jars visitors start out at Phonsavan in Xiangkhoang Province, a short drive away from the nearest site. A tour guide is required if you want to travel between jar sites; much of the countryside has not yet been cleared from unexploded bombs left over from the Vietnam War.