Laotians love their festivals and truly know how to celebrate one. While some countries in Asia nowadays are used to commemorate International New Year in addition to their National New Year, Laos adds another one to it, its eastern and northern neighbours' TET or Chinese New Year.
So, if you are lucky to be around at the end of December with a few weeks to spend, you might take part in two of them, though to attend the national New Year, Bun Pi Mai Lao, you have to wait till April; it's aptly called a Water Festival, coinciding with Thailand's New Year. Both are in honour of the same old spirit "Songkran", leaving this earth to make way for a new one.
Water is core to the three days festivities as the faithful cleanse Buddha figures at community temples, thereby obtaining blessings. The living are also not spared, getting very wet during Lao New Year, tourists not exempted.
At the same time Luang Prabang, a World Heritage Site, holds the nation's largest cavalcade, starring dancers and drummers in traditional costumes, Hmong and Khmu ethnic tribes, veiled actors depicting mythological characters and many more.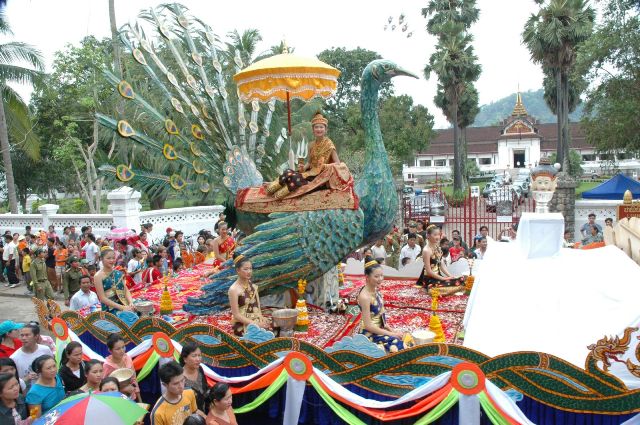 Lao Bun Pi Mai, New Year Parade;
Source: http://www.tourismlaos.org/files/images/DSC_9808(1).jpg
If however you have booked for a holiday in Laos this November, or act upon a last minute impulse[1], make sure you arrive on time in Vientiane for the Bun That Luang, the largest religious Stupa festival in Laos.
The Pha That Luang or 'Great Stupa', dating back to 1566, is the most important Buddhist and national monument in Laos; legend has it that this stupa contains a breastbone of the Buddha. The festival is held on three days during the full moon of the twelfth lunar month. Monks and people from all over Laos and even Thailand, Vietnam and China assemble to follow the event with three days devoted to Buddhist observances, followed by a week of day and night festivities.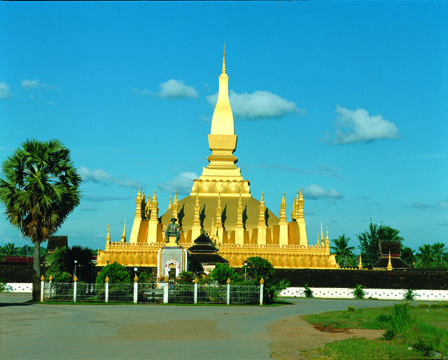 Laos most famous Stupa, Pha Tat Luang, Vientiane, Laos;
Source: http://www.tourismlaos.org/files/images/THATLUAN.jpg
The festival starts with a wax castle procession at Wat Si Meuang in the city center, proceeding to Pha That Luang and ending with a march, circumambulating the stupa three times. On the second day a more ostentatious parade conveys more candles and incense, while at dawn on the last day, thousands of devotees gather around the monastery offering alms to the monks in order to accumulate merit for rebirth into a better life.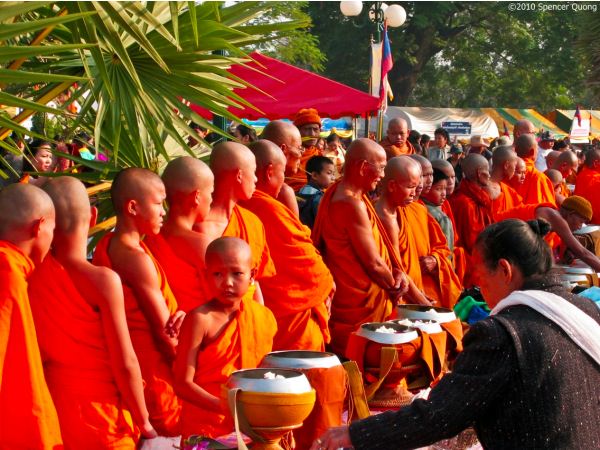 Alms giving at Pha That Luang Festival, Laos; Source: www.funylool.com
Next to the religious Pha That Luang and more secular Bun Pi Mai Festivals, Laos has many others worthwhile to visit, a selection of which taking place during the first half of 2015 are briefly summarized here.
End of February, head towards northern Laos, to the Sayaboury Elephant Festival (Bun Xuang); its aim is to raise awareness about protecting the Asian elephant as a vital part of both cultural and natural heritage.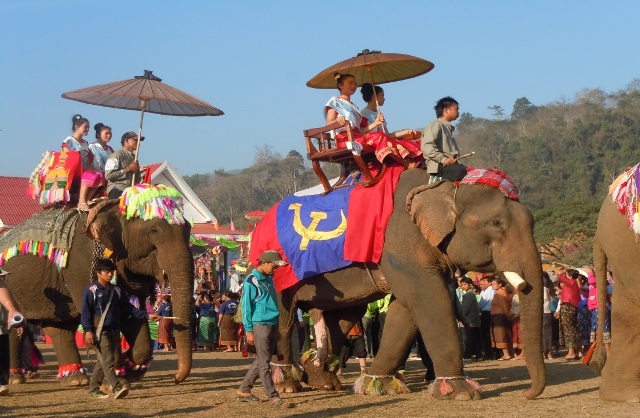 Elephant Festival, Sayaboury Province, Laos; Source: www.howtotraveltolaos.com
At the end of May it's time for a highly attractive festival that has been a topic of an earlier article, Bun Bang Fai or the Rocket Festival, a 3-day merit-making ceremony associated with traditional belief that the rain gods would hear the farmers' prayers if they attached them to noisy rockets and fired them up into the heavens. Pure bliss and fun.
Bun Vat Phu Festival starts at full moon of the 3rd lunar month. It's a three day festival in and around the World Heritage Temple Complex What Phu in Champasak, dating back to the 5th century
Laos, a laid-back country, as yet for the greater part untouched by the stressful demands of modern society. So are its centuries old traditions and festivals, warmly recommended and awaiting your presence. Satisfaction guaranteed.
Visa on arrival are easily to get at all four international airports and 13 (out of over 20) border-crossing checkpoints upon entering from Thailand, Vietnam, Cambodia and China, for most nationalities. However, this facility is not available when arriving at the land border from Myanmar. Check Lao's official website for the latest information (http://www.laostourism.org)