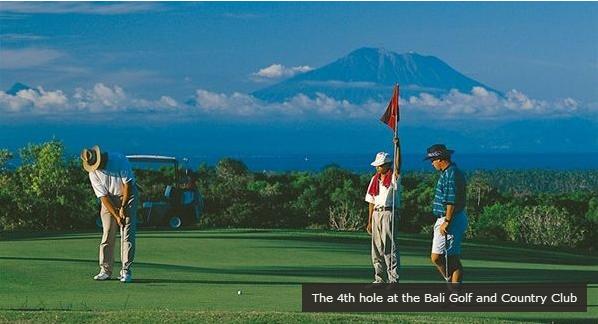 Bali is often called the "Island of the Gods" though many sporting enthusiasts say it should be dubbed the "Isle of Golf". The fabled island has four world-class courses attracting multitudes of players and countless accolades. Soft sea breezes sweep across three of the much-heralded courses while the fourth was laid out on the foliage-ringed floor of a long silent 'giant'.
Butterflies and Birdies
The only golf course in the world set inside the crater of an extinct volcano, the Bali Handara Kosaido Country Club (www.balihandarakosaido.com) was constructed entirely by hand with some 1500 men, women and children employed to move earth, basketful by basketful. Every contour, every bunker, every elevated tee was carefully built up and smoothed out using simple hand tools.
Landscaping was also undertaken totally by hand with native ferns, flowers, palms and shrubs planted to create visual appeal and add subtle hazards. This one of a kind 7024 yard playing field set in a 100 ha. 'Garden of Eden' truly appears to have been sculptured by Nature and not made by man. Set in the 'jade' green highlands of central Bali where the refreshing temperature ranges from 16 to 20 degrees Celsius, the foliage, streams and lakes at Bali Handara are an important part of its very distinct character. Accommodation is available at the country club and I found that an early morning tee off with butterflies fluttering by to be an experience unmatched anywhere in the world.
A Trio of Landscapes
For the well travelled golfer there is nothing unusual about teeing off at a seaside course or at one cloaked in tropical vegetation or even at one that spreads over hilly terrain. But combine all three settings into one unique golf course and the resulting 6888 yard Bali Golf and Country Club (www.baligolfandcountryclub.com) is a jewel that must be played to be believed.
Designed by a team from Hawaii, the front nine holes were crafted to play inland and uphill through thick tropical vegetation while providing golfers with magnificent views over Nusa Dua's vast expanse of prime real estate. The designers also introduced the 'Balinese element', wherever possible, during course construction in 1991. This meant the inclusion of hand hewn stone tee markers and intricately carved stone gods that serve as 150-yard markers. Perhaps more important, I feel, was the construction of stone walls to support the sides of fairways and tees and give the impression of rice field terraces so typical of the island's highly picturesque countryside.

Tees amid Temples
Terraced rice fields are also found at the Nirwana Bali Golf Club (http://www.nirwanabaligolf.com), the island's first signature golf course. About half the resort's 108 hectares was devoted to designer Greg Norman's 6805 yard 'dream' which was crafted to take maximum advantage of the area's natural surroundings. These include rice fields, many of which were used in the design of the course's numerous roughs and hazards. Rice is planted at varying times of the year on various parts of the course to enable golfers to experience the different stages of cultivation as they play a round of 18 holes.
Without doubt the most scenic of the 18 is the 7th, a 214 yard beauty that requires a precise tee shot carry from one cliff top, across an azure inlet of the Indian Ocean to a well tended green perched on another cliff top. Golfers linger at the 7th tee because the unobstructed panorama encompasses a lovely sanctuary. Built on a rocky islet just off the coast Tanah Lot is one of the six holiest temples in Bali.
Fauna on the Fairways
Every morning before caddies begin their day at New Kuta Golf (www.newkutagolf.com) most pause for puja (prayer) before placing a floral offering in front of a small Hindu shrine opposite the magnificent clubhouse. The NKG as it's widely known, is set on the island's south-western rim between shimmering white limestone cliffs and brilliant blue Indian Ocean. The 18 hole course stretches 6832 yards off the black tees and is a 5057 yard frolic for the ladies.
Traipsing along these I encountered 'monkey', 'tiger', 'cobra', 'dragon' and 'eagle'! The NKG has five tee positions named after fauna that lives today or previously existed on Bali. Balinese Tiger have been extinct since the 1930s though monitor lizards resembling dragons can still be seen. I looked in vain for 'dragons' basking on jagged rocks below the ocean back dropped signature 15th. At a mere 140 yards this par 3 is the shortest on the course. It's also the most striking – quite literally – as waves crash over thousands of golf balls that have missed the picture perfect green.
Thomas E. King is a professional golf and travel writer based in Sydney, Australia. He is the Executive Editor of Media East Pty Ltd, a 35 year established editorial agency specialising in providing features on cultural destinations and golf/spa resorts in the Asia/Pacific region.