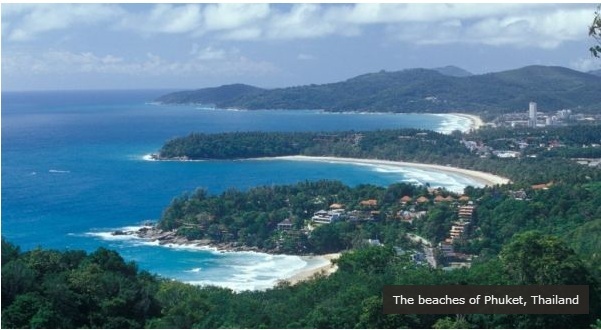 SoutheastAsia.org asked its writers what they would do with 2 weeks to spend in Southeast Asia.
Hmmm, good question.Southeast Asia is similar to Europe in the fact there is a wash of things to do and see in a relatively close area, with many different cultures to experience.With only 2 weeks there is so much to see and relatively short time to see it.It's easiest to break Southeast Asia into 2 areas (north and south) and decide what you want to experience.Is this an active trip or are you there for a little rest/relaxation?For my first trip to SE Asia, I'd likely stick to the northern countries, a little rest and relaxation, maybe revel in a little culture/history and eat…a lot.
First Stop
As I'm Canadian, I'll be completely bagged after "enjoying" a long haul flight from Vancouver, so the first couple days I'll spend relaxing and clearing the cobwebs. With that being the case, I'd fly to Phuket, Thailand. It's the quickest/easiest way to get to a great beach.If I was coming from Europe or Australia, Phuket is ideal as there are direct flights from European /Australian cities. Patong is the most popular beach on the island, which means it has the most hotels, food and nightlife, and ultimately the most tourists and tailors. As I don't need a suit or a girlfriend, I'd stay on quieter beaches. South of Patong lie Kata and Karon beaches, which are both popular and quieter than Patong. Kata is also the unofficial surf capital of Thailand. Unfortunately I have zero skills on a surfboard, so I'd stay on Bang Tao beach. A long stretch of bleached white sand located 20 minutes north of Patong, the beach and water are fantastic, there are both resorts and guesthouses in the area, and it's quiet, really, really quiet.
Second Stop
After 2-3 days resting and roasting in the sun, I'd fly to Siem Reap, Cambodia to experience Angkor Wat. The UNESCO heritage site is to Cambodia what the pyramids are to Egypt.Created in the 12th century, the huge temple complex is best seen first thing in the morning when the sun rises over lotus bud shaped towers or in the evening at sunset. It's a massive complex with so much to experience I'd take my time and spend two days walking around, taking photos. I'd likely head there around noon on the first day, catching the sunset late in the afternoon and return early the next morning for sunrise. After 2 days of stone temple piloting, I'd get back to relaxing.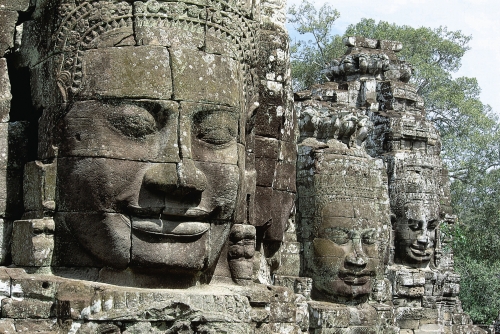 Third Stop
Back on a plane and a quick flight to Hanoi, landing and driving directly out to Halong Bay to float on a junk for 3 days. The old wooden Chinese junks sailing in the bay vary from size and luxury level.They steam out towards the limestone karsts of Halong, which appear to float mystically in the misty distance just offshore. Tour operators are starting to flood the area, and because of it, clutter and crowds are building. Still, lazily floating between the islands and their staggering scenery brings with it a sense of serenity rarely found.
Fourth Stop
8 days gone, I'd fly into to the madness of Bangkok. With about 6 days left I'd spend 3 days in the city of Angels, which is pretty much perfect for Bangkok.I'd rate my tolerance of the city similar to that of Las Vegas: great fun, completely overwhelming and ultimately tedious beyond 3-4 days (ironically I now call the place home). I'd land at Suvarnabhumi International space-age airport and make my way into the city via warp-speed taxi or the soon to be opened (hopefully) train system. I'd find a boutique hotel or guest house in the Sukhumvit area; one with easy access to the trains. If I'm there on a weekend I'm off to Chatuchak Market, if not, check out Suan Lum Night Bazaar, the monstrous MBK or the shops along Sukhumvit to do some cheap shopping.
Food is the easy part, it's everywhere and it…is…awesome! Street food is absolutely delicious and ridiculously cheap. If you're paranoid about cleanliness or stomach issues, stick to the busiest stalls. The locals know all the best places, so when in Rome…'er Bangkok. If for some unexplainable reason you tire of Thai food, Bangkok is also famous for its open air rooftop restaurants, atop luxury hotels. The Banyon Tree, Centara Grand and Lebua State Tower all offer stunning views from above the 55th floor, beneath only the night sky. The views are as staggering as the prices, but it is indeed an enjoyable experience.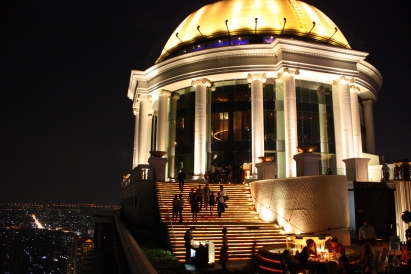 Fifth Stop
The last 3 days are a toss-up, so many choices but for me, I'd hit Singapore. Singapore is the Howard Hughes of Southeast Asia; rich, brilliant and slightly over the top when it comes to cleanliness. It's got hot weather, amazing shopping and really fantastic food.The shopping of Orchard Road is legendary, and honestly somewhat ridiculous. The number of malls and shops within such a relatively small area is a bit bewildering.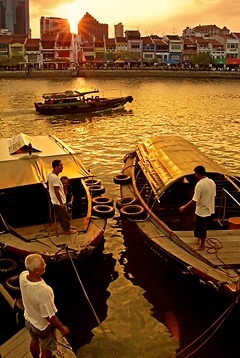 Singapore is a wonderful mix of Chinese, Indian and Malay cultures, which means architecture and food in Singapore, rocks. It's famous for its chili crab, but the insiders actually rave about the chili stingray. To top it off Singapore's nightlife is outstanding, with open air pubs and lounges and world famous dance clubs like Zouk, the nights are literally as hot as the days. The island state has gone out of its way to create a massive amount of attractions to keep locals and tourists interested and a world class infrastructure to support it. But the nicest thing about ending your trip with a stop in Singapore is that gently brings you back to reality.
So that's 5 stops, 4 countries, 2 UNESCO heritage sites, 1 beach, warm seas, a massive amount of shopping and no doubt a lot of food and drink.Not bad for a first trip to the region.
Other Ideas
Mekong River Trips– those photos of giant Mekong catfish and freshwater stingrays fascinate me.As such, a tour up the Mighty Mekong is on a must-do list, visit with some fisherman and maybe catch one of those river monsters.
Krabi-I live in Bangkok and have yet to go to Krabi, but the photos have me hooked. Some of what I see looks like Halong Bay with nicer beaches.I will be there…soon.
Tiger Reserves in Myanmar-They have a massive reserve for their Asian tigers (largest in the world, supposedly the size of North Carolina). I'd love to take a tour and find out what it's all about.
Scott Holmes is an independent filmmaker and freelance writer and blogger living in Bangkok. He is also the Marketing and Content Manager as well as Executive Editor of www.SoutheastAsia.org.