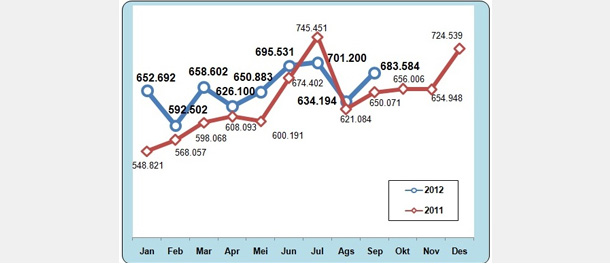 International tourist arrivals in the first three quarters of 2012 from January through September recorded an increase of 5.01% said Suryamin, Head of the National Statistics Bureau. Total number of arrivals through Indonesian entry ports was 5.89 million, up from 5.61 million in the same period last year. Indonesia remains confident to reach the target of 8 million visitors by year's end.
Detailed statistics issued by the Ministry of Tourism and the Creative Economy showed that entry port wise, Bali remained the top chosen destination with 2.14 million entering through its Ngurah Rai International Airport, up 5.8% compared to the first 9 months in 2011. Jakarta is second with 1.5 million, up 3.45%. Third is Batam that recorded 878,108 arrivals, up 5.07%, while Medan received 147,798 arrivals an increase of 9.4%.
Most dramatic increase in international visitors was felt in Bandung, surging 28.68% compared to last year, numbering 106,324 foreign visitors
Among the major tourist markets, China recorded highest growth rising 24.19% to 461,756. Malaysia also gave significant contribution to arrivals, said Suryamin with 793,416 visitors, up 8.13%.  Most Malaysians now head to Bandung.  Despite economic slowdowns in Europe, 10.11% more Germans and 5.5% more French tourists made Indonesia their tourist destination, while increases in Japan (4.08%), and South Korea (3.12%) continued positive.
According to these statistics, Indonesia's top tourist markets are: 1. Singapore, 2. Malaysia, 3. Australia, 4 China, 5 Japan, and 6 South Korea.
For detailed tourist statistics, please log on to : www.parekraf.go.id