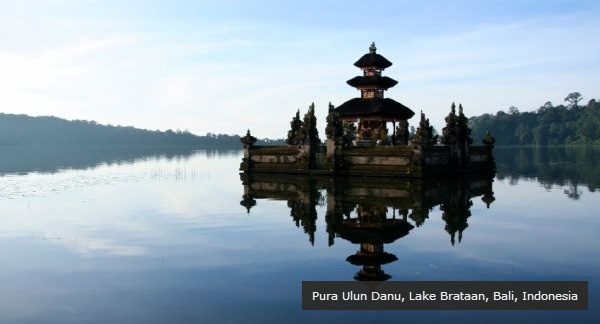 Bali isn't just about tropical beaches and sunshine. Blessed with soaring volcanoes, spectacular rice terraces, and ancient sites, this "Island of the Gods" offers a unique culture that is both magical and mythical.
From the first century AD, Indian and Javanese visitors brought with them Hinduism and Buddhism influences to Bali, which merged with local animistic beliefs and ancestral worship. So the legend goes, a millennium ago, a Buddhist Balinese king married a Hindu Javanese princess, creating a political and religious union. A Hindu-Buddhist fusion incorporating ancient local cults has evolved as Bali's state religion. Today, Bali is the only island in Indonesia—the world's largest Islamic nation—where Hinduism is the predominant religion (over 90 percent). But Bali's Hinduism is unlike anything practiced elsewhere.
DAILY CULTURE
For visitors to one of the world's most popular holiday destinations, it's difficult to differentiate between Bali's religion and its traditional customs and culture. The combined influence of Hinduism and culture permeates throughout every aspect of daily life, imbuing Bali with a spiritual richness and depth.
Everyday, a festival, a ceremony or a ritual takes place, all of which are integral parts of Balinese life. Each morning and evening, homes and businesses are blessed with small offerings to local spirits. Most important among Bali's many ceremonies is Ngaben, ceremonial burning of the dead, which frees the soul for reincarnation. Rather than a sad event, Balinese cremations can be spectacular, colorful, and noisy—and with an invitation, outsiders are welcome to attend! Bali's most important festival is Galungan, a multi-day celebration when ancestral souls visit their descendants.
Balinese New Year, Nyepi, is one day of silence when the whole island closes down in fear of evil spirits flying in. Everyone—including tourists—is not allowed to venture outside on this day and no flights can leave or arrive in Bali.
THE ARTS
Balinese culture is a unique combination of spirituality, religion, tradition, and arts, all closely bound to the Hindu way of life. Nearly everything in Bali carries religious significance, even art—all with the intention to please and appease the gods. Although tourism has changed much of Bali's aesthetic arts purpose, beautiful craftsmanship is still visible in traditional stone and wood carvings, textiles, paintings and more, which make great souvenirs.
The essence of Balinese culture however is dance and drama, playing prominent roles in both rituals and religious ceremonies. Traditional Balinese dance is the oldest performing arts. Either sacred or for entertainment, elaborate dances fulfill numerous functions and carry stories down the generations. Bali's best known dances are Barong, Legong, Kecak, Fire and Ramayana. Gamelan music accompanies each theatrical religious and social event, entertaining deities and humans. Perhaps the best known drama form is delightful Wayang Kulit, or shadow puppetry, combining Balinese humor and plays full of symbolism and mysticism. Beautifully painted, gilded leather puppets are used, but only their flickering shadows tell the story. Performed as entertainment, Wayang Kulit is mainly a sacred art form, saved for religious occasions.
A great way to see traditional dance, music and drama performances is attending a temple festival, or Odalan. Commonplace and always going on somewhere, these are great opportunities to see Bali in its ceremonial, colorful splendor. Countless performances at hotels, villages, and key landmarks are put on for Bali's international visitors; a must-see highlight are the sunset Kecak dance performances on a dramatic cliff top stage setting at Tanah Lot Temple.
UBUD
Art and culture may be everywhere, but Ubud is without doubt Bali's cultural and artistic center. Surrounded by lush rice fields, picturesque river valleys, artisanal craft villages, and nestled in the central heartlands of the island, Ubud brims with music, dance, fine art, and crafts. Now a major tourist destination, the town of Ubud is your best bet to capture Bali's unique culture and superb traditional crafts. Regular scheduled performances, like dance and shadow puppets, are performed in Ubud and its surrounding villages, usually at nighttime—romantic and open-air under the stars. Performance sites include two of Ubud's most stunning cultural venues, the sunset Kecak dance performances on a dramatic cliff top stage setting at Tanah Lot Temple, right in the center of town. (For performance details, check at the local tourist center on the main street, Jalan Raya Ubud; touts also sell traditional performance tickets on the streets around here.) .
Bali's finest and most authentic art museums and galleries are also located in Ubud, including the Neka Art Museum, housing one of the finest collections of art on the island. Additionally, the region surrounding Ubud is bursting with ancient archaeological sites, ancient palaces and temples, all easily reached by car.
TEMPLES
Temples (Pura) are the most important, ubiquitous structures in Balinese culture, offering a pleasant resting place for the gods during their island sojourn. These are vivid examples of the pervasive spirit of Balinese belief systems. Bali is home to thousands of temples: every village
has three main temples, plus there are temples at beaches, markets, lakes, mountains, and other sacred sites. Additionally, every home has its own ancestral shrine—there are even shrines in paddy fields!
Many temples are centuries-old, located in beautiful locations and number some of Bali's top tourist attractions. Some of Bali's most important and picturesque include Ulu Watu, dramatically perched on Bali's southernmost cliff tops, and an equally big tourist puller, a photographer's dream, Tanah Lot, nestled on a rocky islet off the southwestern coastline. Both are sacred sea temples, best experienced at sunset, although they tend to get very crowded with tourists.
In northeast Bali, Ulun Danu comprises over 100 shrines on a spectacular, tranquil site overlooking Bali's most active volcano, Mount Batur and Lake Batur. Another Ulun Danu Temple, but located in north Bali, is a massive complex beside volcanic Lake Bratan. In the east of the island, Goa Lawah is not for the squeamish, located inside a cave occupied by thousands of bats, while the mother of all temples, literally, is Besakih. High on the active volcanic slopes of Mount Agung—Bali's biggest volcano and holiest site—Besakih is Bali's largest, most important temple and offers magnificent views. Dating from the eighth century, it now boasts over 30 public temples with hundreds of shrines.
BALI AGA
If you want to experience Bali from the old days, the original Balinese, or Bali Aga, is a unique ethnic group that still lives and practices a way of life with ancient animist beliefs that pre-dates modern civilization. Only two Bali Aga communities remain: the isolated Tenganan and Trunyan villages in eastern Bali. Until recently, both were shut away from the outside world, but are now open to the public.
Whatever you plan to see and experience in Bali, numerous tourist centers and travel agencies located in main hubs like Kuta, Legian, Sanur, the capital city, Denpasar, and of course, Ubud, can assist with information and schedules, as well as give advice about rituals and ceremonies open to the public.
Go
Denpasar, the capital of Bali, is accessible by air from Jakarta. Travel time takes two hours and 45 minutes.
Stay
• Alam Indah, Jiwa, and Shanti Hotels: Ubud; rates start at US$65; www. alamindahbali.com
• Alila Villas Uluwatu Resort: Jl Belimbing Sari, Banjar Tambiyak, Desa Pecatu; rates start at US$1,258; http://www.alilahotels.com/ uluwatu
• Desa Seni Village Resort: Jl. Kayu Putih #13, Pantai Berawa, Canggu; rates start at US$150; http://www.desaseni.com
• Hotel Tugu Bali: Jl. Pantai Batu Bolong, Canggu Beach; rates start at US$260; www.tuguhotels.com)
• Karma Kandara Resort: Jalan Villa Kandara Banjar Wijaya Kusuma Ungasan; rates start at US$907; http://www.karmakandara.com
Dine
For cheap, tasty Balinese and Indonesian fare, try warungs (local-style restaurants). Otherwise:
• Bebek Bengil (Dirty Duck Diner): Jalal Hanoman, Ubud; tel. +62 0361 975 489 Café Wayan: Monkey Forest Road, Ubud; tel. +62 0361 975 447
• Kafe Batan Waru: Jalan Dewi Sita, Ubud; tel. +62 0361 977 528
• Kafe Warisan: 38 Jalan Raya Kerobokan, Kerobokan; tel. +62 0361 731 175
Shop
• Arts of Asia: Block C 27-37, Jalan Thamrin, Denpasar
• Jenggala Keramik Bali: Jalan Uluwatu II, Jimbaran
• Matra'I Crafts: Jalan Legian Kelod 393, Kuta
• Sukawati Market: Jalan Raya Sukawati
• Threads of Life Indonesian Textiles: 24 Jalan Kajeng, Ubud
• Toko Antique: Jalan Raya Ubud, Ubud
Etiquette
Respect Bali's local customs. When off the beach, entering temples and sacred sites, dress modestly and respectfully. Traditional dress of sarong and sash is sometimes required at temples for both men and women. Ceremonies and festivals require certain dress codes and etiquette; always check first with locals.
www.balitourismboard.org
This article was provided by Philippine Airlines' Mabuhay Magazine.Mabuhay Magazine is published by Eastgate Publishing Corporation (email: info@eastgatepublishing.com; website: www.eastgatepublishing.com).