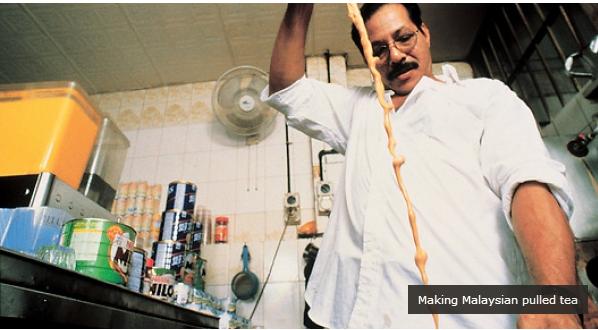 Streetfood in Malaysia is a mix of Malay, Indian and Chinese, and in some cases, notably Nyonya cuisine – which developed symbiotically as the various ethnic groups mingled – it's a natural fusion of all three.
Eating around the country is a tasty adventure, whether in major cities like Kuala Lumpur or in outlying towns along the coast, and best experienced on the street itself at roadside stalls or in small coffee shops, called kedai kopi. At both, the fare will reflect mainly the ethnic background of the owner, but might also sell a range of the most popular dishes from all cultures.
Prominent among these day-to-day dishes is the crispy, pancake-style Indian bread roti, often eaten for a filling breakfast served with aromatic curries that are founded in the regions of the sub-continent, from very spicy Sri Lankan to the richer, milder tandooris of Northern India.
Chinese favourites include dim sum lunches, and an abundance of fried noodles (mee goreng) eaten with goose, duck or chicken. And you'll find the legendary and fabulously simple Hainanese chicken rice everywhere.
Small stalls everywhere sell Malaysian satay – marinated fish or meat barbecued on bamboo skewers and served with peanut sauce – a tasty snack that's become a cocktail favourite at parties all over the world.
Another ubiquitous and delicious Malay dish is beef rendang, a curry-like stew slowly simmered in coconut milk until the sauce is almost dry. This way, all the spices, such as chilli, lemongrass and galangal, soak into the meat, imparting a deep flavour and wonderful aroma. If you get to Melaka look for the local version of laksa lemak a fish and coconut soup replete with tamarind and rice noodles; it's reputed to be the best in the country.
The other staple, along with noodles, is rice, which might include Indian style basmati or an unusual flower-dyed blue rice called nasi kerabu from Kelantan state. Try a traditional meal of banana leaf rice; Southeast Asian rice served on banana leaf with an assortment of curries that you eat with your hand.
There's also delicious fried rice called nasi goreng, and everywhere you'll see nasi lemak, a dish of rice cooked in coconut milk.It's often served with anchovies in sambal, a tamarind, chilli and garlic sauce, used as the base for many Malaysian curries.
The kedai kopi coffee shops will have many of these dishes, either as part of the menu, or in a central buffet area where you choose what you want and pay according to how much you've eaten.
There are great fresh fruit juices, like watermelon and mango, on every corner, and for those with a sweet tooth, coffee and tea come laced with condensed milk, with added sugar for good measure. Ask if you want it without. Another Malaysian must-try is pulled tea, in which the liquid is poured from container to container several times from a great height to make it frothy. Even if you don't drink any, it's fun to watch.
Malaysia's importance on the trade routes, between India and China, has made this a country rich in pan-Asia flavors. They're the perfect accompaniment to the travel experience here, whether diving amongst colorful coral, exploring the cities, hiking in the hills or just soaking up the beach.
Howard Richardson, the ex-editor of Bangkok Metro magazine, has written about Asian destinations for the BBC, GQ, and the New York Times online.