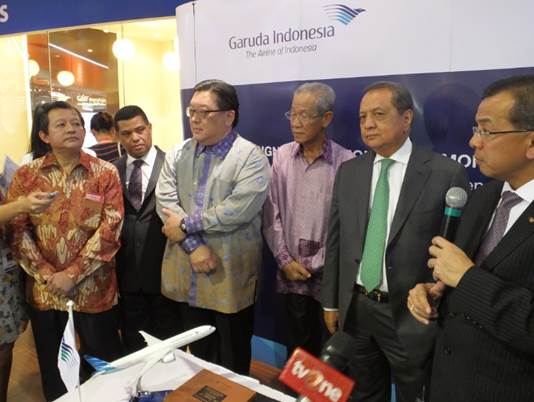 A new airport located at Lobam by the Industrial Estate and Free trade Zone and the North Bintan Integrated Resorts in the north of Bintan in the Riau Islands, is to be constructed to be operational by 2016. With a runway of 3,000m the airport will be equipped to serve Boeing 747-400 aircraft and has a capacity to serve 3.5 million passengers per year.
The airport forms part of a Memorandum of Understanding on Air Travel and Tourism between investment holding company Gallant Venture Ltd. and Garuda Indonesia airline. The MoU was signed by Eugene Park, CEO of Gallant Venture and Emirsyah Satar, Garuda Indonesia CEO, at the Singapore Airshow on 11 February 2014.
The agreement will see the development of vital air links within Indonesia between Bintan and other Indonesian destinations, as well as add to regional connectivity internationally. Under the agreement, both sides will also co-operate on a dedicated airport terminal for Garuda Indonesia to serve the carrier and its partners. Garuda Indonesia will also promote Bintan as an international tourism destination, and support to develop its connectivity both outbound and inbound.
The airport terminal will connect to an adjoining ferry terminal which will handle ferry connections in the region, including Batam Island and Singapore. Adjoining the Airport area, will be the Bintan Aerospace Industry Park which is within a Free Trade Zone and Special Economic Zone – a beneficial enhancement for commercial
With this development, Bintan Resorts is set to be even more accessible and desirable operations of aviation industry. as a tourism destination and an attractive investment location for those keen on tapping into the fast expanding travel and tourism markets in Asia Pacific Region, states a Release issued by Gallant Venture Ltd.
Bintan Resorts is a long swathe of beachfront in north Bintan, facing the South China Sea, located less than one hour by ferry from Singapore. Masterplanned and managed by PT Bintan Resorts Cakrawala, it is a joint development between Indonesia and Singapore. There are 5 independently owned beach resorts here with large tracts of land, 4 designer golf courses, and plenty of recreational facilities. Bintan has grown into a popular upscale tourist destination.