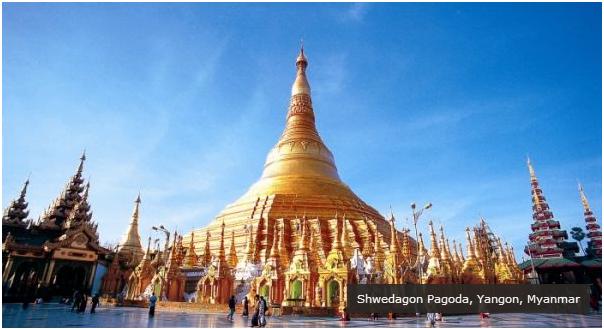 Comparable in grandeur to Cambodia's Angkor Wat and Boro Budur of Indonesia, the majestic Shwedagon Pagoda is Yangon's sacred centre-piece. Furthermore, the gilded stupa symbolizes the spiritual heart and soul of this beguiling nation of engaging, humorous, considerate folk.
"Shwe" means gold and "Dagon" is the former capital's previous name. Fittingly, the "beautiful winking wonder" that enraptured Rudyard Kipling, sailing into port over a century ago, dominates the city skyline. Looming from the leafy parkland of Singuttara Hill west of Kandawgyi Lake (two miles north of downtown Yangon) the elemental edifice reminds visitors, at it did Kipling: "This is #####, and it will be quite unlike any land you know about."
Archaeologists date it's creation between the 6th and 10th centuries, thus disputing Buddhist scripture demanding its construction pre-dating Lord Buddha's death in 486 BC. In legend, the pagoda was created 2,600 years ago to enshrine eight hairs of the living Gautama Buddha, bequeathed to Mon King Okkalapa, alongside previously interred relics from three of Lord Buddha's predecessors.
The sprawling complex is a masterpiece of design evolution. The central stupa was originally just 20-meters high. A 15th-century Mon queen, Shin Sawbu, donated her weight in gold to broaden and beautify it. Numerous royaly endowed renovations have subsequently wrought today's soaring 98-metre spire plated with 8,688 solid gold tiles.
Its umbrella-shaped crown is set with over 5,000 diamonds and 2,000 rubies, sapphires and topaz, topped by an almighty emerald, angled to catch the sun's rising and setting rays. Extravagant treasures are rumored to be sealed within.
Extending out from the stupa's octagonal base orchestrated what Aldous Huxley called a "merry-go-round style of architecture" – an impression reinforced by the procession of faithful circumnavigating clockwise. Over three centuries, 64 sibling stupas, planetary posts of Brahman astrology, and legions of prayer bells were set on the marble-paved surrounding terrace. Perimeter pavilions and temple outbuildings hoard a repository of cultural treasures, from sphinxes to sculptures and statues. There's a wishing area and a courtyard with Bodhi trees where pigeons feed.
The pagoda has reputedly withstood eight earthquakes and an almost catastrophic 1931 fire. Historically, the refusal of the British to remove their shoes in its vicinity fed a discontent fuelling the country's independence; it's since hosted pivotal rallies. The pagoda's endurance of a tumultuous past convinces worshippers that no permanent damage can befall it.
Like Bangkok's Grand Palace or the temples of Luang Prabang, visitors must remove their footwear before stepping onto sacred ground; including the first step of each of the four stairwell entrances. Those coming from the teahouse-strewn bazaar to the East enjoy a passage guarded by giant chinthe (mythical lion-griffin hybrids), past vendors touting candles, incense, gold leaf and prayer flags.
As dawn reflects off the gentle curves of the mount, men in skirt-like longyi, women pasted with thanaka (traditional make-up) and betel-chewing elderly folk share a reverential, soft-stepping communion. The vibrating ambiance of guttural chanting, rhythmically punctuated by prayer bells, mesmerizes. Visiting Myanmar is like turning back the clock, but Shwedagon Pagoda at dawn is the cosmos pausing for breath.
On my first pilgrimage, I noticed a young, solitary monk start climbing the spire. Confidently picking out foot and hand-holds where I saw none, he purposefully ascended nearly to the point of sheer-vertical spire – then vanished, as if ascending to Nirvana… Beside me, unforgettably, another two monks stared after him, bearing rapt expressions of jaw-dropped wonder.
Years later I learnt the pagoda is believed to be a favorite haunt of "Weikzars" – hermit alchemists endowed with magical powers, come to do obeisance to gain eternal merit for future lives.
Facts
Open daily: 4:00 to 22:00; foreigners admitted from 6:00; US$5 entrance fee).
No vests or short-shorts (longyis are sold by entrances).
Southern/Eastern entrances have elevators; Western entrance has an escalator.
Women may not broach the upper eastern platform.
Keep voices respectfully low. Always proceed clockwise around the plaza; avoid walking in front of worshipers when possible. Always ask permission before photographing people.
No stranger to creating or updating travel guides, British writer Joel Quenby has been exploring and writing about Southeast Asia for almost a decade.