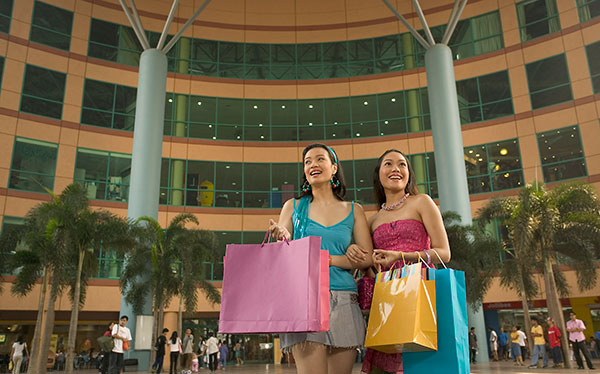 When you come to Southeast Asia make sure you pack your credit cards and travel light. Bring empty suitcases with you or buy them new when you get here. Basic clothing is good and cheap so purchase what you need for your trip when you arrive. Fill your bags with whatever your heart desires, but be careful; you don't want to blow the money you have saved by paying for excess baggage! Here we summarise the shopping highlights of each of ASEAN's capital cities:
Bandar Seri Begawan, Brunei Darussalam: From market stalls or syarikats to multi-storey department stores, Bandar Seri Begawan is a great place for shopaholics. The largest shopping mall in the city is the majestic Yayasan Sultan Haji Hassanal Bolkiah Complex. This is a breathtaking piece of architecture that houses a wide array of upmarket boutiques and shops. New to the shopping scene is the elegant The Mall. One of the largest chain stores in Brunei, Hua Ho Department Store is a popular one-stop shop for locals. There is a wide selection of groceries and designer goods available. Downtown Bandar Seri Begawan, Kuala Belait, and Seria sport a variety of modern air-conditioned outlets and older shop houses. There are also a number of shops at Bandar Seri Begawan International Airport where visitors may purchase duty free items, CDs, sports equipment, chocolates, as well as books on Brunei and the region. Source: Brunei Tourism.
Phnom Penh, Cambodia: Phnom Penh is more about markets than malls. For a local flavour, visit New Central Market (Phsar Thmey) on Monivong Blvd. There are a host of food stalls on the structure's western side that make the market one of the best places to take in the local lifestyle. Opening hours are from early morning until early evening. Tuol Tom Pong Market, also known as the Russian Market, is located at the corner of St. 440 and St. 163, south of Mao Tse Tung Blvd. It is the best place in town for souvenir shopping and offers a wide range of real and reproduction antiquities. Psar O Russei should not be confused with the Russian Market despite its similar sounding name. The market is located in a huge yellow-bleached house close to Monivong Blvd. It's worth popping in if you want to experience an older Khmer-style market. Source: Tourism Cambodia.
Jakarta, Indonesia: Whether you're a serious spender or half-hearted shopper, there's sure to be something for you in Jakarta. Spending the whole day in a mall to rendezvous with family and friends, relax, and stay out of the heat is a lifestyle for many locals. Thus Jakarta's malls offer something for every demographic and many are known simply by their initials, such as PIM (Pondok Indah Mall) and CITOS (Cilandak Town Square). For international boutiques, head to Jalan Thamrin-Sudirman or the Kebayoran area where there are malls catering to upmarket clientele. For wholesale and reasonably priced batik, head to Thamrin Plaza. General textiles and apparel is the specialty of Blok A, Mangga Dua in North Jakarta, or Pasar Baru, a traditional shopping area where you will find rows of textile shops. For handicrafts, the best places are Batik Keris, Pasaraya Grande, Sarinah, or Grand Indonesia Plaza. Rawa Bening Market in Jatinegara is the place to find gems. For antiques, head to the Jalan Surabaya flea market. Source: Indonesia.travel.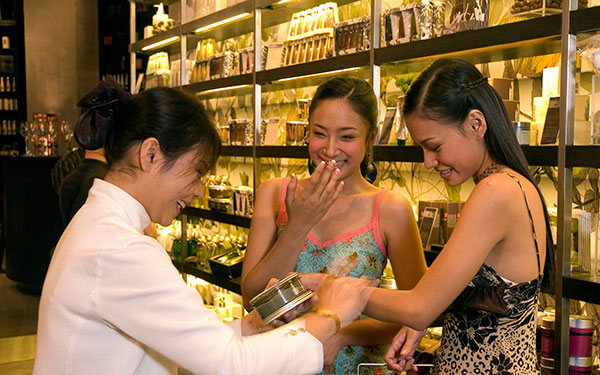 Vientiane, Lao PDR: Vientiane is an excellent destination for those interested in picking up elaborate handicrafts; hill tribe silk, arts, crafts, home-furnishings, jewellery, and couture-quality textiles are all readily available within the city. Vientiane's main shopping areas are Samsenthai and Setthathirat streets, around the Nam Phu Fountain area, and the Morning Market where you can find the best deals on local products. Textiles, basketry, silver, woodcarvings, and hand-made paper are some of the most popular handicrafts. Lao weavers are known for producing intricate fabrics in home-spun silk and cotton, most notably the complex patterns based on folklore and natural themes. Some of the best weavers come from the Tai ethnic groups in Houaphan Province. Source: Tourism Laos.
Kuala Lumpur, Malaysia: If shopping is your primary reason to visit Kuala Lumpur then it would be advisable to stay around Bukit Bintang where most of KL's best malls are located. Pavilion KL is a favourite venue, offering a good mix of mid-range to luxury shops, a great food court, and plenty of restaurants and cafes. Suria KLCC has been one of the most popular tourist malls since it opened with international brand-name apparel available all sizes. Lowyat is the premier IT, gadget and lifestyle mall in Kuala Lumpur. Here you will find hundreds of small shops selling cameras, phones, laptops, tablets, and much more. On the outskirts of KL, Sunway Pyramid is more than a shopping mall; it is a huge entertainment complex with numerous bars, restaurants, hundreds of shops, hotels, resorts and even a an amusement park and water park. Take your children along. If you get bored of malls then head to one of the city's street markets, especially Petaling Street, which transforms into a lively and vibrant night market when the sun goes down. Sources: Wonderful Malaysia, Kuala Lumpur.
Yangon, Myanmar: Duty-free shops, department stores, supermarkets and minimarkets in Yangon offer a wide choice of foreign and local products with fixed prices. However, real retail magic is to be experienced in the famous Bogyoke Aung San Market where the shopping is fun and easy and bargaining is acceptable. Myanmar has a long tradition of crafting beautiful items and Bogyoke Aung San is where you will find them. Situated in the heart of Yangon, the market houses 2,000 shops selling a wide selection of locally made goods, precious jewellery of gold and gems, silverware, arts and crafts, lacquerware, paintings, wooden dolls, Mandalay silk, Shan and Kachin shoulder bags, foodstuffs, cosmetics, and tailor-made clothes. Bogyoke Aung San is open daily from 9.30 am to 5.00 pm except on Mondays and gazetted holidays. Source: Visit Mekong.
Manila, Philippines: The Philippines is a shoppers' dream and home of three of the world's largest malls. Shopping is an important national pastime. Many malls in Metro Manila are mini-cities, with department stores, supermarkets, theatres, spas and even an Olympic-size skating rink. Religious services are even held in malls. It is easy for English-speaking tourists to shop in Manila because the language is widely spoken. For shopaholics, a must-do is the chain of SM malls, such as SM Megamall; a full-day destination in its own right. In swanky Makati, find the Glorietta and Greenbelt shopping complexes. Foreign business executives and Western tourists are frequently sighted here as the area is surrounded by five-star hotels. Short for "triangle north of Manila", Trinoma is a sprawling shopping complex in the Quezon City neighborhood. It is a rival to the SM malls but offers lower prices and a wider selection. Tourists who want a more local, flea-market shopping experience and even better prices, can head to Divisoria and the 168 shopping area. Here shops cater to the working classes or those who want to pinch pennies. Kitchen items, clothes, shoes, fabric, and designer knockoffs abound. Feel free to haggle. Greenhills is located about 30 minutes from the center of the city. It is a budget shopper's paradise, with imitation bags, shoes, knick-knacks, clothes, electronics, phones, software, and even south sea pearls available.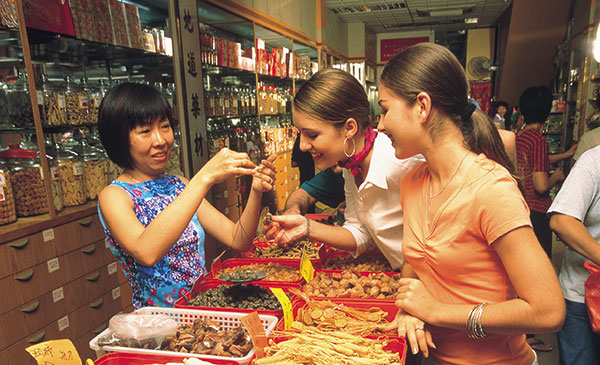 Singapore: There's a shopping sale of sorts practically all year round in Singapore, with the most notable being the Great Singapore Sale in June and July. There are stretches of world-class shopping malls, centres, and outlet stores in Singapore that offer you a wide array of choice. You only need to take a walk down Singapore's iconic shopping districts to find out what's in store. One thing is for sure, you won't be leaving empty-handed. For the latest in fashion trends, check out Orchard Road which is Singapore's most high-end shopping district. If you're looking for something more exotic and cultural, then the districts of Kampong Glam, Little India and Chinatown are ideal. Here, you'll find an assortment of ethnic products, jewellery, textiles, antiques, and more. Holland Road Shopping Centre, meanwhile, is a treasure trove of ethnic-inspired arts and crafts. Source: Your Singapore.
Bangkok, Thailand: Shopping in Bangkok will thrill and delight the most discerning shopper. Whatever it is you are looking for, from the gleam and glitz of air-conditioned malls to the hustle and bustle of street markets, Bangkok has all kinds of places in which to blow your Baht. And with everything from trainers to designer jewellery available, Bangkok has an exhaustive (and exhausting) variety of things to buy. In a city blessed with some of the world's most sumptuous malls, how do you choose? Do you want bargains? Go to MBK. Trendy? CentralWorld is your ticket. Classy? Make your way to The Emporium. If glamour makes you swoon, you will already have heard of Siam Paragon. For more adventurous browsing, Chatuchak Weekend Market will amaze you with its sprawling size and unbelievable variety of wares: vinyl records, beads, suits of armor, live seahorses, and everything … Polite haggling is encouraged. Chatuchak is possibly the most exhilarating, chaotic, and lively shopping experience in the Asia. Source: Bangkok.com.
Hanoi, Viet Nam: If you're particularly enthusiastic about quality textiles, clothes and handicrafts, shopping in Hanoi will not disappoint. The city has a good range of day and night markets, both indoors and out. Hanoi's largest covered market Dong Xuan is on most visitors' sightseeing list. It's a sprawling traditional market best visited early or late in the day. There are trinkets, bags, t-shirts, home ware, and artworks galore in this bustling, crowded space. The market is spread out over three floors with plenty of hawker stalls inside and out; it's an interesting place to visit in the evening when it's all lit up. The shopping area of Little Hanoi covers Nha Tho Street or 'Church Street' and Xuan Dieu Street where more affluent consumers and tourists seek chic souvenirs and unusual home furnishings. There are also a few up-market designer boutiques in this area. Source: Visit Mekong.