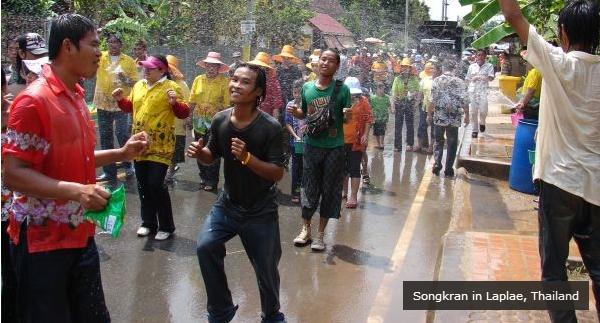 Buddhists of Southeast Asia may celebrate their mid-April New Years in different ways, but all the festivities share one common factor…water…and plenty of it.
From bathing Buddha images and sprinkling "lustral waters" on elders' hands to blasting bystanders with military-grade squirt guns, filled with water from ice-cold buckets, moisture plays a significant role in sankranti, Sanskrit for "moving into a new year".
Some say these "Water Wars" stain the celebrations, while others note random drenchings truly test one's tolerance. Imagine marching to a major meeting and getting soaked with a bazooka accompanied by a facial wipe with talcum paste.
True, offices close during the three-day fest, but any semblance of seriousness can cease a week before the holiday, and dates and names can vary among locales as can the activities and lore.
Thailand's water battles have elevated "Songkran" towards Mardi Gras status, while gentle paste swipes join less brutal splashing in Laos' "Pii Mai". Cambodians enjoy age-old games on "Chol Chnam Thmey" and mini-donuts are offered to anyone passing by on Myanmar's "Thingyan".
If you seek a definitive meaning or verifiable history behind the Buddhist New Year, you'll find an interesting variety of answers, all of which lead to getting wet. Some say it is a time for giving thanks for a prosperous harvest, praying for rain for the upcoming planting season, reflecting on kind acts and atoning for digressions. One legend claims the holiday originated as a fertility ceremony among pre-Buddhist Dtai, and another states the God, Thagyamin, makes an annual visit, his departure signaling the start of the New Year.
Folklore aside, rituals remain relatively consistent throughout Southeast Asia. Traditional housecleaning and food preparation for religious ceremonies generally kick off the festival. Families visit religious shrines, lighting candles and incense and prostrating themselves to thank Buddha for his teachings. People descend on river banks and beaches to build small sand chedis, each grain representing a sin to be washed away. For good luck, the faithful rinse their bodies with holy water.
On subsequent days, Buddhists make merit with donations to the poor, attend temple ceremonies to honor their ancestors, cleanse Buddha statues, and sprinkle holy water on elders' hands to show respect.
Somewhat less considerate are water assaults with a range of weaponry. But, on the other hand, a cooling douse during the blistering hot summer season is indeed, refreshing.
Tourists visiting Southeast Asia during the Buddhist New Year have three viable strategies in confronting the Water Wars: refuge in a hotel living on room service, diving right in, or accepting a damp spectator role.
Though large crowds turn out at Bangkok's Sanam Luang and Phnom Penh's Wat Phnom to observe time-honored rituals and engage in some mild water tossing, rural areas present authenticity that cannot be found in Khao San Road-like tidal mayhem. The key is booking transportation and accommodation months in advance.
Chiang Mai's Wat Phra Singh carries out traditional religious rituals and Thai cultural performances, while the city's Tha Phae Gate launches the Songkran Beauty Queen procession at a carnival offering northern Thai cuisine, handicrafts and plenty of water.
Thai beaches conduct sand-stupa building contests as does the ancient capital, Ayutthaya, which features merit-making activities such as releasing birds and fish. In southern Nakhon Si Thammarat, villagers escort a Buddha image from Wat Phra Boromathat to Tung Tha Lat for bathing, there are Mekong boat races in northeast Nong Khai and Hat Yai holds a midnight celebration during festivities which begins in early April, as does the fun.
Laos' Pii Mai dealt me my most memorable New Year; the experience started with vendors at Vientiane's morning market pleasantly streaking my face with ruby red lipstick; it then moved to a remote village and involved sacrificing a water buffalo and presenting a Miss Pii Mai pageant; finally ending with dinner at a make-shift restaurant in front of a cave. Luckily soakings were kept to a sprinkle.
Cambodia's Chol Chnam Thmey follows fundamental New Year's traditions, but its Khmer roots add a twist. The sand stupas resemble Sakyamuni Satya, where Buddha's hair is said to be buried, and locals prepare "Kralan" cakes, a special dish of steamed rice, beans and coconut roasted in a bamboo stick.
Much like its neighbors, Myanmar's Thingyan pays respect to elders, with young girls grooming grandmothers with herbal shampoos and sandalwood-paste makeup. Then the festival evolves into a "polite" water toss and donut-based food fight from which no one escapes.
The best tactic for approaching Southeast Asia's water wars is acceptance. Even the police get soaked, but anger triggers massive assaults. Those wishing to jump in should wear throw-away clothes, pack possessions in plastic bags, appropriately arm themselves, and seek a friendly give-and-take engagement.
Sideline spectators must expect a token splash, and a firm smile of approval generally leads to a mild milking, while seniors can count on respect to stay dry. But most important is getting into the holiday spirit; it presents moments you'll never forget.
Vientiane-based Bernie Rosenbloom writes for TTG Asia, PATA Compass, and EcotourismLaos.com; and he co-authored The Responsible Tourism Guide to Cambodia, Laos and Vietnam.