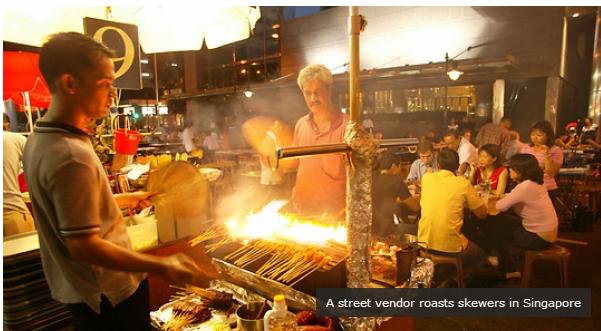 One of the most rewarding experiences when arriving in any Southeast Asian country is heading straight to the nearest marketplace and checking out the streetfood. The fruit colors, the aromas, the steaming woks of sizzling stir fry are an infectious primer to a nation's heart, as diners slurp noodle broth amid the downtown heat of Singapore or the cooling breeze of a Balinese beach. Southeast Asia loves its food.
And what food it is. While greenhorns may reel at the pungent fish sauces and fermented shrimp paste, and often need the bravado of a few beers before contemplating a meal of hairy spiders in Cambodia, duck fetus in the Philippines, or skewers of ####### smoked bat, less esoteric plates of curries and spicy salad are hungrily devoured.
The culture of street dining is simple in execution but bewildering in its sheer variety. Stalls are set up in the busiest locations, so the best places to find them are amid transport terminals, markets and large centers of work, near factories or business centers. Vendors might have a wheeled trolley with a glass case displaying whole chickens or duck, or merely lay out a blanket on the ground cluttered with aromatic vats of rich soup.
Many will have metal tables and chairs spread out under parasols to keep out the sun or tropical rains – just sit where there's a spare seat, sharing space with other diners. Some stalls are there all day long, others arrive at meal times and are gone when they've run out of food. Naturally, the tastiest food runs out quickly, so it's best to get there early and go with the crowd – the long queue at that crispy fried pork stall is there for good reason.
One-plate meals are common for lunch, but dinner will usually consist of many dishes served in the center of the table to share among friends and family over bowls of rice.Is there a Southeast Asian taste? Not really, although the close proximity of the countries in the area has made a fertile ground for exchanging food stuffs, recipes and cooking methods over the centuries.
The ancient – some say mythical – land of Suvarnabhumi, which covered many of the region's modern day nations, saw trade routes run from India, through Myanmar and Thailand, Malaysia, Cambodia and Vietnam. In the north, caravans moved back and forth from China, through Laos and the old Lanna Kingdoms to ancient Myanmar seaports. Muslims brought rich curries to Indonesia, Brunei and Malaysia, and even Europeans – drawn to the Indonesian Spice Islands – brought their influence; most notably the Portuguese, who introduced chilli in the 16th century. The result is a modern day feast of Southeast Asian cooking styles, widely influenced by each other and by the cuisines of their larger neighbors, China and India, but each with its own distinct character.
Long coastlines in many places, including Indonesia, Vietnam and the Philippines, and an abundance of rivers, like the giant Mekong that flows through Myanmar, Thailand, Laos, Cambodia, Vietnam and a couple southern Chinese provinces, means fish is often the main source of protein. There are terrific seafood dishes found along coastal villages and towns, often cooked over charcoal, perfumed with lemongrass and served with varieties of local fruit.
Chicken is another ubiquitous meat. Don't miss delicious khao suey, a Myanmar curried chicken with coconut and crispy noodles; or Singapore Hainanese chicken, a dish so simple it's amazing how good it tastes; or the lip-smacking marinated grilled chicken of Laos. Beef is less common, but shines in the coconut based stew rendang, found in Brunei, Malaysia, Singapore and Indonesia. Muslim countries eschew pork for religious reasons, but there are fine pork dishes elsewhere in the region, including Thailand, Laos, Cambodia and Vietnam.
A large pack of diners is a good indication a stall not only sells tasty fare, but also the food is likely hygienically prepared. Health scares are often exaggerated, but it's still wise to use some caution. Freshly cooked is far better than bits of pre-grilled meat that may have been sitting around for hours. Always drink bottled water and don't take ice. If you're concerned about health, you can get a streetfood experience without the street in food courts, which are common in the shopping malls of many cities, such as Singapore, Bangkok and Kuala Lumpur. They have a great choice of dishes, cleaner environments, air-conditioning, and all at a relatively small mark-up.
Wherever you choose to eat, streetfood is indeed one of the great delights of travelling to Southeast Asia.
Howard Richardson, the ex-editor of Bangkok Metro magazine, has written about Asian destinations for the BBC, GQ, and the New York Times online.