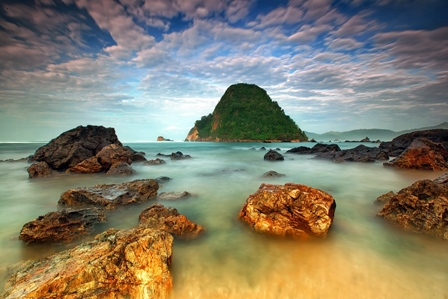 Image courtesy of the Indonesia Ministry of Tourism and Creative Economy
The surfing on Pulau Merah on the easternmost end of Indonesia's Java Island might share some of the same currents that carry the surfers in nearby Bali, but the scene here is altogether different. The surf in Banyuwangi is stronger than in Bali's Kuta Beach; the easy breaks on the 2-kilometre-long beach offer a safer environment than Bali's treacherous G-Land.
Pulau Merah takes its name from the rock islet jutting out in front of the beach (Pulau = island; Merah = red, perhaps referring to the oxidized rock under the vegetation that now covers it). Seclusion is perhaps Pulau Merah's best asset. As Bali's surfing spots have largely been inundated by surfers, amateurs and experts seeking less crowded surfing spots now seek out Pulau Merah for its rustic surroundings and its resemblance to the old, pre-tourist Bali.
That isolation may not last for long, though – at least one international surfing competition has been staged in Pulau Merah, and more may follow, which means the area's laid-back vibe and dearth of tourist facilities may not be long for this earth.
Rustic appeal aside, Pulau Merah also stages other activities for visitors, including parasailing on the sea and paragliding from the nearby hills. A nearby Hindu temple (Pura Tawang Alun) serves as the area's main sightseeing stop.
Elsewhere on the Web: Read Indonesia Travel's official page on Surfing on Pulau Merah, Banyuwangi.