Welcome to Wellness in ASEAN where we travel throughout Southeast Asia to discover holistic opportunities for travelers to experience. From the region's awe-inspiring locations to its rejuvenating spas, you're bound to find a relaxing oasis where you can truly unwind. Here, we invite you to put aside the stresses, pressures, and distractions of everyday life. Come discover this blissful part of the world where you can finally dedicate time to the self-care you need and deserve.
We're now exploring the countries of Indonesia and Laos. As the largest island nation, Indonesia has more than 17,000 islands for you to explore. Close to 57% of this archipelago is covered in rain forests, but it's also home to one of the longest coastlines in the world. On the other hand, Laos is landlocked— the only country within Southeast Asia. Laos' central location is a key reason for its multicultural nature, which influences the nation's most beloved attractions. Come along as we dive deeper into these different countries and discover a wide range of tranquil destinations.
Indonesia
Indonesia is commonly admired for its diverse cultural heritage that dates back to more than two millennia. Overtime the country has accumulated influences from India, China, the Middle East, Europe, and the Austronesian people. As a result, Indonesia now stands as a multicultural country that is sure to have something for everyone. Take a moment to reflect the Prambanan Temple, feel rejuvenated on the shores of Bali, and explore any of the country's eight UNESCO World Heritage Sites. The wellness opportunities are endless in this big island country.
Surf and Yoga at Pelan Pelan
Can you find adventure and tranquility all in one place? Absolutely! In Bali, anything is possible. Unlike your typical tropical getaway, Pelan Pelan is a holistic resort in Canggu that offers a relaxing, yet active approach to wellness. Whether you're a beginner or an expert, surf lessons are available on-site to help channel your inner-balance as you bask in the serene waters. Yoga workshops are also available for centering and revitalizing your mind, body, and soul. No matter what you choose, two things are certain: beautiful surroundings and chill vibes.
Do you love being active but still want to feel pampered? Pelan Pelan accommodates a spa that offers Balinese massages, Hot Stone massages, and many more enriching treatments. Additionally, this laidback resort embraces the local lifestyle, influenced by both the Balinese Hindu-Buddhist religion and deep-rooted Balinese customs. This combination makes for a peaceful space, soothing ambiance, and warm hospitality. After all, Pelan Pelan fittingly translates to "take it easy" — a simple yet inspiring phrase that any traveler can appreciate.
Hidden Hills Villas
Speaking of surfing, Uluwatu is an area of Bali known for being a surfer's paradise. Located in the south-western part of the Bukit Peninsula, surfers travel from around the world in order to witness Uluwatu's magnificent nature and ride its picturesque waves. This destination is also home to the sacred namesake temple, Pura Luhur Uluwatu, which is believed to protect all of Bali from evil.
Within the towering cliffs of Uluwatu, travelers may discover an oasis inside Hidden Hills Villa. Tucked away in the region's lush green jungles, this luxury resort overlooks the stunning Indian Ocean where you can witness breathtaking sunsets and panoramic views — right from your own private villa. And the indulgence doesn't stop there. This Balinese paradise also features cliffside restaurants, an ocean-view gym, and healing spa treatments for you to enjoy.
Ubud Traditional Spa
Prefer a more intimate slice of Balinese paradise? We invite you to discover the Ubud Traditional Spa. Encompassed by the tropical jungles and terraced rice paddies of Ubud, this wellness sanctuary was created with deep ties to its local customs and traditions. You'll find that their spa treatments incorporate traditional Balinese products. Additionally, the spa itself was created by reclaimed wood from local fishing boots in an eco-friendly effort to protect this wondrous island.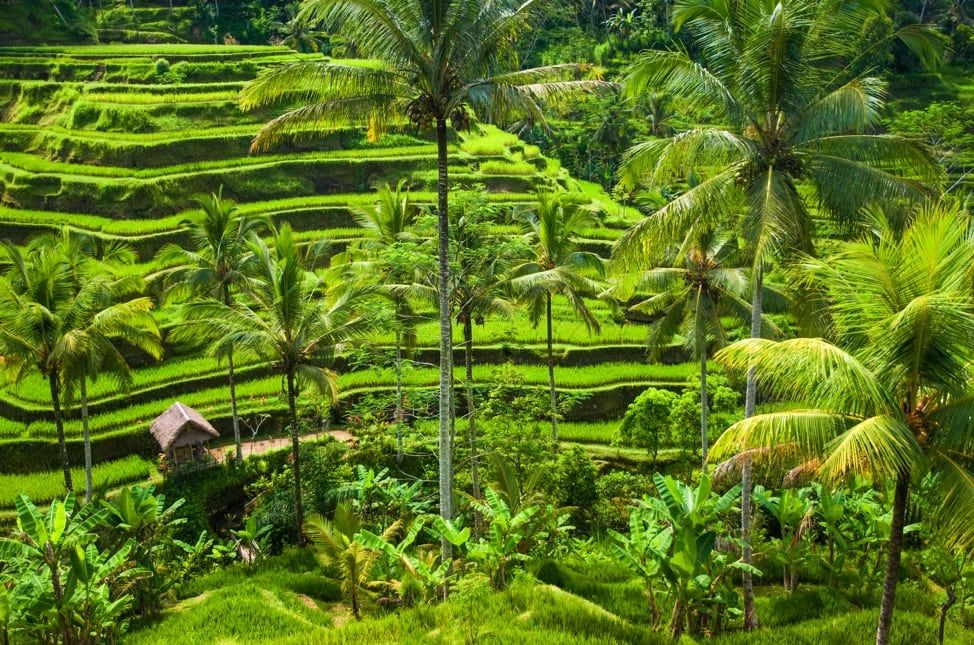 Begin your experience with a scenic walk through the Spa's lush garden. In your private treatment room, choose from four reinvigorating spa treatments: the Ubud Royal Massage, Rice Farmer Massage, Bali Traditional Massage, or Balinese Reflexology. This revitalizing experience is then followed by a moment of relaxation in the Wantilan Pavilion where you can complete your services with fresh fruit, tea, and a Balinese snack.
Now that you know about the many wellness opportunities in Indonesia, let's journey to Laos where we will take a break from island life, and reveal the holistic experiences that the mainland has to offer.
Laos
The history of Laos dates back to one of the largest empires in Southeast Asia. The Lan Xang Hom Khao Kingdom reigned for four centuries as an opulent and culturally-rich dynasty. While its effects can still be felt in Laos, the modern-day nation is now known for its influences from the Buddhist religion and French colonial architecture. The intersection of these varied cultures makes for a unique landscape that travelers can witness and admire. From wandering through temples in the capital to backpacking through the countryside, Laos is filled with scenic backdrops that are unlike any other.
Kuang Si Falls
Turquoise water is one of the most beloved and mesmerizing features of the Kuang Si Falls, located in the central region of Laos. Travelers can hike to the top, go for a dip, have a picnic with a view, tour the local Kuang Si Falls Market, or simply bask in the soothing ambiance of this picturesque three-level waterfall. With the exception of one sacred site, the waterfall's pools are open for swimming.
The Kuang Si Falls is located just south of Luang Prabang, an ancient town that is also a UNESCO World Heritage Site. Encircled by rolling mountains, Luang Prabang is known for its well-preserved architecture. It's considered by many as the heart of Laotian culture due to its beautifully striking aesthetics that derive from the country's Buddhist and French-colonial influences. If you're coming to Kuang Si Falls, be sure to add this destination to your wellness journey.
Sofitel Luang Prabang
Sophistication, tranquility, and relaxation. You'll find all of this and more when you step inside the luxurious accommodations of Sofitel. Also located in Luang Prabang, this exquisite hotel features the perfect balance between local heritage and French art de Vivre, a stunning combination that is indicative of the town of Luang Prabang. From unwinding in its elegantly designed suites to learning through its on-site cooking classes, you can treat yourself while feeling quite at home in this Laotian location.
Sofitel Luang Prabang is also home to Le SPA, it's signature wellness facility where you can enjoy its swimming pool, fitness center, and various massage treatments. For example, the Bonjour Experience uses locally grown coffee beans to exfoliate and reinvigorate. Likewise, the Hin Hon Hot Stone Massage incorporates techniques dating back to The Ayurveda Bible. Here, there is a purposeful focus on traditional techniques that are used to both soothe and pamper guests who seek holistic revitalization.
Yoga in Vang Vieng
Center your mind, body, and spirit with scenic yoga classes and wellness workshops within the mountains of Laos. Yoga in Vang Vieng is tucked away in this charming town where you'll be encompassed by awe-inspiring views of limestone mountains and the Nam Song River. Wellness offerings include everything from sun salutations in lush rice fields to sunset yoga flows to end the day.
Just north of the Laotian capital of Vientiane, this yoga sanctuary is located in the countryside of Vang Vieng. This town is the halfway point between Vientiane and Luang Prabang, which makes it a conveniently accessible destination for travelers. Filled with greenery from endless fields, it's also a blissful escape where you can reawaken your energy, practice your poses, and truly get away from it all.
Whether you're seeking an island oasis in Indonesia or a multicultural experience in Laos, there's a wide array of holistic opportunities for you to enjoy. From scenic routes to traditional massage techniques to the lap of luxury, there's something for everyone in Southeast Asia. We hope that our recommendations have helped you decide on your next ASEAN destination. For even more wellness locations, keep an eye out for our next post where we go to Malaysia and Myanmar.