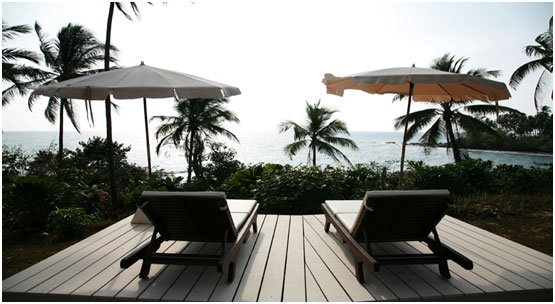 Without stating the obvious, some of the activities that couples plan during romantic getaways are best saved for moments of privacy. But others, the kinds that live on as shared precious memories, can be done in a multitude of amorous ways in a wide array of places in Thailand.
If adventure is your shared passion, then the Land of Smiles has an abundance of activities to choose from that will satisfy your quest for the ecstasy of the adrenaline rush. Thailand also offers a wealth of educational experiences, ones that afford couples the opportunity to grow together and challenge themselves emotionally and intellectually.
There is exotic spiritual indulgence on offer too, the peaceful settings allowing for a kind of otherworldly intimacy in which you can explore each other's hearts and minds.
Or perhaps, as you may feel inclined on sleepy summer mornings or brisk autumn evenings, all you want to do is take your beloved by the hand and have a quiet stroll outdoors. Would any of Thailand's countless stunning beaches suffice when this mood occurs? Would a mountain trek or forest hike? We think so and we can offer suggestions that fulfill this impulse for solitude and exploration, too.
What's important is that you and your special loved one experience these sentimental moments together, bringing you closer, developing special memories to be recalled for friends, recounted to children and grandchildren, or simply nurtured and called up among yourselves in quiet moments of reminiscence.
Learn Something Together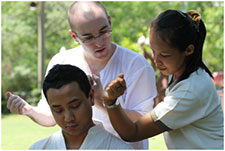 Virtually every couple that enjoys what is considered a successful relationship is able to communicate and understand each other. Over time, some couples develop what can only be described as a sixth sense, an ability to complete one another's thoughts and perceive moods and feelings.
One way to strengthen such a powerful bond is by learning something new together. By overcoming what appears at first to be a daunting challenge, but ultimately becomes a shared commitment, you and your lover reinforce your bond. Here in Thailand, there is an endless selection of fascinating new arts, skills, and disciplines to discover as one.
But be warned, what you learn here may become a lifelong passion, something to consume you as an individual, or couple, long after you've returned home from Thailand.
Recommendations:  
Wat Po Massage School, Bangkok 
Blue Elephant Thai Cooking Class, Phuket
Thai Wine Tour @ PB Valley, Khao Yai
Thai Classical Dance and Musical Instruments, Chiang Mai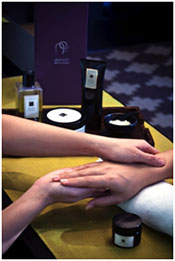 Visit a Couples Spa 
On any trip to Thailand, no matter the season, and at any time of day, you'll see couples sitting side-by-side, eyes half-closed with that blissful expression that says "I'm happy". They haven't a care in the world, because they're enjoying a foot massage from an expert masseuse.
For lovers, the Thailand experience isn't complete without at least one spa or massage treatment, together, relaxed, subdued, and at peace. It is the ultimate intimate engagement for women, and for men it's a special treat they can give their special love: undivided attention and pampering with minimal effort!
Slip into a couples' treatment room, share a private soak in a milky herb-infused tub for two, and recline gently on adjacent spa beds, just a short reach from each other, while the soft touch of expert therapists works its magic on your resting bodies. Most spas offer two hour, half-day, or full-day treatment packages. Ample time for you to turn off your phones, and lose yourselves in a carefree journey to a place where the only thing you'll remember is the state of bliss you've shared.
Recommendations:  
Divana Spa, Bangkok 
Pimalai Spa, Koh Lanta 
The Chedi, Chiang Mai 
The Barai, Hua Hin   
Kamalaya Spa, Koh Samui
Explore the Underwater World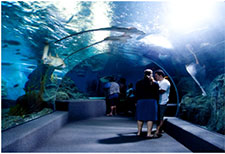 As we all recall from science class, 75% of the earth's surface is covered by water. And underneath, in our oceans, lies an incredible world teeming with colorful life. Thailand is fortunate to be blessed by some of the planet's finest underwater landscapes and habitats, and is regarded by scuba enthusiasts as one of the best dive spots in the world.
So, if your soul-mate also happens to be your dive buddy, then an undersea adventure might be in store for you in Thailand. An abundant and diverse array of coral, moray eels and manta rays, schools of colorful fish, and unforgettable giants of the deep like sea turtles and sharks await you.
And, for those of us who can't swim or scuba, Thailand has plenty of places to catch a glimpse of Poseidon's milieu at some of the best aquariums and underwater exhibitions in the world.
Recommendations:  
Siam Ocean World, Bangkok
Chiang Mai Zoo Aquarium
Planet Scuba, Ko Samui
Sea Bees Diving, Phuket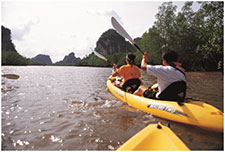 Heart Pounding Thrills 
Some people just seek out excitement. They live for the thrill of the adrenaline rush, and any hint of danger provides them with unmatched joy. Couples seeking such activities together can certainly satisfy these whims in Thailand.
The default attitude in Thailand is sabai sabai, which is to say, "everything's fine, just chillax!" Normally, this disposition would preclude one from the extreme pursuits that adventure seekers search out. However, this lack of aggression doesn't mean that nobody here knows how to enjoy a rousing good time.
From treetop flights-of-fancy, to crashing down cascading rivers, there are countless opportunities for daredevilry here in the Land of Smiles. Hold on tight (to each other!) as you put yourselves through heart-stopping exploits on the exhilaration junkies' ultimate romantic date.
Recommendations: 
Rock Climbing – Krabi
Motorcycle Ride in the Golden Triangle – Northern Thailand
Hot Air Balloon Ride – Chiang Mai
White Water Rafting – Phang Nga
Indulge in a Romantic Dinner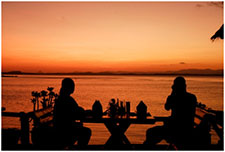 Ask any expat who has fallen in love with Thailand how it happened, and one of the first reasons they'll give is simply "the food!" Thai cuisine is famous for its bold flavors and abundance of fresh ingredients, and it makes eating well something that is nearly taken for granted.
Delicious meals can be had at humble street-food shops almost anywhere, and for a fraction of the price of the many high-end restaurants scattered throughout the country. As a result, fine-dining establishments know they must really bring their A-games. And that's exactly what they do: mouth-watering fare for all tastes and all occasions, and, since many hot-spots cater to the high-end clientele, they deliver luxurious ambience, too.
After dinner, continue the fun with a sampling of the legendary Thai nightlife. Whether you and your love are in the mood for the nightclubs' pulsating beats, or a more chilled-out vibe, Thailand has it all, especially when you're looking for romance
Recommendations:  
Dinner cruise on the Chao Phraya
Seashore dinner by candlelight
Romantic rooftop restaurants
Cool, ambient live-music bars