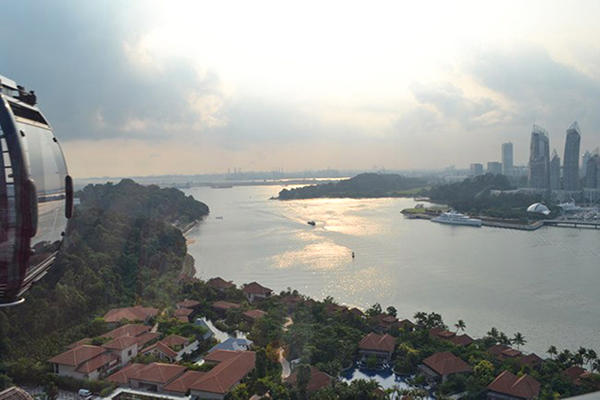 Southeast Asia is a marine region, with the South China Sea binding together its Asian mainland and archipelagic component parts. That's why cruising in Southeast Asia could be the best thing that a traveler in the region can do: starting from popular ports of call like Singapore, consummate travelers (like the ones we're about to quote here) can see far more than anyone who flies over these sights in a plane.
In Singapore, a Surprisingly Inexpensive Side Trip
Live Less Ordinary's Allan Wilson (Facebook|Twitter|Instagram) arrived in Singapore with just the right mindset: after stops throughout Southeast Asia and around the Indian Ocean, he was ready to explore the Lion City on his own. And he did: independently, and surprisingly on a budget:
While the [Singapore] city tour will always be the obvious excursion for cruise passengers (including the architectural marvels of Marina Bay), these sights I had already covered before.
So instead we decided to explore independently, which is very easy from the main International Passenger Terminal located near the southern coastal resort of Sentosa. (Sentosa is an island known for its theme parks, as well as being the Southernmost Point of Continental Asia.)
From the port there are many nearby attractions to explore, made easy by connecting malls and cable cars, and one of our personal highlights was the walking trails of Mount Faber Park. As despite Singapore's reputation for being built-up and high-rise, there really are some world-class green spaces to escape to in the city!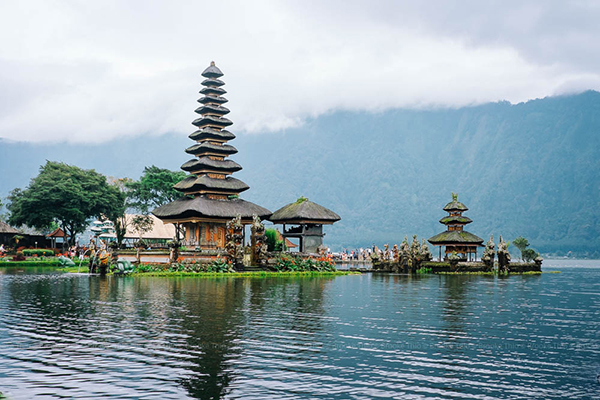 In Bali, Indonesia, a Different Side of the Island
Roamscapes' Brooke Thio (Facebook|Twitter|Instagram) sailed into Bali on a Genting Dream cruise from Singapore to Surabaya and North Bali – "never would I have imagined a cruise stop to be so culturally enriching," she tells us…
I was signed up for the ship's "Best of North Bali" shore excursion, and when we were tendered ashore I was greeted by a wonderfully friendly local guide who entertained my group throughout the 2-hour drive to explore the mountains of Bedugul.
During the excursion, I saw a different side of Bali. Ulun Danu Bratan Temple floated regally on the waters of Lake Bratan; Candikuning Market dealt out Bali's prized salak gula pasir (sugar snake fruit) at a steal; rice terraces materialized out of the mist as I dug into a buffet spread of local Balinese dishes at a mountainside restaurant. It was all so tranquil.
I also experienced that legendary Balinese hospitality from my guide, who regaled us with stories about Bali's history and traditions, like how Lovina Beach got its name. At the end of our excursion, I was deeply touched when he even thanked our group profusely for visiting this less-popular region of Bali. This is easily the most unforgettable cruise stop I've ever had.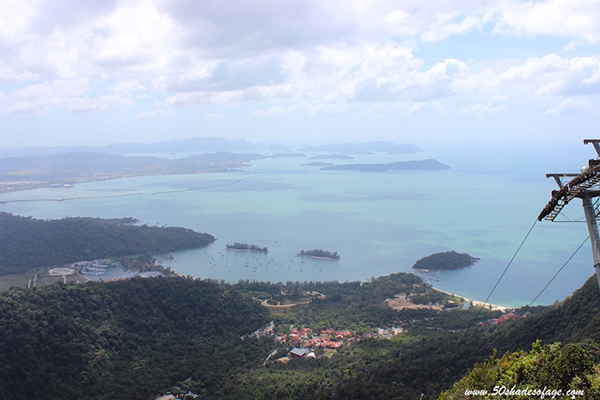 In Langkawi, Malaysia, a Birds' Eye View of Islands
When 50 Shades of Age's Kathy Marris (Facebook|Instagram) set off on a Southeast Asian cruise from Singapore with her husband, the beach-and-jungle destination Langkawi stood out among all the rest – here, she explains why.
At the beginning of 2016 my husband and I set off on a South East Asian Cruise out of Singapore. We cruised to many countries including Malaysia, Brunei, Vietnam, Cambodia and Thailand. However we found the standout stop was on the Malaysian Island of Langkawi.
This magical land of legends, Langkawi contains 99 islands on the north-western shore of Malaysia, situated where the Indian Ocean narrows down into the Straits of Malacca. Clad with jungles in the interior, Langkawi Island is fringed by lovely beaches scattered along its coast.
The island is still very much a rural landscape with villages and paddy fields. But it is also an extremely popular retreat for visitors.
One of the best ways to get a bird's eye view of the beauty of this island paradise is getting on the cable car to Langkawi's second highest peak at Oriental Village. Rising up to 2,000 feet you reach the top of Mt Mat Cincang, where you can see from Thailand in the north to Indonesia in the south-west.
Other Memorable Ports of Call in Southeast Asia
Viet Nam
Ha Long International Cruise Port
Ha Long International Cruise Port is the first cruise port in Vietnam which is capable to host all of the world's most imposing and advanced cruises travelling to Halong Bay including 6 berths, of which 4 are dedicated to boat cruises and 1 pier (with two berths) for international mega – cruise ships. Ha Long International Cruise Port is situated at the heart of Bai Chay Tourist Site by the bank of Ha Long Bay – a World Natural Heritage Site recognized by the UNESCO – thus a dreamlike tropical heaven for both domestic and foreign travelers who come seeking for an enjoyable vacation, as well as explorations of the beauty of Ha Long city and the charm of Viet Nam in general. More detail at http://www.halongport.vn/
Chan May Port
Chan May port is a general focal seaport (type 1) of Viet Nam, one of 46 ports chosen to be the destination for cruise ships in South-East Asia by Asia Cruise Association (ACA). The port is located conveniently on the sea route linking Singapore, the Philippines and Hong Kong. In addition, Chan May Port is located in the center of Viet Nam, between the two largest cities in Central (Hue – Da Nang), among tourist destinations of the country (Canh Duong Beach – Lang Co Beach – Hai Van Pass, Bach Ma National Park) and the national tourist city of Hue. It's also the closest and the most favorable gateway to the East Sea and the regions of the East-West Economic Corridor connection between the Central of Viet Nam with Middle-Lower of Laos, North-Eastern of Thailand and Myanmar. More detail at http://www.chanmayport.com.vn/
Cam Ranh Port
Cam Ranh Port International Port located in inside Cam Ranh Bay of Khanh Hoa Province. The port has advantageous location with deep water level enables large-sized vessels. The international terminal covers 51,300 sq.m with many functional areas and services. The architecture of the terminal is inspired from salanganes' nest, a feature of Khanh Hoa Province. More detail at http://www.camranhport.vn/