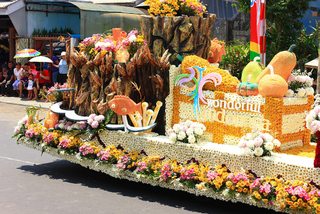 The town of Tomohon in North Sulawesi will spring into full bloom with flowers of every color, shape, and size from 8th to 12th August 2014 as the hill town stages the Tomohon International Flower Festival 2014.
As in previous editions, the Tomohon International Flower Festival (TIFF) 2014 will be highlighted with a number of fascinating attractions including the Flower Queen Beauty pageant; Tourism, Trade and Florikultura Exhibitions, and Art and Culture Festivals. This year, there will also be an international Gate Ball Competition.
Resembling the Pasadena Flower Festival in the United States, the main feature of the festival is the Decorated Float Parade which will also be participated by representatives from neighboring countries, regions in the Association of Governments Authorities (APEKSI), representatives from Cities and Regencies all across Indonesia, State Owned Enterprises, Private companies, and more.
The Tomohon International Flower Festival is a Biannual event which has its beginnings in 2008. In its inaugural year, the festival successfully attracted participants from 46 cities in Indonesia and was attended by over 20,000 people. In 2010, some 82 floats took part including those from Malaysia, Vietnam, North Korea, India, and Russia. In this second Event the Festival was seen by 25,000 spectators.
Facing two active volcanoes, the Lokon and the Mahewu, the cool hill resort of Tomohon lies 24 km south of Manado, capital city of North Sulawesi, on the way to the pleasant Lake Tondano.
Because of its constant cool climate and fertile soil, Tomohon has grown into North Sulawesi's main producer of vegetables and flowers. When flowers are in bloom, the town of Tomohon displays her pretty face where almost every house presents colorful fresh flowers. The city is also known for a number of seminaries, religious schools, and other Christian icons. Most famous among its landmarks is the "Bukit Inpirasi" or "Inspiration Hill", where communities congregate to seek inspiration for solutions amidst life's personal and global problems.