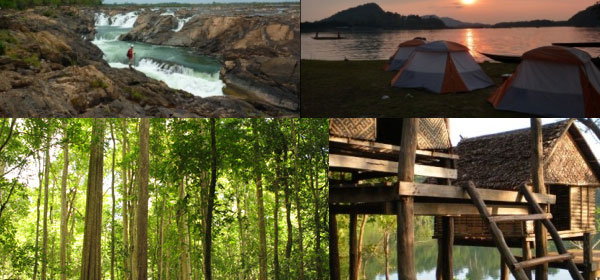 ASEAN's countries present hundreds of multi-day treks that reveal each nation's distinct environment, topography, and remote ethnic groups with their unique lifestyles and cultures, architecture, farming and fishing techniques, and traditions. Travellers will find volcanoes to climb, waterfalls to swim under, canopy walkways, and caves to explore. Trails lead through ancient forests and along rivers, and reveal chances to observe a variety of plants and wildlife. Perhaps the pinnacle of multi-day ASEAN treks is the diversity of the land and people who live in Southeast Asia.
Brunei Darussalam: Multi-day trekking in Brunei centres on Ulu Temburong National Park, which is noted for its elevated wooden walkways and well-maintained trails. Steep slopes, narrow ridges, and numerous peaks highlight Ulu Temburong, which also features a range of wilderness habitats, from lowland forest and jungle rainforest, to 2,000-metre mountains. Most treks begin with a boat ride to the canopy walkway. Two and three day packages present time to enjoy walks under the massive trees, along creeks, and amongst lush vegetation to remote waterfall pools. Visitors can also enjoy rafts and canoe trips down the Temburong River rapids. Guesthouse and longhouse accommodation is available. Sources: Ulu Temburong National Park, Indonesia Trekking.
Cambodia: Most of Cambodia's multi-day treks scour the forests of Virachey National Park in the Northeast. A three-day adventure leads through the ethnic Kreung region in northern Ratanakiri Province. Trekkers campout, enjoy a homestay, learn to fish and hunt from locals, and swim under waterfalls. A four-day, 48-km march on rarely tread paths in primal forests bordering Virachey crosses a diverse landscape, and offers wildlife spotting opportunities. Trekkers stay with local families and camp in the jungle. For those who really want to immerse themselves in nature, eight and 11-day excursions are available. Also popular the northeast's Mekong Discovery Trail delivers up to four days of hiking, kayaking, boating, and bicycling along the waterway, glimpses of rare freshwater dolphins, and camping on an island. Sources: Travelfish, Adventure Cambodia (including picture montage at top of story).
Indonesia: Indonesia offers four main multi-day treks: hiking up volcanoes, climbing mountains, exploring remote cultures, and cutting through jungles. With some 120 live volcanoes in the country, there are plenty of rumbling, steaming and ash-spewing peaks to inspect. The famed Krakatau rises in West Java, while Bromo stands in East Java. A two-day climb reaches Bali's Gunung Agung peak, while a three-day adventure climbs Lombok's Gunung Rinjani. Trekking to remote areas opens the way to Indonesia's culture. The Mamasa-Bittuang trek in South Sulawesi heads to the Toraja people, while hiking to Central Java's Dieng Plateau reveals seventh century Hindu temples. For those seeking deep jungle treks, Irian Jaya's hike to Lake Habbema, the Muller Mountain trail in Kalimantan, and Sumatra's Bukit Barisan Salatan National Park are the best bets. Source: IndonesiaPromo.
Lao PDR: Laos' north-western mountains in Luang Namtha Province have become a magnet for multi-day trekkers, with guides offering two-to-15 day excursions. Most feature visits and homestays at one or more of the various ethnic villages, cave explorations, and trails to waterfalls and swimming holes. Accommodation includes jungle camps, tent camping, homestays, and village lodges. Treks stopping at differing ethnic communities allow visitors to experience the different lifestyles, farming and weaving techniques, architecture, and customs. In central Laos, the hottest multi-day trek winds through the "Limestone Forest" with overnights in homestays and community lodges, and takes in boat rides along rivers and through the 7.5-km Konglor Cave. Moving south, adventurers can follow the rugged Ho Chi Minh Trail and stay with small ethnic groups that few get to meet. Source: ADG-Laos Sustainable Tourism Development Project.
Malaysia: Malaysia prides itself in its multi-day jungle trekking, many within national parks and wildlife reserves, offering almost 20 popular routes that unveil incredible vistas, hilly terrain, and ancient rain forests. Guides classify jungle trekking according to obstacles, forest denseness, and terrain, and trekkers may even spot endangered species, like the Sumatran rhinoceros, Malayan tiger, and elephants. Seasoned trekkers can find more rigorous trails at the national parks and forest reserves including Taman Negara in Pahang; Niah, Mulu and Lambir National Parks in Sarawak; Danum Valley in Sabah; and Endau-Rompin in Johor. Trekking is best from March to October when the weather is mostly dry, and its best to avoid Sabah and Sarawak from July to October. Some parks and forest reserves may require permits. Source: Malaysia Tourism Promotion Board.
Myanmar: Myanmar's major trekking scene meanders through the country's far flung north-western Kachin State and its Putao Plain (457-metres above sea level) near the Indian and Chinese frontier. Most treks last 10 to 15 days, and the choice of more than 10 trails presents the area's diversity. The Rawan Trail takes visitors through Putao, the jumping off point for exploring the surrounding forests and snow-capped mountains populated by small ethnic villages. One trail leads up forested Lancrumadin Mountain (3,515 metres) and its spectacular Putao views to an overnight ethnic Lisu stay. The Phongun Razi Expedition climbs 3,635 metres near India, while the Madoi Razi Expedition reaches 4,616 metres in the eastern Himalayas. One trek leads to the ice-covered Kaunglanphu, while another traces the Irrawaddy River's headwaters, all with village visits. Source: Putao Trekking House.
Philippines: Though the Philippines offers a range of one-day treks, multi-day, guided expeditions can be arranged that climb volcanoes, cross islands, and weave through rice terraces. Mindoro Island, the most popular trekking destination and starting within a bus ride from Manila, offers a range of adventures with overnight camping on Mayon Mountain, and the start is. Mayon can be navigated via a choice of trails that cut through indigenous Iraya Mangyan villages. Highlights of the various treks include the Mayon Volcano, Banaue Rice Terraces, the Bicol region of Luzon. Volcano trekking can also be organised at Bulusan, Bicol, Taal, Tagaytay, and Pinatubo Mountains located north of Manila, though these tend to be single-day treks. Source: Phillipine Trails.
Singapore: Singapore does not offer multi-day treks, but day-trippers can step outside the city and hike the hilly Admiralty Park with its mangrove forest and three boardwalks on the 2-km nature trail. Bukit Batok Nature Park offers a pleasant walk through its lush secondary forest on undulating terrain and meandering footpaths, as do the Bukit Timah Nature Reserve and Central Catchment Nature Reserve. A huge favourite is the forest canopy walk at MacRitchie Reservoir Park which offers a great vantage point from the HSBC TreeTop Walk. Visitors are also able to enjoy a scenic walk along the Southern Ridges and be enthralled by panoramic views from the beautiful Telok Blangah Hill Park atop the unique wave-form bridge of Henderson Waves.
Thailand: While many travellers consider Chiang Mai and Chiang Rai as Thailand's trekking home, several multi-day excursions crisscross the kingdom, many of which are also in the north and offer ethnic village homestays. Mae Sariang in Phayao launches the south-western corner of the Mae Hong Son Loop, trekked by very few, while Chiang Dao in Mae Hong Son offers a range of multi-day options from hardcore to gentle walks all with homestays. Cavers can try Nan, home to six national parks and featuring a two-night caving trip, and will love the caves around Soppong near Mae Hong Son Town. Mae Hong Son also opens the door to the Sangkhlaburi Trail that runs along the Myanmar border with homestays and jungle camping along the way. Further south in Kamphaeng Phet, a homestay sits in Khlong Lan National Park. Source: Travelfish.
Viet Nam: North-western Viet Nam's Sapa region, at the Laos and Chinese frontiers, presents the bulk of the country's multi-day trekking. Many climb 3,143-metre Mount Fansipan, Viet Nam's highest peak, with camping along the way, while scaling the 2,980-metre Ta Chi Nhu- Phu Song Sung Mo Mountain is rising in popularity. Plant lovers may want to stay several days in the Ta Sua Nature Reserve, which sprouts hundreds of species in Son La. Five-to-seven-day treks overnight in traditional houses on stilts at ethnic minority villages with days spent experiencing their customs and the culture, while the challenging five-day Pu Luong Nature Reserve treks present the best in the northwest's biodiversity. Source: Marco Polo Travel.