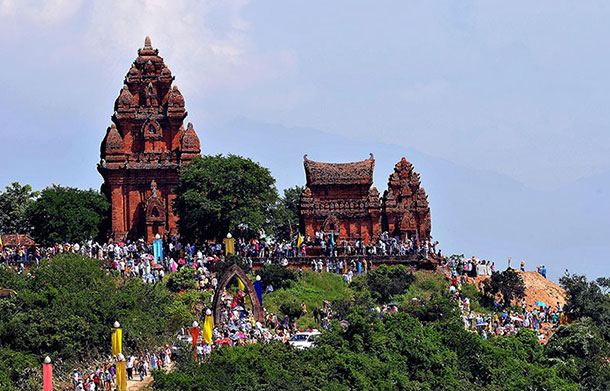 One of Viet Nam's most unique annual events, the Kate Festival is celebrated by the country's Cham ethnic community in Ninh Thuan Province. A three-day celebration to commemorate the Chams' departed heroes, kings, and ancestors, the religious festival is also a chance for visitors to experience the rich Cham culture against south-coastal Viet Nam's mountains and wild, empty coastlines.
Held from the 30th day of the sixth month to the second day of the 7th month of the Cham solar calendar (usually by end of September and/or beginning of October; the dates change every year), the Kate Festival is a time when you can witness the Chams' colourful street procession and traditional performances such the Ginang and Paranung drum-beat and Saranai trumpeting.
It takes place in the three ancient Champa structures—the Po Klong Garai Tower, the Porome Tower, and the Po Inu Nagar Temple. Activities in these towers, which hold objects of great cultural significance for the Chams such as costumes and musical instruments, are held on the same day with similar rituals.
Expect to see a multitude of Cham families descending upon the grounds, bearing offerings of meat, fruit and rice on bamboo mats. You'll see the Chams' solidarity, warmth and generosity spread out before you. Afterward, you can make your way to a nearby beach (there's one near Porome) for a picnic of your own.
You Might Also Like…
For similar festivals elsewhere in Southeast Asia centered on revered places of worship, check out Laos' Boun Vat Phou Champasak and Boun That Luang festivals. For other festivals in the month of October, visit Singapore's Deepavali Light-up and Festivities; Laos' Boun That Luang; and the Malaysia Motorcycle Grand Prix.