Mark your calendars — ASEAN Online Sale Day (AOSD) is back again this year! From August 8th, 2021, to August 10th, 2021, the Association of Southeast Asian Nations (ASEAN) will bring together the highest quality of businesses, goods, and services from all 10 ASEAN member states (AMS) into one platform.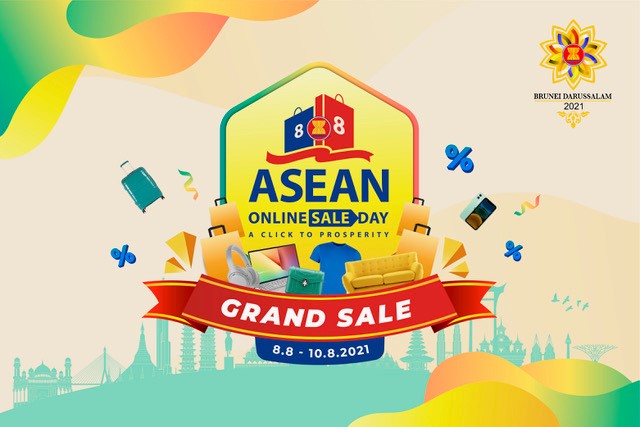 In 2020, the tourism industry for all AMS saw some setbacks due to the pandemic but had been recovering since. To help their economies reopen for tourism, the ASEAN Coordinating Committee on E-Commerce collaborated with national agencies in individual ASEAN member states to launch several programs, including AOSD.
With travel to the 10 AMS being limited right now, AOSD allows you to support each AMS by buying their domestic products and services through an online marketplace. This year, you can explore a broader range of high-quality products and services from all AMS, including fashion, electronics, home & living-consumer goods, tourism & travel, food & beverages, services, crafts, and much more!
As a part of AOSD, Brunei Darussalam will be holding a webinar that will focus on the effects of Covid-19 on vendors, success stories, and the challenges they faced during the pandemic.
Visit  http://www.onlineasean.com/ for more details. For more information from each participating country, contact the following agencies here:
Brunei Darussalam
The Authority for Info-communications Technology Industry of Brunei Darussalam (AITI)
Email: ict.industry@aiti.gov.bn
Phone: +67 323 232 32
Cambodia
Exhibition Department, Ministry of Commerce
Email: sorn_pitou@yahoo.com
Phone: +85586333933
Email: sopheak.pea98@gmail.com
Phone: +85570288868
Indonesia
Directorate of Export Development Cooperation, Directorate General of National Export Development, Ministry of Trade
Email: direktorat.kpe@kemendag.go.id
Phone: +62-2123528645
Philippines
E-Commerce Office Deparment of Trade and Industry
Email: eco@dti.gov.ph
Website: http://ecommerce.dti.gov.ph
Facebook Page: https://www.facebook.com/dti.ecommerce
Lao PDR
Department of Foreign Trade Policy, Ministry of Industry and Commerce
Email: x.latsavong@laoftpd.com
Phone: +85620 56569922
Malaysia
Malaysia Digital Economy Corporation (MDEC)
Email: clic@mdec.com.my
Phone: +603 8315 3000
Myanmar
Ministry of Commerce
Email: 41myokwin@gmail.com
Phone: +95 9428300298
Singapore
Ministry of Trade and Industry (Singapore)
Email: mti_adseg@mti.gov.sg
Thailand
Department of International Trade Promotion, Ministry of Commerce
Email: thaitrade@ditp.go.th
Phone: +66 250 778 25
Vietnam
International Cooperation Division, Vietnam E-commerce and Digital Economy Agency, Ministry of Industry and Trade
Email: duypd@moit.gov.vn